Opinion
What does "Renewal" mean for Mayor de Blasio?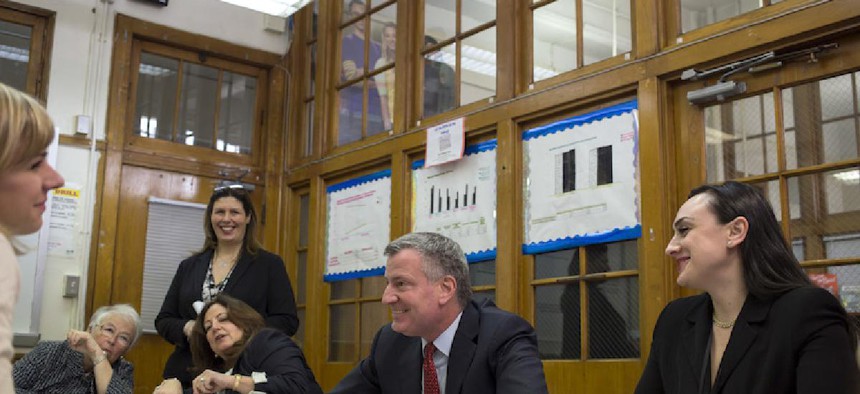 To hear Mayor Bill de Blasio and Schools Chancellor Carmen Fariña during their recent victory tour, you'd think New York City schools are amongst the best in the world.
The mayor claimed that "something really wonderful has happened," that the city's schools are "setting a standard of excellence" and that he was "just thrilled to see progress across the board." But state test scores at so-called "Renewal Schools" – some of the city's lowest performing schools – have grown just five points in reading. That sounds pretty good until you realize that the tests and testing conditions changed and that roughly 9 out of 10 students in these schools still failed. Math scores barely budged. It's also concerning that the number of test takers at Renewal Schools this year was inexplicably down 10 percent from last year – did the city move students who were less likely to test well? Why is the mayor applauding such failure? Instead of a media tour to try to boost his sagging approval ratings, the mayor might want to try focusing on actually improving outcomes for kids. For the public school parents I work with every day, these minor improvements are nothing to celebrate.
Tiffany Griffin is a single mom who lives in Jamaica, Queens and sends her daughter Kaila to I.S. 8 Richard S. Grossley, one of those Renewal Schools that the mayor is bragging about. Scores at the school held flat this year even though City Hall made a big show of focusing efforts through the mayor's signature schools program. This year's scores in reading were the same as last year – only 12 percent of students are proficient. Tiffany is frustrated that no progress is being made at the school, despite big promises from the mayor and the Chancellor. Tiffany has a simple question for the mayor: "If you're really providing extra resources to our school, why hasn't it improved? Why is my child stuck at this failing school with no other options?"
Tanese Foster has five children attending P.S. 149 Sojourner Truth, a Renewal School in Harlem. Tanese is a very dedicated parent who is always front-and-center when it comes to her children's education. Reading scores went up this year, from 8 percent to 12 percent, while math scores actually dipped from 7 percent proficient to just 6 percent. Tanese isn't celebrating these results. Instead, she wonders, "Would the mayor be celebrating if one of his kids were stuck at a school with such low test scores?"
These parents reflect the feelings of a lot of public school parents throughout New York City – in fact, just 37 percent of New Yorkers approve of the mayor's handling of city schools. De Blasio's sagging popularity may be the reason he's looking for reasons to celebrate, but when 9 out of 10 students at these struggling schools can't read or do math well, no one in these communities is cheering.
When these parents look at the targets the city set for Renewal Schools, they have the same reactions: they are trying hard to understand why the mayor set the bar so incredibly low. One target for I.S. 8 is that attendance grew from 90 percent to 90.2 percent. Another goal is that 35 percent of Hispanic students at the school score a Level 2 or above – a Level 2 is a failing score. The city is essentially saying that they believe only a third of Hispanic students can get above the absolute lowest level. At P.S. 149, they set a target that in math and reading the school's average is a Level 2, so they are acknowledging that even under the best of circumstances, they are aiming for failure. This is unacceptable.
These parents and students deserve so much better than the solutions de Blasio is offering. The mayor needs to step up his game or these parents will give him a failing grade at the ballot box next year.
Tenicka Boyd is the senior director of organizing at StudentsFirstNY and the parent of a public school student.