Andrew Cuomo
Cuomo: We won't leave the people of Puerto Rico behind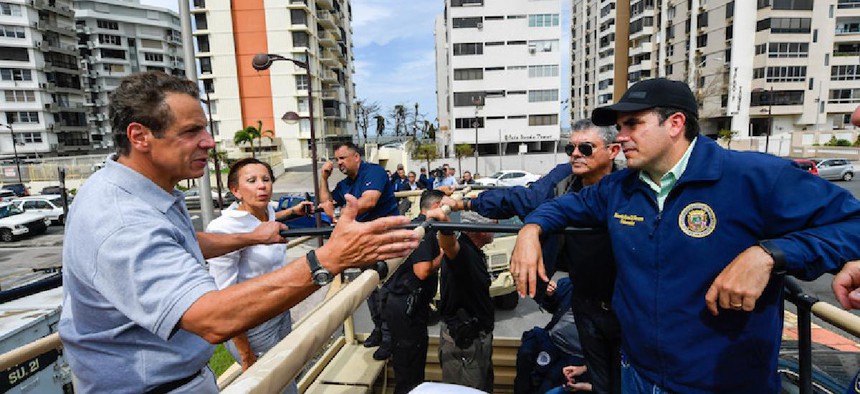 As a New Yorker, I am unfortunately all too familiar with Mother Nature's fury. Five years ago, Superstorm Sandy hit our shores with devastating rage, damaging or destroying hundreds of thousands of homes and causing more than $60 billion in total damage to the region. In the immediate aftermath, millions of New Yorkers were left without power – and while, for many, it was only for a few days, it felt like a lifetime for those living in the dark.
Hurricane Maria struck Puerto Rico well over a month ago, and nearly 75 percent of the island is still without power. Hundreds of thousands of our American brothers and sisters still lack reliable access to clean water. Many are living in shelters. It makes you wonder: If a state on the mainland United States went weeks without power, how would we react? It would be on the TV news every night. We would be outraged. The people of Puerto Rico deserve a better disaster response than they're getting.
In New York, we have not forgotten Puerto Rico. Puerto Rico is part of the New York family, with more Puerto Ricans living here than anywhere outside of the island itself, and we have stood with Puerto Rico from the very beginning of this disaster. And while Washington is already talking about when the recovery effort will end, New York's message is clear: We won't leave the people of Puerto Rico behind.
After the storm, I traveled to Puerto Rico on the first flight that was able to land on the island with supplies and personnel to help begin to rebuild the devastated power infrastructure. And since then, New York has continued to step up for the island. On Sept. 24, we launched the Empire State Relief and Recovery Effort for Puerto Rico and the U.S. Virgin Islands to bring together partners from across the New York family and from every corner of the state to provide needed services, goods and funds to the people of Puerto Rico.
RELATED: Native son: A Q&A with Assemblyman Marcos Crespo
Thanks to the generosity of everyday New Yorkers, and partners like UPS, UNICEF, Tidal, Delta, JetBlue and so many more, we have since delivered more than 1 million bottles of water, more than 1 million diapers and millions of pounds of other critically needed supplies. We have deployed hundreds of New York Army National Guard soldiers, volunteer physicians and medical professionals, state troopers, port and aviation experts from the Port Authority of New York and New Jersey and power specialists from the New York Power Authority to help the island recover.
But Puerto Rico still faces a long and difficult road to get back to normal. In late October, I returned to the territory to deliver more supplies, including water filtration systems, and to meet with Gov. Ricardo Rosselló to discuss how New York can provide additional support. I would love to be able to say that, on that second trip to Puerto Rico, I saw tremendous improvement from my first visit. But that is not true. The recovery effort remains troubling and slow to this day.
Restoring the power system is a top priority. Without power, pumps don't operate, people can't operate equipment to clean their homes and lifesaving medical care is at risk. New York has already sent dozens of power experts to help get the power grid back up and running, and we're also deploying a tactical power restoration team, with 28 field engineers and 15 assessment experts, to accelerate the recovery.
And now we're planning to step up our efforts. When the governor requested what is known as mutual aid, or official support from other states that is reimbursed by the federal government, I immediately committed to send down hundreds of public and private utility crews to lend a helping hand. New York relied on mutual aid in the wake of Superstorm Sandy, and I believe it is an effective and necessary step to rebuild Puerto Rico today.
There is no doubt that the recovery effort in Puerto Rico has been slow. The federal government deployed resources too late, and we have been catching up ever since. Yet President Donald Trump is already warning that Federal Emergency Management Agency personnel cannot stay forever.
In New York, we take the opposite posture. We know that recovery has only just begun. My philosophy is that you don't leave until the job is done, and the job isn't done.
The silver lining is that we have an opportunity to help Puerto Rico rebuild better than it was before – with resilient infrastructure capable of withstanding future storms that we know will come. Let's design a power system to replace the old obsolete power system, and a new modern-day health care system. We can raise homes, harden sewage treatment plants and build better infrastructure. Let's build a more resilient Puerto Rico, just the way we're building a better Florida and a better Texas, the way we built a better New York after Superstorm Sandy.
Andrew Cuomo is the governor of New York.