New York State
The West Wingnuts
Embarrassingly incompetent New Yorkers are dominating the national political debate.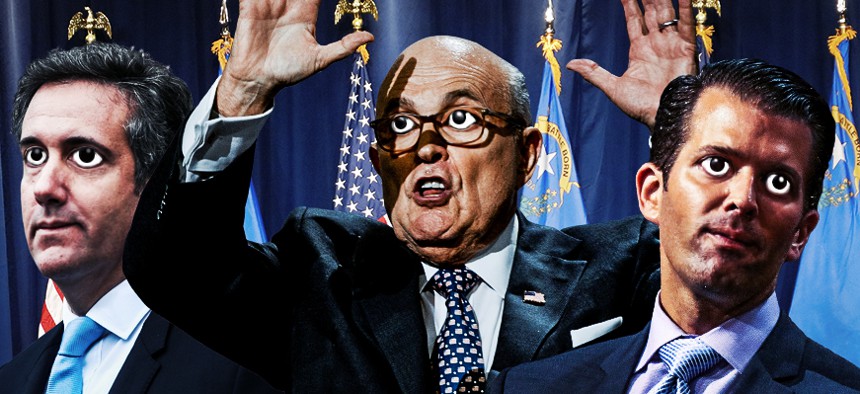 Imagine the average television viewer in Columbus, Ohio, settling into their couch after dinner and turning on the cable news for another night of The West Wingnuts.
Every day, it seems, a different crony of the president's who hails from his hometown is on the screen, each brasher and more foolish than the next. New Yorkers, after suffering through decades of administrations led by Texans and Californians, are restored to their rightful place of prominence.
But the New Yorkers who have been brought (or brought back) to the spotlight are making news for all the wrong reasons: unwise investments and unethical business dealings, contradictory or absurd statements, or just plain idiocy.
The Big Apple circus is in town and the president is happy to play the ringmaster. Here's a quick recap of the most remarkable ethical tightrope walks, verbal acrobatics, and knife throwing acts from this clown show:
Even the fashion choices of Trump's family have demonstrated poor judgment, as when first daughter Ivanka Trump posted an Instagram photo of herself in an evening gown the same weekend her father issued an immigration order restricting air travel, prompting side by side tweets comparing Ivanka's metallic dress with a blanket wrapping migrant children, and when first lady Melania Trump wore a coat which read "I Really Don't Care Do U" to meet children who had been separated from their parents by her husband's administration.
What to make of all of this? Is it because New Yorkers are incompetent or unethical? Probably not, since the Obama administration was also heavily stocked with high-ranking New Yorkers such as attorneys general Eric Holder and Loretta Lynch, Treasury Secretary Jack Lew, HUD Secretary Shaun Donovan, urban policy advisor Adolfo Carrion, Jr. One major scandal in Obama's White House was that the president wore an ill-fitting tan suit while giving a briefing about the Middle East.
It's probably more about Trump and his chaotic approach to governance. "The Trump Show is fueled by a single thing: ratings," said John Del Cecato, a political consultant at AKPD Message and Media. "In this White House, every week is Sweeps Week so all that matters is that Trump is on the public's mind as much as humanly possible. His staff only fails him if they fail to generate the attention that Trump craves or dare to upstage the boss."
Trump doesn't mind incompetence, in other words. The only thing he does mind is anyone gaining a reputation for being so competent that they are thought to be pulling his strings.
There's also the Trump team's lack of experience: Except for Giuliani, the New Yorkers in the news are mostly newcomers to national politics, suddenly thrust into arena by their relationship to Trump.
They also are following the president's example. Trump tweets with abandon and shrugs off embarrassments that would threaten to topple other world leaders, such as calling African and Caribbean nations "shithole countries" in a private meeting with senators. That's because his political base loves his cocksure demeanor and he has a decades-long history of dealing with the national media, so he knows what he can get away with.
But his underlings - especially the New Yorkers only used to being covered by the New York Post's Page Six - can suffer when they display similar behavior. "They've misjudged the lens of the political press corps, which covers the highest form of government," said Republican political strategist Susan Del Percio. "Things that happen in the White House are on the world stage, whereas the tabloid press cares about how their hair looks in a photograph. They're not used to being judged on how their words and images matter."
Or maybe they've decided it doesn't matter and that any press is good press that enhances their own celebrity. "There's almost an inherent arrogance that shines through with all of them, which is perceived as a New York characteristic," said CUNY political science professor Doug Muzzio. "If there's a choice of shame versus power, you pick power every time."
Correction: The prime minister of Canada is Justin Trudeau. Garry Trudeau is the cartoonist who created "Doonesbury."
Powered By
NEXT STORY: NYCHA's truth deficit