New York City
Brooklyn's Barclays Center is a questionable part of Bloomberg's legacy
The mayor showed solicitousness toward fellow moguls above all.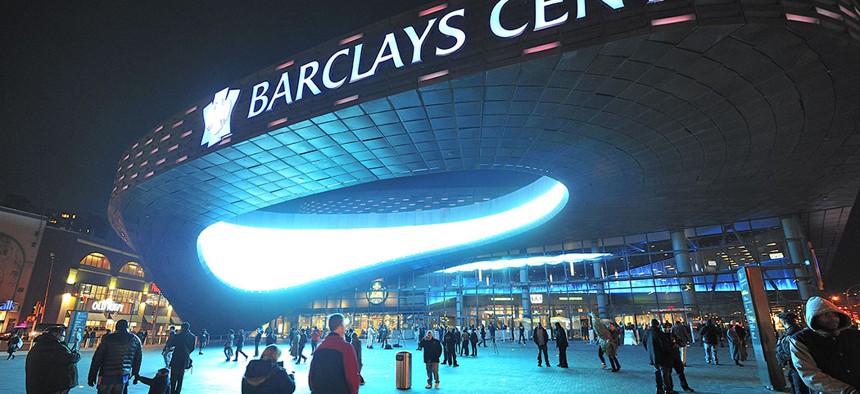 As a self-proclaimed "doer and a problem solver," former New York City Mayor Mike Bloomberg surely considers Brooklyn's oft-lauded Barclays Center, which opened in 2012, a triumph.
But Barclays goes unmentioned on his extensive presidential campaign website. Perhaps the controversial arena and its still-incomplete parent project – originally known as Atlantic Yards, now Pacific Park – would raise some uncomfortable questions about how the development has delivered far less than promised.
Atlantic Yards spotlights a departure from Bloomberg's noted data-driven approach, an instinctive embrace of fellow moguls and the imperiousness that led him to muscle a third term. It suggests Bloomberg's reputation for "competent confidence" deserves some asterisks.
When developer Bruce Ratner met with Bloomberg in 2003 to present his plan to build an arena – anchored by the NBA's Nets, moving from New Jersey to Brooklyn – plus 15 or 16 towers, the mayor made his call. "He just looked at it and he said, after a while 'I want to get it done. … Get it done no matter what,'" Ratner recalled in a speech years later.
The mayor offered open-ended city support for an ambitious 22-acre project involving public land, including a state approval process that bypassed local representatives and the pursuit of eminent domain for an allegedly blighted area that was actually gentrifying.
New York initially pledged $100 million in direct subsidies, purportedly for infrastructure or land. Actually, all that repaid Ratner for his seeming generosity in buying out property owners in the arena's path. The city later added $105 million, including another $31 million for land. Beyond that, it gave away city property, pushed the state transportation authority to relax its deal with Ratner, and agreed to "affordable housing" far less affordable than what the developer had proposed.
When developer Forest City Ratner, aiming to build public support, published a fake tabloid newspaper, The Brooklyn Standard in 2005, Bloomberg contributed a "letter" to the debut issue, predicting "the net fiscal benefit for the city and state will be extraordinary."
The Bloomberg administration premised its rosy economic forecasts on an unrealistic ten-year buildout; the project now could take 25 years. The New York City Independent Budget Office, which in 2005 estimated a modest gain to the city, by 2009 predicted long-term city losses, compounded by forgone revenue because of tax breaks.
That led Bloomberg, who'd praised the budget office's first report, to scoff, "I don't know what the IBO studies would have shown back when they tried to establish the value of Central Park" – an odd comparison between a public resource and a private development with some public access, though he suggested they were both projects "you have to do" for the future. For now, Pacific Park has delivered some fractional open space outside two towers and ultimately will include eight acres of such privately-managed greenery, serving the project's residents above all.
Bloomberg did his best to add legitimacy to the city's first Community Benefits Agreement, a private contract Forest City claimed would guarantee affordable housing, job training, free Nets tickets, and contracts for minority- and women-owned firms.
Distracting from the fact that most of the counter-parties had been created to bolster an Astroturf public relations campaign backing the development, a mayoral press release hailed the mayor and Ratner as having "signed" the agreement. In reality, Bloomberg had merely been a witness.
At a press event, Ratner said he aimed to exceed the agreement's goals, "but if we don't, there can be litigation." Bloomberg interjected: "You have Bruce Ratner's word, and that should be enough for you, and for everybody else in this community."
Ultimately, "Ratner's word" wasn't enough; nor was the contract's required Independent Compliance Monitor ever hired to assess whether goals were met.
When the financial services company Barclays was named the arena's naming rights sponsor, Bloomberg conflated public and private gain: "Over the next 20 years, (Barclays) will be putting more than $300 million into Brooklyn," declared Bloomberg at that press conference, conflating private and public gain. He spoke similarly when the Russian oligarch Mikhail Prokhorov agreed to buy most of the Nets from Ratner and invest in the arena.
Not long before Barclays opened, Bloomberg and Ratner, at a press conference, announced 2,000 arena jobs, a nice distraction from the 10,000 permanent office jobs and 15,000 construction jobs promised after the project was announced. (Most of the office space has since been cut, and the slow buildout meant far fewer construction jobs.)
Knowing most jobs were part-time, I asked for the full-time equivalent job figure.
"I don't have any idea," the mayor responded. "It's hard to calculate."
The state, I said, had estimated 1,120 such jobs.
"Maybe their numbers are right, maybe their numbers are wrong," Bloomberg replied peevishly. "Address it to the state, don't address it to me."
In 2013, choosing Barclays for his final State of the City Address, Bloomberg offered a kiss-off to critics. "Against all the odds, despite all the legal challenges, despite all the naysayers and NIMBYers, here we are," the mayor declared, casting himself and Ratner as underdogs.
Today, Ratner's gone, having made unrealistic promises and lost significant sums; Pacific Park's mostly owned by an opaque Shanghai-based conglomerate. The big winner has not been the public but Prokhorov, for whom the Nets' move to the nation's media capital meant a huge payday, upon selling the team (and arena operating company) to a fellow billionaire.
Meanwhile, a Metropolitan Transportation Authority railyard, which occupies about 40% of the project site and contributed a fraction of the arena parcel, awaits a platform before six of the last seven towers can start.
Back in 2010 at the arena's groundbreaking, Bloomberg pronounced soothingly, "nobody's going to remember how long it took, they're only going to look and see that it was done." But Barclays doesn't stand alone. Today it and Pacific Park signal an ambiguous, tainted legacy, not a mayoral monument.
Powered By
NEXT STORY: New York City needs to better regulate noise