New York City
NY should shut down before it's too late
Learn from past mistakes and close indoor dining before the outbreak is out of control.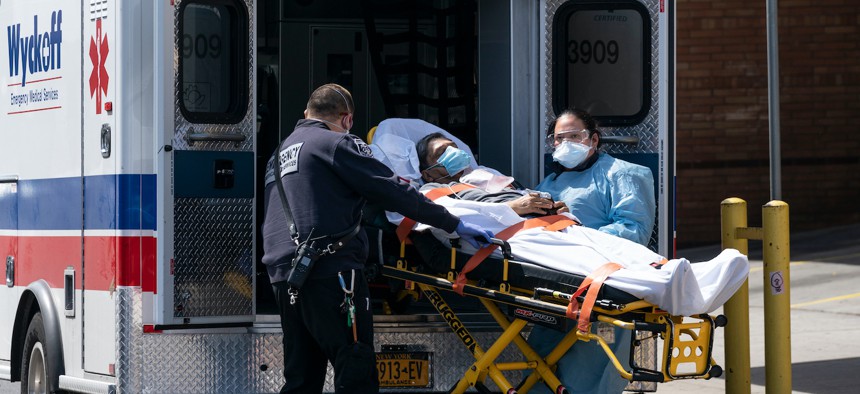 OK, class: what did Harvard philosophy professor George Santayana once say about the lessons of history?
"Those who cannot remember the past are condemned to repeat it."
New York, which just six long months ago was the epicenter of the global COVID-19 crisis, risks repeating a historic blunder. With an often-predicted "second wave" about to wash over New York City and several other parts of New York state like a viral tsunami – as it already is doing in much of the United States and Europe – it's urgent that we draw upon what worked in May and June, when New York got the galloping crisis under control. Why are we not recognizing that mid-November New York now mirrors mid-March, and that we have seen this show before?
It's time – right now, before it's too late – to lock down New York City and other areas where the COVID-19 case rate is spiking, such as Erie and Monroe Counties. In the five boroughs, the number of daily new infections recorded has increased for the past 10 days and is above 2%. The percentage of COVID-19 tests coming back positive in New York state reached 3% for the first time since May.
As City & State's Zach Williams reported on Wednesday, "The latest state data shows every region of the state – with the exception of the North Country – is reporting more than 10 new cases per 100,000 people, which was the threshold the state previously set for imposing a 14-day quarantine on residents arriving from other states." If we think that rate is dangerous enough to impose a quarantine on a visitor, shouldn't we all be hunkering down, now that we too are in that danger zone? 
As Williams noted, statewide, "the number of people infected by the average COVID-positive person is now at its highest level since March 19." 
So we need to act now – not next week, when the numbers may be even higher and rising even faster. We need to move before, not after, our hospitals start reaching capacity and our health care workers are beleaguered, many of them suffering themselves from the new outbreak.
Local government officials lack the authority without a greenlight from Albany. In March, when New York City Mayor Bill de Blasio suggested a "shelter-in-place" order may be coming, Gov. Andrew Cuomo initially overruled him, instituting a similar shutdown three days later. Meanwhile, de Blasio dithered about school closures and encouraged New Yorkers to go out, allowing bars and restaurants to remain open before the lockdown took effect. According to former Centers for Disease Control Director Tom Frieden, if New York had shut down four days sooner the outbreak could have been as much as 80% lower. 
These leaders must not repeat the same historic mistake again. 
This means shutting down all public schools, starting this coming Monday. Other indoor activities with a high risk of transmission, such as indoor dining and drinking, gyms, and hair and nail salons, and other nonessential retail shops should also be closed down immediately. The economic pain will be brutal, but we have potential ways to offset it. First, local governments should explicitly encourage and make room on sidewalks and in streets and public parks for outdoor haircuts, manicures and exercise classes. Those businesses can even erect roofs to keep out the rain or snow, and put out heat lamps. 
And, hopefully, President-elect Joe Biden can cut a deal with the Republican Senate, which is likely to cling to just the barest of majorities, to offer bailouts to risky businesses such as restaurants, bars and movie theaters to stay closed while continuing to pay their employees. Add to that list hotels, museums, performing arts centers, nightclubs and many others, and you've got a long list for the Biden-Harris administration to tackle with a big stimulus package next February. 
That, along with state and local aid, should be Cuomo's main request for his ally entering the White House. Democrats may have to buy off Republican Senate Majority Leader Mitch McConnell with something unsavory, such as liability protections for businesses that played fast and loose with COVID-19 protections for workers or customers, but that may be the only way to save the most lives and incomes going forward. 
It's especially worth shutting down now because we have reason to believe that we won't have to live this way forever. There is a blinking light of hope at the end of the dark COVID-19 tunnel: Pfizer and its partner firm BioNTech recently announced that their vaccine proved highly effective and safe in clinical trials. It could be rolled out in early 2021 and other vaccines are in the pipeline as well. New York simply must protect our citizens for just a few more months, or else this pandemic will continue to devastate poor neighborhoods and first responders. 
We must now look back to those ominous days in early March, when New York saw the looming danger of an epidemic that started in China, spread to Europe and then entered the United States on both coasts. Other large cities and states, including San Francisco and the rest of California, and Washington state, shut down sooner and weathered the initial crisis better than New York.
The governor this week imposed a curfew on restaurants, bars and gyms at 10 p.m., a half-measure which doesn't go nearly far enough. If people remove their masks to eat and drink indoors that is likely to spread the new coronavirus – and it is, studies have shown – then the spread will occur at 8 p.m. or 9 p.m., not only an hour or two later. New York City Council Health Committee Chair Mark Levine said Thursday that indoor dining should be halted. The governor and mayor should listen to him. 
Some will say that in-person schooling is too important to be closed down. They said the same thing in March, but eventually had to concede to reality – only after innumerable teachers and other school support staff had gotten sick. Cases in schools are rising in Western New York, another warning sign. 
New York was slower to reopen than other states, which allowed for a longer period of very low prevalence of the virus. Let's learn from our past successes, as well as our mistakes. 
It is time to push the "New York State on Pause" button again, likely for at least three to four weeks. The longer New York waits to shutdown, the longer the lockdown will have to be to stamp out the outbreak. Delaying a shutdown to keep money rolling into retail businesses and restaurants is the definition of penny-wise, pound-foolish. 
Let's not repeat that historic mistake. 
With reporting by Kim Gonzalez. 
Powered By
NEXT STORY: Black New Yorkers say "We can't breathe"