New York State
5 things to know about Gillibrand's challenger Chele Chiavacci Farley
The Republican NYC finance chairwoman is a first-time candidate.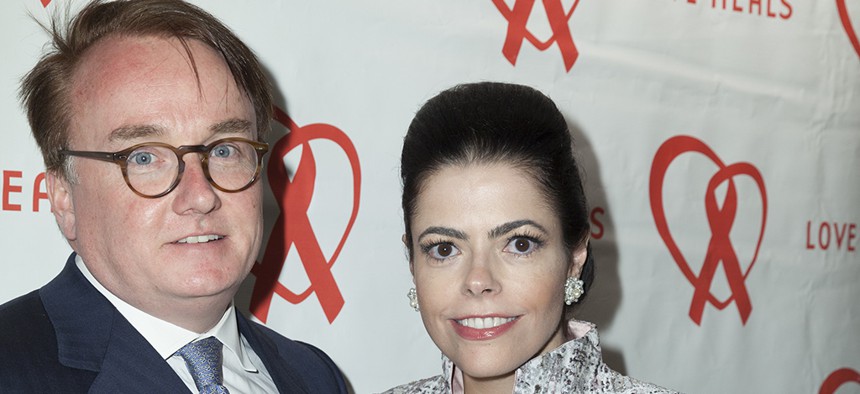 U.S. Sen. Kirsten Gillibrand, who has long been a champion of women seeking public office, has successfully inspired one to run – against her.
Republican Chele Chiavacci Farley declared her candidacy for Gillibrand's seat on Feb. 1, after months of deliberation. Farley's name may be unfamiliar to most New Yorkers not acquainted with New York City Republican fundraising circles, so here are five things to know about the woman vying to become the next junior senator from New York:
Her name is pronounced "Shell"
Phonetically, it's "Shell Kee-a-VAH-chee FAR-lee." She also was college roommates with Gretchen Carlson, and her 2016 wedding to Rich Farley, a lawyer and financier – and also a Democrat – was covered in Town & Country.
She has financial experience
Last year, Farley was named finance chair for New York City by the state Republican Party, and according to her website, her experience managing finances goes back decades. She worked at UBS Capital and Goldman Sachs after graduating from Stanford University with two engineering degrees, and is now a partner and managing director of Mistral Capital International. In her campaign launch video, Farley highlights her private sector experience, and emphasizes New York's financial problems.
Her platform may not be in sync with national Republicans
Farley seems cognizant that she is running on the GOP line in a blue state. As such, she appears to be toeing a relatively moderate line. Some of the policy points she raises in her campaign launch video, such as criticizing the Republican tax plan recently passed in Congress, echo New York Democrats. Farley calls Gillibrand "ineffective" for not doing more to stop that tax legislation, despite the fact that the legislation was written and championed by Republicans. No Democrat, including Gillibrand, voted for the bill. She also mimicked a favored talking point of Gov. Andrew Cuomo the late former Democratic Sen. Daniel Patrick Moynihan, noting how the state gives more to the federal government than it receives in taxes. She blamed Gillibrand for not doing more to recoup this money, and said that she would work to return these funds to rebuild New York's infrastructure and augment its education spending – not exactly national Republican talking points.
However, despite her wealth, she does seem to be using President Donald Trump's playbook for highlighting her outsider credentials by supporting term limits, for example.
She is capitalizing on Gillibrand's national profile
Gillibrand is considered to be a potential presidential candidate in 2020, and she has been carving out a place for herself in the Senate as an antagonist of Trump and a champion of the #MeToo movement and other progressive causes. Farley goes after that head-on, complaining, "Too many politicians care more about making headlines, and hashtags, than making a difference for the families they're supposed to represent. And one of the worst offenders is U.S. Sen. Kirsten Gillibrand." She suggests that the senator is more concerned with raising her profile than representing the people of New York, saying that Gillibrand has "abandoned her moderate roots and has moved as far left as possible to advance her own national political ambitions." Farley repeated this sentiment in an interview with John Catsimatidis on "Cat's Roundtable" on Sunday, saying that Gillibrand's evolution on gun control was purely self-interested. "When she was in the House, she was known as 'Annie Oakley.' And now in the Senate people laugh and they call her 'Jane Fonda.' That's quite a change to the left," Farley said. It's not clear which "people" Farley was quoting: there is no readily available evidence that anyone has ever called Gillibrand Jane Fonda besides Farley herself.
She faces an uphill battle
No Republican has been elected to represent New York in the Senate since 1992, when Sen. Al D'Amato won the last of his three terms, before being defeated by Charles Schumer in 1998. Trump is deeply unpopular in New York, and Gillibrand has relatively high favorability ratings. A January poll by Siena College found that her favorability rating was 51 percent, and 50 percent of New Yorkers said they would vote to reelect her. Gillibrand also won over 70 percent of the vote in 2012, when she defeated Republican Wendy Long. She currently has over $8 million in cash on hand. However, Farley has the connections and experience to raise cash competitively: On Monday, she tweeted that she raised $100,000 on her first day of fundraising.