Lynne Patton
Patton sleepovers fail to bring NYCHA federal money
Lynne Patton's NYCHA advocacy didn't seem to have any effect on president Donald Trump's fiscal year 2020 budget.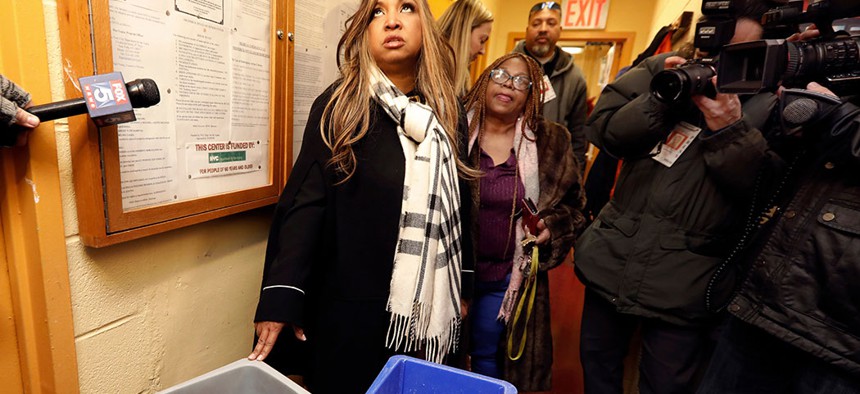 Lynne Patton seems to have failed the first test of the impact of her high-profile public housing sleepover project.
Patton, New York's regional administrator for the U.S. Department of Housing and Urban Development, has been on a non-stop publicity tour for the past month, ringing the alarm about the dire needs of New York City Housing Authority residents. Her tour has even drawn the attention of President Donald Trump, she has claimed repeatedly. Patton and a NYCHA tenant president visited the White House on Feb. 21 for "extremely productive dialogue" with Trump about NYCHA. The next day Patton and her boss, HUD Secretary Ben Carson, even had a phone call with the president to talk about NYCHA. And why wouldn't Trump listen? Patton has worked for Trump in various capacities for a decade and counts Trump's family members as personal friends.
But Patton's advocacy didn't seem to have any effect on Trump's fiscal year 2020 budget. His proposal released Monday would slash HUD's public housing capital fund from $2.8 billion to literally $0, meaning Washington wouldn't send a cent to fix NYCHA. Trump's budget also proposes cutting one of the major sources of NYCHA's funding, the public housing operating fund, from $4.6 billion to $2.9 billion – a 37 percent decrease. To keep public housing operating, HUD is also proposing the same major rent reforms that failed to pass last year. At the time, NYCHA said the reforms would cause the average tenant to see a rent increase of 40 percent.
Such cuts would be a sharp contrast to Patton's promise to advocate for more funding. "We fight for more funding everyday," she said in a November tweet from her official account. "Honored to help fight for even more next year."
The good news for NYCHA is that these cuts are unlikely to happen. Trump made a similar proposal in his budget last year before Congress, in effect, threw it out and started over. The federal budget that Congress passed and the president signed actually gave public housing a major funding increase.
Patton, ever loyal to Trump, has been taking credit for that funding increase last year. And now she's putting the same spin on Trump's budget proposal this year, claiming that Trump is merely proposing these cuts to leverage other priorities. "Proposals' don't matter," she tweeted Tuesday. "The only budget that matters is the one (Trump) ultimately signs."
But the experts aren't buying it.
"What is it negotiating for, the end of public housing?" asked Victor Bach, senior housing policy analyst at the Community Service Society. "What is the starting point for the administration, wipe it out?"
Bach told City & State that Trump's proposed budget was an indictment of Patton's ongoing grand tour of public housing. "It certainly shows she hasn't been influential," he said. "Apparently, whatever she's put into Trump's ear has not been working."
Weeks before the budget came out, City & State talked to a former federal housing official, who asked to remain anonymous in order to speak frankly about Patton's NYCHA sleepovers.
"Will she get level funding for public housing in the budget? That's the key," the former official said. "Is it zero again? Then anybody who claimed this was a PR stunt will have been proven right."
Local electeds singled out Patton for blame, too.
"Please tell Lynne to stop showing up for photo ops and to instead publicly condemn this PRESIDENTIAL budget which would severely hurt NYCHA residents," New York City Council Speaker Corey Johnson tweeted on Tuesday.
New York City Mayor Bill de Blasio had a little less faith that Patton would fight for NYCHA.
"I don't expect someone chosen personally by President Trump to stand up to President Trump," de Blasio said on "Inside City Hall" on Monday. "This is going to have to be fought out in the Congress."
De Blasio and Johnson are eager to get more federal money to help fund NYCHA's self-reported $32 billion in capital needs. And they're just as eager to bash President Donald Trump. But Patton does have one – pardon the pun – trump card. NYCHA, a government authority effectively run by de Blasio's City Hall, has been plagued by both divestment and poor management for years. Last year, a federal judge roundly criticized NYCHA management in an order that led to the installment of a federal monitor overseeing the housing authority. The agreement installing the monitor required the city to devote more than $2 billion in capital repairs to NYCHA developments over the next decade, but didn't include any federal funding commitments. Now Trump is suggesting not giving any money at all, something Patton was quick to defend in a statement provided to City & State. Washington is a huge source of NYCHA funding, she said, "and I will not waste one more tax-payer penny on a mismanaged agency and absentee Mayor to spend on corrupt union overtime and overpaid mismanagement instead of actual resident repairs."
Powered By
NEXT STORY: Monica Martinez, state Senate centrist