New York City
Mark Levine wants to bail out taxi drivers
"Those folks got the carpet pulled out from under them."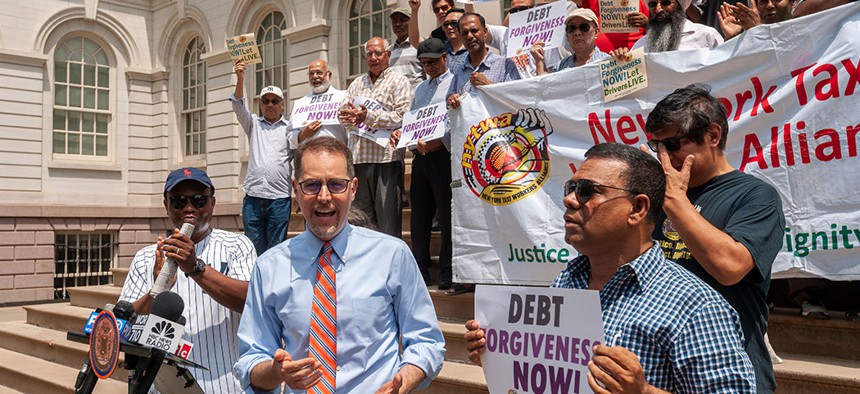 Like any good civic-minded, small-business-supporting elected official, New York City Councilman Mark Levine is a big fan of credit unions. Then he found out that credit unions were the most prominent lenders to yellow taxi drivers buying medallions – a market that has crashed, ruining the finances of many drivers and investors.
"I was just appalled to see the role the credit unions were playing in this," Levine told City & State. "In this case, they behaved in ways that could only be described as predatory."
So Levine decided to do something about it, calling for a bailout of the industry and introducing legislation he thinks will help those hurt by the crash.
"Those folks got the carpet pulled out from under them, and the city owes it to those drivers to fix this," he said. "We can make it right. We can do it without unreasonable expense."
You want to forgive loans for taxi medallion owners – who would cover the bill? 
It's actually a plan in which the city would buy the loan and refinance it on realistic, fair terms. We need to pressure the lenders who are going to have to take a loss on many of these loans, and really should bear the primary burden. So we need to pressure (them) to sell the city the loan at much lower than they're currently valued at. But it may be necessary for the city to have some skin in the game. But even if it were $50,000 or $100,000 per loan, you would be talking about the total cost of the program (being) far less than the nearly $1 billion that the city made during the bubble years through medallion sales.
$1 billion?
From roughly 2003 to 2014, we made $850 million in direct sales in a market that we were helping to pump up and prices that we set. That to me is the benchmark against which we need to measure the kind of outlays in a program to fix this. You could really execute a very effective loan purchasing plan that costs the city much less than what we made in those years.
You've also proposed creating a retirement fund for yellow cab drivers – but isn't that a union's job, rather than city legislation?
One of the unfortunate upshots of the mortgage scandal is how many taxi drivers who might have otherwise retired are driving into their 60s or 70s. And they have no provision for retirement, and they're now sitting with underwater mortgages. But there could be something similar to what we did with (The Black Car Fund) and workers' comp, where a small amount per ride was used to create this fund to help support drivers in retirement. 
Last year you pushed for the city to waive taxi license renewal fees. Did that become law, or was that just a one-year thing?
We have a bill that we're hoping to have a vote on very soon. The (de Blasio) administration has signaled its support for the measure and is not currently engaged in (fee) collection. But to solidify this and make it long term, we absolutely need legislation. There are a fair amount of details that we're working out, and we're hoping that will move forward in the early fall, at which point, it will be early enough to avoid drivers being charged.
When you need to move around the city, do you take Uber or a yellow cab?
My first option is the subway or the bus. And I do take a lot of yellow cabs. Particularly when I'm in downtown and midtown. But in uptown Manhattan and the outer boroughs, yellow cabs are scarce. So I can fall back on a local car service if needed, and occasionally an app-based service.
Powered By
NEXT STORY: What is a taxi medallion worth?