Andrew Cuomo
Cuomo, the hero
The governor sure has a penchant for finding opportune moments to flex his heroic abilities.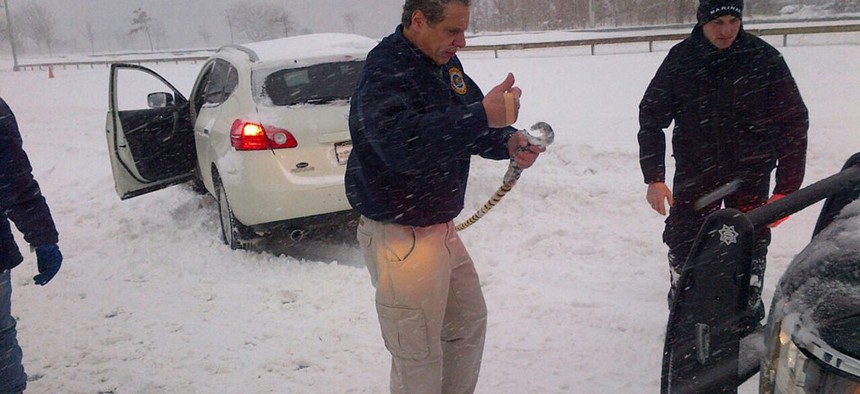 Like a modern-day Hercules, Gov. Andrew Cuomo helped pull a passenger from a car wreck on the Brooklyn-Queens-Expressway on Monday – along with several other emergency responders. 
NEW: As he was leaving @ABetterNY event, @NYGovCuomo came across an accident on the BQE, and he cut a passenger out of his seatbelt and helped pull him out of the wreck.

Video⬇️ pic.twitter.com/ypccdvmdf5

— Zack Fink (@ZackFinkNews) January 6, 2020
As Cuomo was heading down the highway, he spotted a van tipped over and decided to pull over and channel his inner He-Man. While multiple trained professionals showed up at the scene of the accident, in which no one was harmed, it appeared Cuomo was taking advantage of this ripe opportunity to burnish his reputation as a man of action. 
But this certainly isn't the first time the governor has flexed his "heroic" abilities. Cuomo has developed a knack for ending up in the right place at the right time when it comes to minor accidents and emergencies – and luckily for him, if there's no camera nearby, his aides have one on their phones.
Here are just a few previous examples of the governor coming to the rescue. Sort of. 
Helping rescuers bring a family out of a flooded area
After a powerful storm in Dolgeville, located between Syracuse and Albany, resulted in flooding this past November, one family was nearly dragged away by the stormwater. Luckily, a team of rescuers were able to pull them to safety – with Cuomo offering some minor assistance.
In a video, shared by local Albany news station WRGB News, Cuomo can be seen guiding the storm's victims – already being assisted by the Red Cross – to safety, in a noble yet unnecessary move.
Providing aid in Puerto Rico
On a post-Hurricane Maria trip to Puerto Rico in 2018, the governor took part in a relief effort. During the trip he posted a video of himself in construction gear slamming a wall with a sledgehammer. Why? We don't know. But we're sure Cuomo tearing down this plaster wall helped the islanders greatly. 
This video that @NYGovCuomo just posted of himself in Puerto Rico may be Peak Cuomo pic.twitter.com/qmglaPS8cL

— Shane Goldmacher (@ShaneGoldmacher) July 23, 2018
Helping a driver out of a snowbank
In 2017, Cuomo came upon a driver stranded on a snowbank on the Sprain Brook Parkway. The governor took it upon himself to hook a cable to the stuck car and connecting it with his own SUV to pull it out of the bank. We'd like to mock this incident – and the governor's affection for crisp khaki slacks – but the former tow-truck driver actually proved to be quite helpful in this particular instance.
A few more pics of Gov Cuomo helping a stranded driver on the Sprain. NY'ers help each other in times of need.Look out for each other today pic.twitter.com/MbZOWxhuao

— Melissa DeRosa (@melissadderosa) February 9, 2017
Correction: Emergency responders did not arrive at the scene of the accident on Monday until after the governor arrived and the rescue began.