Construction work requires little to no training, but fix wasn't easy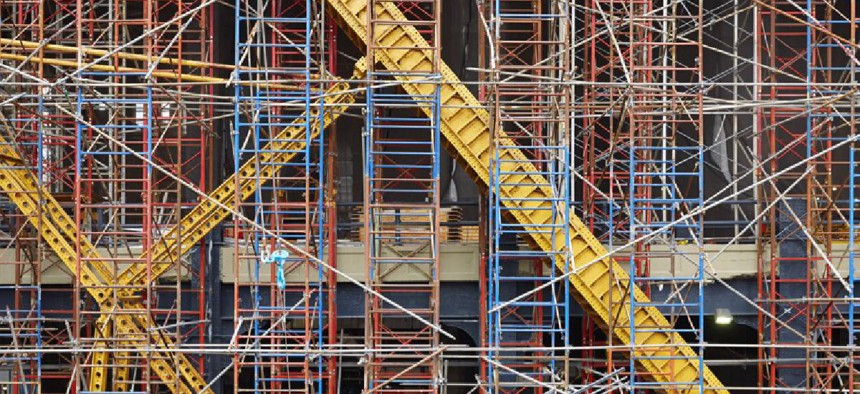 Unarmed security guards need at least 24 hours of training to work in New York. Security and fire alarm installers need 81 hours. A real estate salesperson needs 75 hours of training to get a license, and another 22.5 hours to renew it.
But to work construction on a building over 10 stories in New York City, you only need 10 hours of training – and working on a smaller building doesn't require any training at all.
From 2007 to 2014, an average of 20 construction workers were killed on the job each year in the city, according to city figures. By most measures, construction is the deadliest job in New York – shown clearly on Sept. 21, when two construction workers died in separate accidents while working on high-rises.
RELATED: Tenants and housing advocates support construction safety
Contractors, unions and real estate developers seem to agree that needs to change, and that more safety training is a way to do it. But passing a law to make sites safer hasn't been easy. A construction safety bill before the New York City Council has been among the most acrimonious in recent memory, pitting some of the city's most powerful interests against each other.
The City Council is poised to pass that bill, Intro 1447-C, at its next stated meeting on Wednesday. The bill has is sponsored by 46 out of the 50 council members, plus the Public Advocate Letitia James and Manhattan Borough President Gale Brewer. When the Committee on Housing and Buildings passed it unanimously on Wednesday, Mayor Bill de Blasio released a statement in support, saying, "Construction workers should not have to risk their lives to put food on the table for their families."
But the bill has a powerful lobby of detractors who say the bill is too union-friendly and will hurt smaller construction companies and the racial minorities that often work for them. Those opposing the bill, including the Real Estate Board of New York, the NAACP and Rep. Gregory Meeks, have managed to delay its passage for eight months and have successfully lobbied for changes in the bill's text. But opponents still aren't happy with the final bill.
Among the critics is the New York Construction Alliance, a group of open shop, or non-union contractors. Executive Director Ken Thomas said the group has never opposed a workforce with more training, but he complained that "we just never felt that this side was given adequate access to helping the shape the language in the bill."
Thomas also noted the rushed timeline for the bill's recent changes. After first being introduced in January and updated in August, the Council Housing and Building Committee released an updated version of the bill, 1447-B, on the night of Friday, Sept. 15. Further changes were made, and the latest version, 1447-C, was released Tuesday afternoon before passed by the committee on Wednesday.
Thomas called the timing "dubious."
"It seems like there's an insidious effort to prevent various stakeholders from providing input on the latest rendition of the draft," he said.
But New York City Councilman Jumaane Williams, who introduced the bill and chairs the Council's Housing and Buildings Committee, rejected that argument at Wednesday's meeting. "Everybody had access. Some used their access more than others," he said. "We took feedback from all stakeholders."
RELATED: The best New York City Council members
The bill expected to pass this week would mandate anywhere between 40 to 55 hours of training for construction workers in the city, with the final number to be determined by a Site Safety Training Taskforce with representation from union laborers, non-union laborers, racial minority- or women-owned businesses, and day laborers. The law would be phased in over time, with the full training not required until at least 2020. The bill also includes $5 million in funding, mostly going to community groups that coordinate safety training for low-income workers.
Williams acknowledged that "there's been a lot of consternation and angst about this particular bill," but that he took "painstaking efforts" to address any concerns. He let his own reservations about the controversial bill show, saying he would "not be averse to pulling this bill" if serious issues were brought up before the Sept. 27 stated meeting.
Passage would be a long-awaited relief for one of the bill's biggest backers, the Building and Construction Trades Council of Greater New York and its president, Gary LaBarbera. Critics of Intro 1447 say it benefits only construction unions, who have the money and infrastructure to train a large number of workers, and hurts smaller contractors, which are more likely to be lead by people of color.
LaBarbera said the unions didn't write the legislation, but he took some credit for pushing the bill. "Do we think we have something to do in shaping the bill?" he asked. "We drove the issue to protect the workers. Nobody else seemed to really care. So if Ken Thomas feels that, 'Well, I really haven't had anything to say' – where were you when all these people were dying?"
As always, LaBarbera drove the conversation back to safety.
"We think the sooner, the better the bill gets done," he said. "Because ultimately the training will save people's lives."
Editor's note: An earlier version of this story said that a vote by the New York City Council was scheduled for Thursday. The vote is scheduled for Wednesday.