Nonprofits
How the 2018-19 state budget affects the nonprofit sector
New York nonprofits scored some funding wins in the final state budget for the upcoming year, but the victory was not shared across the board.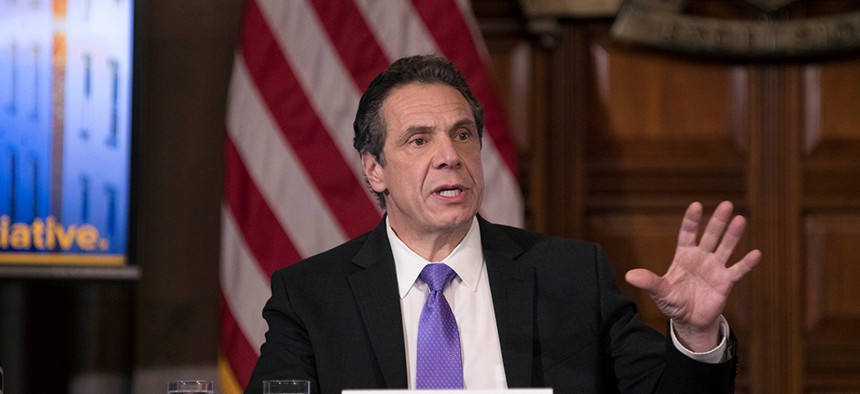 New York nonprofits scored some funding wins in the final state budget for the upcoming year, but the victory was not shared across the board.
More funding for social programs and human services contractors' pay made its way into the final $168.3 billion budget, which had to balance a multi-billion deficit with hot-button issues such as funding for the MTA, NYCHA and education. But other items fell by the wayside as lawmakers pushed for a final budget on March 30 as a holiday weekend loomed – including a controversial reduction in state support for the Close to Home program.
"This budget avoided what would have been devastating cuts to child welfare in New York City, but it does include troubling cuts to our successful youth justice work," David Hansell, commissioner for the New York City Administration for Children's Services, told NYN Media in a statement.
While a proposed cap on state funding for child welfare services in New York City was not included in the final state budget, about $44 million in state funding for the Close to Home program was lost just as juvenile justice providers prepare to implement Raise the Age legislation. An ACS spokesperson said in an email that the agency is still determining how to make up the resulting funding shortfall in order to prop up the program, which places juvenile offenders in their communities rather than in detention facilities upstate.
A final budget deal followed months of advocacy from across the sector including rallies, testimony and a public relations campaign highlighting the state's dependance on the nonprofit contractors that deliver human services. Strong Nonprofits for a Better New York said in a March 31 statement that months of lobbying helped make state funding keep pace with the rising minimum wage through a $15 million addition to the budget.
The coalition had a total of $188 million in budget requests: $65 million to fund salary increases, $23 million for the minimum wage increase and $100 million for the Nonprofit Infrastructure Capital Investment Program.
Efforts will continue to win new funding for the Nonprofit Infrastructure Capital Investment Program, and cost of living adjustments for human services workers, according to a statement from the coalition, which represents about 350 organizations.
They could be helped by the expansion of eligibility for the State and Municipalities Facilities Program, which can help some organizations access funding for capital improvements similar to important public facilities such as schools, cities and libraries, according to the coalition statement. 
"This expansion, along with the investment in minimum wage are significant steps in a positive direction," reads the statement.
A statement from Gov. Andrew Cuomo highlights more funding statewide for a variety of social services including homelessness, hunger, immigration and drug treatment. Here are some takeaways.
Homelessness
The state describes "a comprehensive plan" to eliminate homelessness. This includes support for an ongoing $20 billion initiative aimed at creating or preserving 100,000 units of affordable housing and 6,000 units of supportive housing.
The state Office of Mental Health and the Office of Temporary and Disability Assistance will also have to increase cooperation to make sure that mental illness treatment becomes more accessible in existing homeless shelters, according to the Governor's Office. The Office of Alcoholism and Substance Abuse Services will also need to make "peer-delivered" substance abuse treatment available at 14 existing shelters across the state.
All local social services districts have to now develop and implement outreach programs to address street homelessness under the new budget.
Youth Development
The budget increases tax credits for businesses that hire unemployed, disadvantaged youth ages 16 to 24 in certain cities. Albany, Buffalo, New York, Rochester, Schenectady, Syracuse, Mount Vernon, New Rochelle, Utica, White Plains, Yonkers, Brookhaven and Hempstead have already gained 31,000 jobs under the New York Youth Jobs program, according to the statement. The budget increases credit amounts by 50 percent, from $500 to $750 per month for up to the first six months, and from $2,000 to $3,000 for each employee who is employed for additional time periods after six months with a maximum full time hire credit of $7,500.
Health Care
Two new state-operated charity funds for health care and education were set up by the budget to help New Yorkers circumvent the new tax law passed last year. Basically, any taxpayer making a donation to these funds may also claim a state tax credit equal to 85 percent of the donation amount for the tax year after the donation is made. School districts and local governments can also create charitable funds, according to the statement.
The budget also creates an "Opioid Stewardship Fund" from a tax on manufacturers to direct $100 million to help mitigate the opioid crisis. There is also a $30 million increase in operating and capital support for a $200 million effort from the Office of Alcoholism and Substance Abuse Services "to enhance prevention, treatment and recovery programs, residential service opportunities, and public awareness and education activities," according to the Governor's Office. A new state Health Care shortfall fund will save money to maintain state health care programs in the event of federal cuts, according to the statement.  
Education
The budget includes $15 million in more funding for pre-kindergarten programs to expand its reach to 3,000 more three and four-year-old children. An additional 6,250 students will receive public after school care with children in areas with high rates of childhood homelessness receiving priority, according to the Governor's Office.
Conclusion
Passage of the state budget now puts pressure on the New York City nonprofit sector to make up funding shortfalls in the ongoing city budget process. The City Council response to Mayor Bill de Blasio's proposed budget is expected early this month.