Criminal Justice
Joint effort: Where key players stand on legalizing recreational marijuana in New York
The legalization movement is gathering steam, but not everyone is onboard.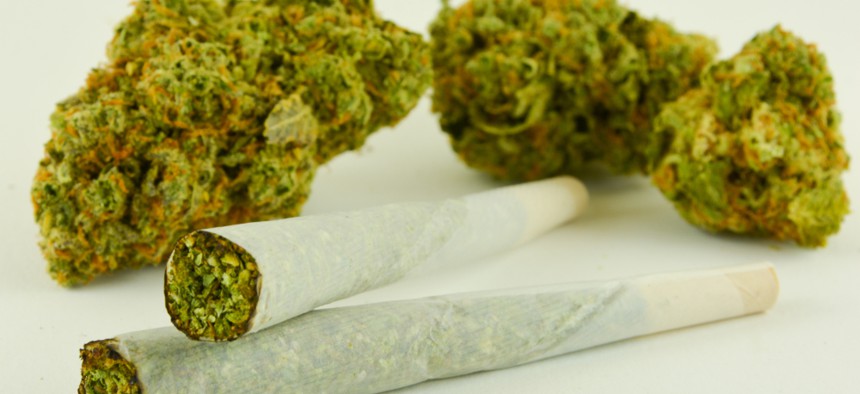 Recreational marijuana has recently been high on the list of priorities for New York politicians. Democratic gubernatorial candidate Cynthia Nixon has made legalization an important part of her campaign, while Gov. Andrew Cuomo's opinions seem to be evolving. The Republican gubernatorial candidates, Dutchess County Executive Marc Molinaro and state Sen. John DeFrancisco, did not return requests for comment on their positions on recreational marijuana, although DeFrancisco did vote against the bill which legalized medical marijuana in New York in 2014.
Meanwhile, legislation is under consideration in the state Legislature that would legalize recreational marijuana, although it faces stiff opposition. In honor of 4/20, here is an in the weed(s) look at the politicians who are blazing the trail for legalizing recreational marijuana in New York, and the ones who are harshing the mellow.
Supporters
Assemblyman Dick Gottfried & State Sen. Liz Krueger
The long-time chairman of the Assembly Health Committee is a staunch advocate of making marijuana more accessible. He helped to write the law which legalized medical marijuana in the state for a narrow set of conditions and does not allow patients to smoke it but imbibe through other means, but has criticized it for being too restrictive. He has introduced legislation to allow people to smoke marijuana and to loosen the restrictions on which afflictions qualify for medical marijuana use. Gottfried is also an Assembly sponsor of the Marijuana Taxation and Regulation Act. This bill would legalize marijuana for adults over 21, which Gottfried has said is "long overdue" in New York.
Krueger is also an advocate of legalizing recreational marijuana. She is the Senate sponsor of the Taxation and Regulation Act, which has previously stalled in the Republican-controlled state Senate. Krueger's position is that prohibition of recreational marijuana "disproportionately affects communities of color and wastes valuable law enforcement resources."
Cynthia Nixon
The country's most famous gubernatorial primary challenger has made legalizing recreational marijuana a significant part of her campaign platform. Nixon first called for legalization at a private fundraiser in late March, but has since made her call to legalize recreational marijuana public via a video posted to her Twitter. Nixon also frames this topic as a criminal justice issue, saying that "we have to stop putting people of color in jail for something that white people do with impunity." She also called out Albany for its "lack of political courage" in addressing the issue. She supports taxing marijuana to raise revenue for the state.
U.S. Senate Minority Leader Chuck Schumer
New York's senior senator proved his progressive bona fides by announcing to Vice News Tonight this week that he was sponsoring a bill to decriminalize marijuana across the United States. The bill would not only decriminalize the substance, but would provide funding for minority and women-owned marijuana businesses. "If smoking marijuana doesn't hurt anybody else, why shouldn't we allow people to do it and not make it criminal," Schumer said. Although the straight-laced senator may be an unexpected champion of legalization, he has previously been observed in a stoner-like posture.
New York City Public Advocate Letitia James
James announced this week that she supported legalizing recreational marijuana, and credited Cuomo for launching a study into legalization. A potential 2021 mayoral candidate, James criticized New York City Mayor Bill de Blasio for not taking a stronger stance on legalization, saying "I don't see how you can call yourself someone progressive, a leader of the city of New York, and not come out or at least consider the prospect of legalizing marijuana given the adverse impact on communities of color."
Opponents
Conservative Party Chairman Mike Long
Long opposed legalizing medical marijuana in 2014, saying it was "the wrong signal for the state of New York" and warned it could lead to full legalization. The Conservative Party chairman considers marijuana a gateway drug, and said in January of this year that "we as a party, will do everything in our power to oppose the legislation."
New York City Mayor Michael Bloomberg
In 2013, the former mayor argued that legalizing marijuana would give dealers leeway to start dealing any kind of drug. He also called medical marijuana "one of the great hoaxes of all time," despite evidence that medical marijuana is effective in treating a variety of illnesses. In 2015, Bloomberg said that widespread legalization was "one of the stupider things that's happening across our country."
Sheriff Barry Virts
The Wayne County sheriff and president of the New York State Sheriff Association recently testified before the Assembly Health Committee that legalization would result in greater use of recreational use of marijuana, which in turn could drive marijuana-related arrests, such as driving under the influence. He also said that hiring experts who could recognize drug impairment when testing for whether a person was driving under the influence would be costly for police departments. "I do understand that not every group or person is going to abuse a drug, but my fear is this is a mixed message to our youth as we go forward," Virts said.
Maybes
Gov. Andrew Cuomo
A longtime opponent of legalizing recreational marijuana, Cuomo has called it a "gateway drug." However, Cuomo supports the decriminalization of marijuana, and signed the bill legalizing medical marijuana into law in 2014. The governor's positions seem to have evolved this year, perhaps because of his primary challenge from Nixon. He argued that New York "is ahead" of other states on issues of recreational marijuana because the state is conducting a study on legalization, which was first announced in January. Cuomo has also said that "facts have changed" on legalizing recreational marijuana.
New York City Mayor Bill de Blasio
De Blasio ordered the NYPD to stop arresting people for possession of small amounts of marijuana in 2014, but he continues to waffle on recreational marijuana. He slammed U.S. Attorney General Jeff Sessions for his crackdown on marijuana in states that have legalized the drug, saying Sessions had a "vendetta" and that his position was "an attack on minority communities." However, de Blasio has said that he himself is "not there yet" on legalization of recreational marijuana, although his wife and policy advisor, Chirlane McCray, has called for legalization and regulation. De Blasio seems to consider it a gateway drug, as he has argued that the marijuana industry would quickly become institutionalized, like that of the tobacco industry, and would try to "hook" kids. De Blasio has also defended the NYPD's record on marijuana arrests, after a report by Politico New York found racial disparities between marijuana complaints and arrests.