Rikers Island
What happens when you're arrested in NYC
What happens when you're arrested in New York City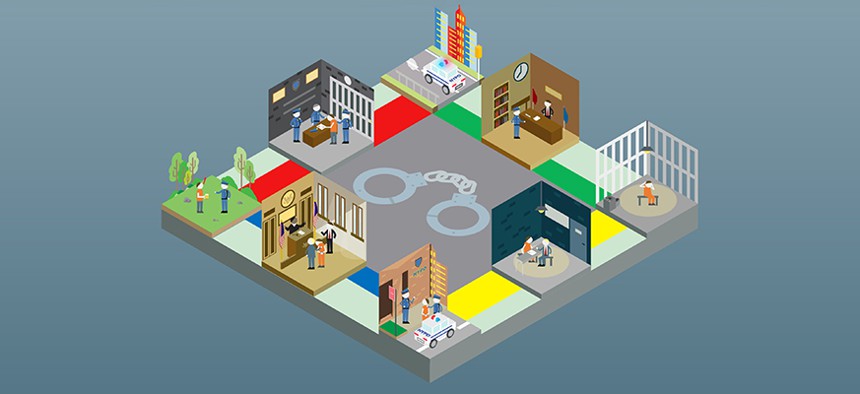 Most people caught drinking a beer in Central Park aren't sent to Rikers Island – but it's possible. And most people accused of murder aren't allowed to walk free – but that's possible too.
New York City's criminal justice system is rigid and rule-based in many ways, but every player in the system makes some choices – for example, police officers can often choose whether your infraction is worth a ticket, or if it's best to let you off with a warning.
New York City Mayor Bill de Blasio's administration, like many other criminal justice stakeholders, is hoping to leverage these choices to reach a specific goal: lowering the number of inmates held in New York City jails in order to close the Rikers Island jail complex by 2027.
In 2017, some 77 percent of the 9,100 average daily inmates in city jails were pretrial detainees. So if fewer people are arrested, or more people who are arrested could be diverted out of the system in other ways instead of awaiting trial in jail, fewer people would have to experience what an independent monitor of Rikers Island called a "culture of violence." And de Blasio could achieve his goal of "smaller, safer, fairer" jails.
New York's already making progress. Manhattan District Attorney Cyrus Vance Jr. recently announced that his office would decline to prosecute most cases of turnstile jumping, leading to an immediate drop in arrests. Nonprofit bail funds will pay bail for certain defendants – like those accused of misdemeanors who have no other options for paying their bail. And after a delay of a year and a half, the de Blasio administration plans to allow defendants to pay bail online, saving their friends and family members the hassle of paying bail in person, and thus getting inmates out of jail faster.
And fewer people are getting arrested to begin with. New York City police made 240,000 arrests last year. It's an incredible number – an average of 657 a day. But it's the fewest the city has seen in years. As recently as 2011, the city arrested 337,000 people – 40 percent higher than last year.
But New York City still has a long way to go.
We researched the process of getting arrested and charged in the five boroughs, with help from visits to Manhattan Criminal Court and interviews with a court clerk and attorneys from the Legal Aid Society. We then created a chart where you can follow what could happen when somebody is stopped by the police in New York. Like the "Choose Your Own Adventure" series of books, you'll be able to see the options different players have throughout the process, and just how many steps it takes to get from the street to a jail cell on Rikers Island.
Yes, most people caught drinking a beer aren't sent to Rikers. In fact, the most common reason for arrest in New York is alleged misdemeanor larceny, such as shoplifting. But there are endless ways to end up in jail, and – once you're in the system – many ways to avoid it, too. Follow along.
---

Powered By
NEXT STORY: Insuring the future