New York State
Breaking down the barriers of male-dominated boards
A new California law aimed at increasing diversity could be a model for New York.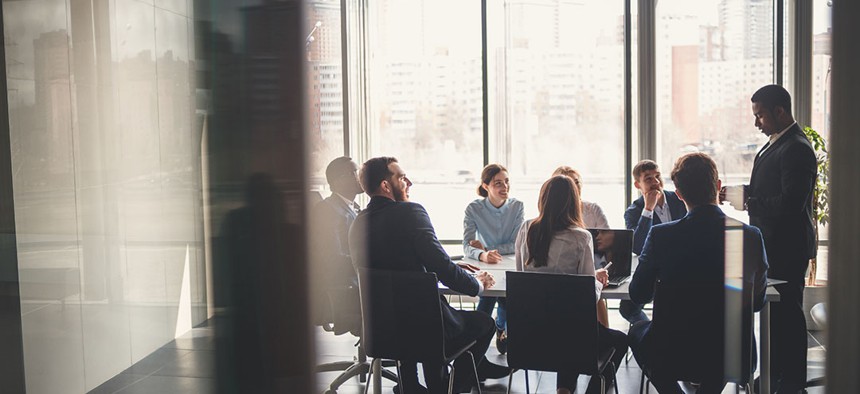 There are far fewer women than men on the boards of directors for the nation's largest companies. Last year, women held just 18 percent of positions on the boards of the 3,000 largest publicly traded corporations in the U.S., according to ISS Analytics.
In response to such dismal statistics – and motivated by research that shows the benefits of more diverse boards – California last month became the only state to require publicly held corporations headquartered in the state to meet a minimum number of female board members.
Now, despite fears that the California law may not survive if it is challenged in court , New York may pursue a similar path. At least two Assembly members are looking to propose bills that would emulate the California law, which requires those public companies to have at least one female board member by the end of 2019, and two or three by the end of 2021, depending on the size of the board. Fines will be imposed on companies that fail to comply.
Assemblywoman Rebecca Seawright, a Manhattan Democrat, is drafting legislation that she said would mirror the California law as much as possible.
Seawright provided few specifics on how similar her legislation, which is still in the research stage, would be to California's. Instead, she said her bill would first commission a study on the number of women currently appointed to the boards of directors of publicly traded corporations headquartered in the state. Based on the findings, the bill would then require steps to be taken to increase the number of women and "create a more equal playing field."
Assemblywoman Rodneyse Bichotte, a Brooklyn Democrat, plans to draft a different bill that would require corporations that contract with New York City or New York state to meet a certain threshold of diversity on their boards or in their management structure.
"We are actually allocating tax dollars in the form of government contracts to these companies and their boards should be a reflection of New York state and New York City," Bichotte said. "California is different from us. I don't know if that extreme bill would get anywhere. I think that at least we should do it in tiers. Certainly, I would love to take it to that extreme – and that's a conversation that we're going to continue having."
Jessica Levinson, a professor at Loyola Law School in Los Angeles, wrote in an op-ed for NBC that the California law poses a number of legal issues.
"For instance, the bill specifically creates a classification based on gender, and therefore it raises questions of equal protection under both the U.S. Constitution and the California Constitution," she wrote. "When the government legislates on the basis of gender, courts typically subject that legislation to a heightened scrutiny. This basically means the government has to prove it has a really good reason for doing what it is doing, and that there isn't a better way of accomplishing that goal."
New York Times columnist Andrew Ross Sorkin, a proponent of increased corporate board diversity but an opponent of the California legislation, wrote that "while California's impulse is clearly on the right side of history, the way the rule was enacted is so misguided that it might do more harm than good." Sorkin warned that "an onslaught of lawsuits" from opponents of the rule could set back women's advocates' progress by calling into question the validity of studies claiming companies with more diverse boards perform better.
When asked about the constitutionality of the California law and her bill, Seawright said her team consulted with a legal firm that said the bill complies with the state constitution and U.S. Constitution. Seawright said she would call on the state attorney general to review her proposal and issue an advisory opinion on the constitutionality of her bill.
"It's not a mandate, it's not a quota," Seawright argued. "I think it will stand up to the strict scrutiny protection clause."
Since Bichotte's proposal only would apply to companies that receive state contracts, it may stand a better chance of passing constitutional scrutiny. Richard Briffault, a professor of legislation at Columbia Law School, said that the government has a freer hand when it comes to imposing requirements on companies in contracts.
"The courts have generally indicated that when governments are acting on what's sometimes called their proprietary capacity, that is by contract, as opposed to as regulators, they can do more," Briffault said. "Obviously, even then there are limits on what governments can do, but there is more leeway for governments when they're acting by contract. Contracts are arguably voluntary on the part of the contracting party so these are part of the conditions that get put in. There are also constitutional limits on what can go into a contract but it does give more space (for) the government to advance certain policies."
In his signing message, California Gov. Jerry Brown wrote: "There have been numerous objections to this bill and serious legal concerns have been raised. I don't minimize the potential flaws that indeed may prove fatal to its ultimate implementation."
Bichotte said she doesn't know if California's law would pass legal scrutiny in New York. Gov. Andrew Cuomo's office wouldn't commit to supporting Bichotte's legislative proposal. "Governor Cuomo has a long record of increasing protections and ensuring equal opportunity in the workplace," a Cuomo spokeswoman said in an emailed statement. "We are continuing to explore additional legislative and regulatory options for encouraging and enforcing greater representation of women in all sectors."
Seawright said she was hopeful that she can pass her proposal – as she did with other significant diversity legislation – but short of that, she said she "absolutely" supports Bichotte's legislation.
"New York is a leader and has been a leader on so many issues – passing marriage equality and one of the first to pass choice before Roe v. Wade – and I think the time has come that New York needs to step up and take a serious look at this," Seawright said. "Women comprise over half of New York's population, yet we're so underrepresented on corporate boards and commissions."
Powered By
NEXT STORY: Out on parole, and turning out to vote