Andrew Cuomo
The growing list of corrupt Cuomo associates
Steve Pigeon pleaded guilty Tuesday to funneling an illegal donation to the governor's campaign. He's not the first Cuomo ally to get in legal trouble.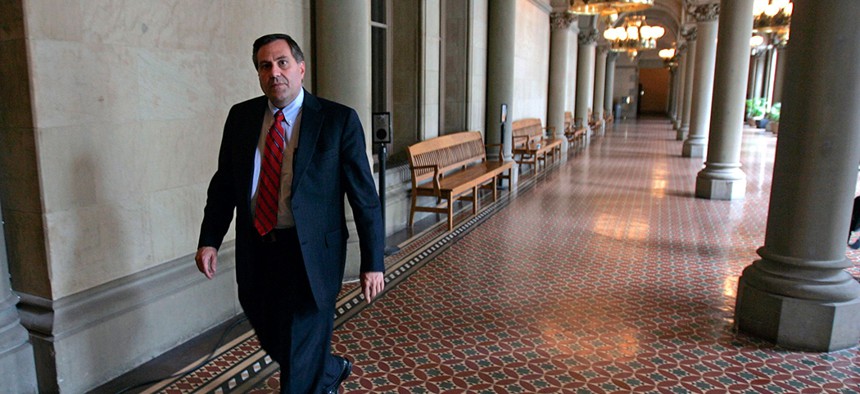 On Tuesday, Steve Pigeon, the one-time Democratic politician and long-time controversial New York power broker, pleaded guilty to channeling an illegal foreign donation to Gov. Andrew Cuomo's 2014 campaign. Although the U.S. Department of Justice noted that the Cuomo campaign rejected the donation when it realized it came from a Canadian, Cuomo's Republican opponent, Marc Molinaro, eagerly decried the "foreign money laundering scheme."
This is only the latest in a string of recent legal proceedings against Cuomo former associates and allies. In late September, the governor's former close aide Joseph Percoco, who Cuomo had likened to a brother, was sentenced to six years in prison for taking bribes.
On the same day, Cuomo ran an ad accusing Molinaro of corruption. Molinaro used Pigeon's guilty plea as fodder to fire back, saying, "Andrew Cuomo spends his days pointing fingers at others while his own backyard is despicably dirty."
Cuomo has not been accused of any wrongdoing in any cases involving his associates. At a news conference when the Percoco charges were first announced, then-U.S. Attorney Preet Bharara replied to a question about Cuomo by saying, "There are no allegations of any wrongdoing or misconduct by the governor anywhere in this complaint. That's all I'm going to say."
Here is a list of the cases that have brought down political figures with ties to Cuomo, in descending order of how close they come to the governor's office.
 
Joseph Percoco
Joseph Percoco began working for former Gov. Mario Cuomo when he was just 19. He was so close to the Cuomo family that during the younger Cuomo's eulogy for his father in January 2015, he described Percoco as "my father's third son, who I sometimes think he loved the most." He joined Andrew Cuomo at the U.S. Department of Housing and Urban Development during the Clinton administration and he worked with him until 2015. He served as the executive deputy secretary to the governor between January 2012 and mid-2014, and again in 2015.
In March, Percoco was found guilty for selling his influence in the governor's office when he accepted more than $315,000 in payments from Competitive Power Ventures and Cor Development in exchange for favoring their projects. As early as 2010, CPV treated Percoco to expensive meals and a Hamptons fishing trip. The bulk of the bribe came in the form of a job given to Percoco's wife, Lisa, that required very minimal work. In exchange, Percoco agreed to use his influence to assist CPV in obtaining a contract with the state.
When Percoco was sentenced in September to six years in prison, Manhattan Federal Judge Valerie Caproni said, "I hope this sentence will be heard in Albany."
"Joe Percoco is paying the price for violating the public trust," Cuomo said at the time. "And it should serve as a warning to anyone who fails to uphold his or her oath as a public servant."
 
Alain Kaloyeros
Dr. Alain Kaloyeros, the former president of SUNY Polytechnic Institute, is credited with helping to foster a high-tech industry around Albany. This led Cuomo to tap Kaloyeros to run the Buffalo Billion project, the governor's signature economic development project that initially aimed to invest $1 billion in the Buffalo-area economy. In July, Kaloyeros was found guilty of rigging the bidding process. Kaloyeros colluded with powerful New York lobbyist Todd Howe to funnel lucrative contracts to Cor and LPCiminelli, whose executives donated significantly to Cuomo's campaign. Howe and Kaloyeros tailored requests for proposals to their corrupt patrons' companies.
 
Todd Howe
Cuomo has denied that he was very close to Howe, but according to testimony from Kaloyeros' trial, Howe was paid $300,000 a year by a state college to be Cuomo's informer inside Kaloyeros' office. Howe was also involved in the Percoco case. In order to gain access to Percoco, CPV and Cor retained Howe. In 2016, when prosecutors announced the charges against Percoco, they also revealed that Howe had pleaded guilty to eight felonies and was cooperating. Bribes paid to Percoco were channeled through bank accounts and a shell company set up by Howe. According to a Department of Justice press release, Percoco and Howe referred to the bribe payments as "ziti," a reference to a term used for money in the television show "The Sopranos."
Howe cooperated with the prosecution on the Percoco trial as a key witness. However, he was arrested and his bail condition revoked mid-way through the trial when he admitted during cross-examination that he attempted to con his credit card company.
 
Steve Pigeon
Steve Pigeon, former Erie County Democratic Chairman and long-time New York kingmaker, has dared prosecutors for years to challenge his questionable political fundraising tactics. On Tuesday, he pleaded guilty to federal charges that he helped hide an illegal $25,000 donation to Cuomo's 2014 campaign. This comes just two weeks after a separate guilty plea in a state case for bribing a judge. The contribution was made on behalf of the Canadian founder of Amaya, an online gambling site. It is illegal in the U.S. for foreign nationals to make donations to political campaigns. The DOJ noted that the Cuomo campaign rejected the donation when it realized it came from a Canadian. But Pigeon then tried to sneak through the donation by channeling it through a legal U.S. resident employed by Amaya.
 
Edward Mangano
Edward Mangano, the former Republican Nassau County executive who was arrested on corruption charges in late 2016, has weaker ties to the governor. However, in an article from November 2016, City & State outlined Mangano and Cuomo's complicated alliance. Cuomo's desire to secure the Long Island vote has a long history and, despite representing the opposing party, Mangano assisted Cuomo in his quest. Mangano and Cuomo made joint public appearances and only tepidly endorsed each other's opponents. Since Cuomo took office in 2011, the Nassau Interim Finance Authority, a state-controlled fiscal monitoring board created in 2000 to help Nassau County dig itself out of a funding crisis, became more sympathetic towards Mangano. During Mangano's 2013 reelection bid, Cuomo had replaced enough members of NIFA that the committee could rubber-stamp Mangano's fiscal agenda.
Mangano and his wife, Linda, are currently facing a federal corruption retrial, although the proceedings were abruptly postponed on Tuesday. The case revolves around allegations that Mangano assisted local restaurateur Harendra Singh in securing a number of Nassau County contracts in exchange for bribes, including a $450,000 no-show job for Linda Mangano. Mangano pleaded not guilty, and his attorneys maintain there was nothing illegal about Singh giving gifts to his longtime friends and that the former county executive did nothing in return that broke the law.