Andrew Cuomo
Criminal justice reforms up next ahead of Caucus Weekend
Criminal justice reforms up next for Democratic state lawmakers ahead of Caucus Weekend in Albany.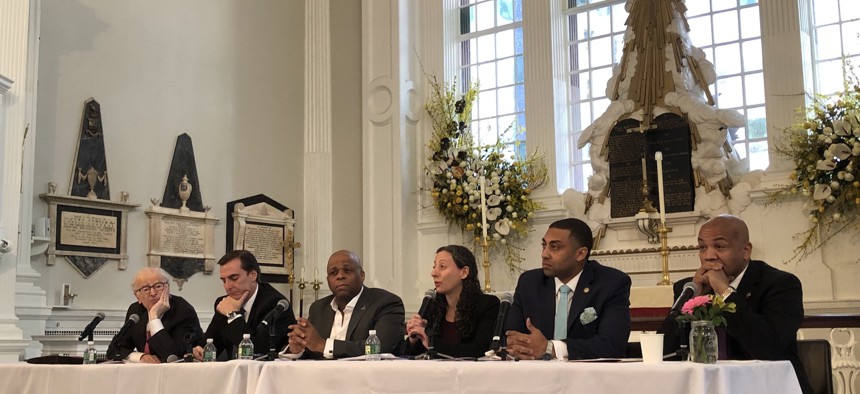 Voting reforms? Check. Abortion protections? Check. Child Victims Act? Check.
Now, as Democratic legislators enter their second month with a majority in both houses, they're turning their attention to another progressive priority: criminal justice reform.
Criminal justice advocates, whose desired reforms to state law – addressing such matters as bail and parole – have been stymied in recent years by the state Senate's Republican majority, are now chomping at the bit.
On Thursday morning, at least six state senators are joining criminal justice advocacy groups outside Manhattan Supreme Court to lay out their legislative agenda. Shortly afterward, legislators, a district attorney and advocacy organizations are promoting a parole reform bill at Brooklyn Law School. The push comes before lawmakers return to Albany next week with plans to hammer out the specifics on reforms for bail, parole, speedy trial and the timing of evidence-sharing in court proceedings.
The timing isn't random. The annual conference for the New York Association of Black and Puerto Rican Legislators, known as Caucus Weekend, is the following weekend, Feb. 15-17. The organization has often taken a particular interest in criminal justice issues, since people of color are disproportionately caught up in the system. This year's conference takes on a special relevance, with black legislators leading both conferences for the first time, in Senate Majority Leader Andrea Stewart-Cousins and Assembly Speaker Carl Heastie.
Heastie spoke to that importance at a Jan. 31 forum on bail at St. Paul's Chapel in Manhattan. "I would've been a failure as a black man if we did not reform the criminal justice system," Heastie said.
The specific language that could be passed into law has yet to be finalized, but there is widespread agreement among Democrats on some pieces of the legislative package. Discovery reform would compel prosecutors to provide defense attorneys earlier on with the evidence they have against the defendant. Speedy trial reform would ensure that defendants couldn't languish in jail for years awaiting trial, like the infamous case of Kalief Browder, who spent three years in New York City jail before the charges against him were dismissed and then killed himself. Parole reform would, at the very least, appoint more members to the parole board and ensure that both parole commissioners and prisoners are better prepared for their parole hearings in order to instill more fairness in the system. More proposals could come in that area, state Sen. Luis Sepúlveda, the correction committee chairman, told City & State last week. "A lot of things are on the table," he said.
Bail reform, however, may be a sticking point. In 2018, Gov. Andrew Cuomo's State of the State book proposed ending cash bail for minor crimes, while still allowing judges to put monetary conditions on many other detainees facing charges. This year, Cuomo's proposal goes much further towards eliminating the cash bail system by making pre-trial detention an option only for those who are a risk for violence or have "persistently and willfully" failed to show up at court dates.
There's wiggle room even in Cuomo's more aggressive proposal, and Heastie made it clear at the event at St. Paul's that he was interested in a more airtight bail law. "Let me tell all of you," he said, "I support a 100 percent ending of the cash bail system."