Criminal Justice
Inside Officer Daniel Pantaleo's NYPD trial
Officer Daniel Pantaleo, who killed Eric Garner with a chokehold in 2014, is going to trial.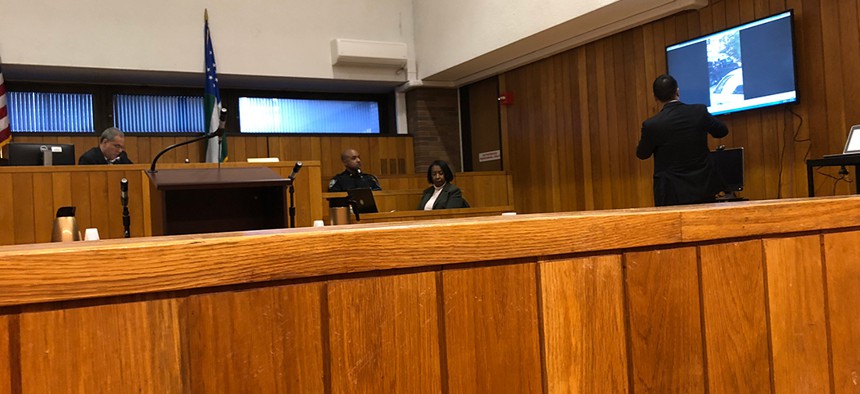 Nearly five years after the death of Eric Garner on Staten Island, one of the New York City police officers involved in his arrest is going on trial starting Monday, May 13. But the internal disciplinary trial is a far cry from a typical criminal trial, and the worst punishment Pantaleo could face is getting fired.
Pantaleo will be prosecuted by the Civilian Complaint Review Board, the city-chartered independent watchdog overseeing the NYPD. Lawyers from the CCRB's Administrative Prosecution Unit are accusing Pantaleo of misuse of force – specifically, putting Garner in an illegal chokehold. Pantaleo's maneuver, caught on camera by a bystander, led to Garner's gasps of "I can't breathe," which became a rallying cry for the Black Lives Matter movement. Pantaleo's lawyer claimed that the NYPD's top doctor determined it wasn't a chokehold. But the city's chief medical examiner disagreed, saying neck compression was a factor in Garner's death.
The question of whether or not Pantaleo used an illegal chokehold has never before been publicly adjudicated. A Staten Island grand jury decided in December 2014 that the criminal case shouldn't go to trial. The U.S. Department of Justice opened up a case to pursue federal civil rights charges immediately after, but that investigation dragged on for years without any public indication of whether or not the DOJ would charge Pantaleo. In the meantime, New York City settled a wrongful death claim with Garner's family for $5.9 million in 2015. The five-year statute of limitations on the federal case runs out in July. Pantaleo's lawyer, Stuart London, has argued that the internal trial should be postponed, pending notice on the federal case, but judges have repeatedly ruled against him on that and other grounds to dismiss the case.
The trial will take place in the trial room on the 4th floor of NYPD headquarters at 1 Police Plaza, a sparsely-appointed, wood-paneled room that looks like it hasn't gotten a face-lift since the building opened in 1973. Like a typical courtroom, there are tables on each side for the prosecution and the defense, a box for court clerks, and a witness stand. There's a TV mounted on the wall to be used to view evidence. A judge sits at the center of the room on an elevated platform, but in this case, the administrative judge is an NYPD employee. Pantaleo's trial will be heard by the department's top judge, Deputy Commissioner of Trials Rosemarie Maldonado, who has been with the department since 2014. There's no jury, but the room is expected to be packed – each side will be calling ten witnesses each, plus there will be family members and hoards of media attention. The trial has been scheduled for ten days, through Friday May 24.
Still, Pantaleo isn't being accused of breaking any laws, and the punishment he could recieve is limited, so the standard of proof is lower than a criminal trial. Maldonado will be deciding based on a preponderance of evidence, rather than determining wrongdoing beyond reasonable doubt. At the end of the trial, Maldonado will issue a decision – but the buck doesn't stop there. Since it's an internal trial, NYPD Commissioner James O'Neill has the final say on punishment. He'll be the one deciding whether to sanction Pantaleo and if so, how. Pantaleo is still an employee of the NYPD, though relegated to an office doing crime analysis rather than on the street. His punishment could range anywhere from a loss of vacation days to getting fired, and it's unlikely that prosecutors would request anything less than his termination.
Adding to the intrigue – or frustration – both Maldonado's and O'Neill's decisions will technically be private, thanks to New York's police privacy laws that shield most personnel records. That said, the massive public interest in this trial sets it apart from typical cases and the NYPD will be under intense public pressure to release information – primarily from police reform advocates who want to see Pantaleo punished, but also from law enforcement unions and supporters who don't think Pantaleo did anything wrong.
So Pantaleo's lawyer, London, is managing expectations. He told City & State in December that the political climate and "anti-cop" sentiment can pervade even the NYPD's trial room.
"It's not like this is a trial where the referees are at home, so you'll always get the best calls because you're (playing at) home," London said. "No, not at all. Often they are harsher on their own than an outside person might be."
Powered By
NEXT STORY: Is the Justice Center just?