New York State
The internal rift over rent regulations
Democratic lawmakers agree they are racing against time to renew New York state rent laws before they expire on June 15. If it doesn't happen before then, rent regulations could wind up in the "Big Ugly" – and the risk is growing by the day.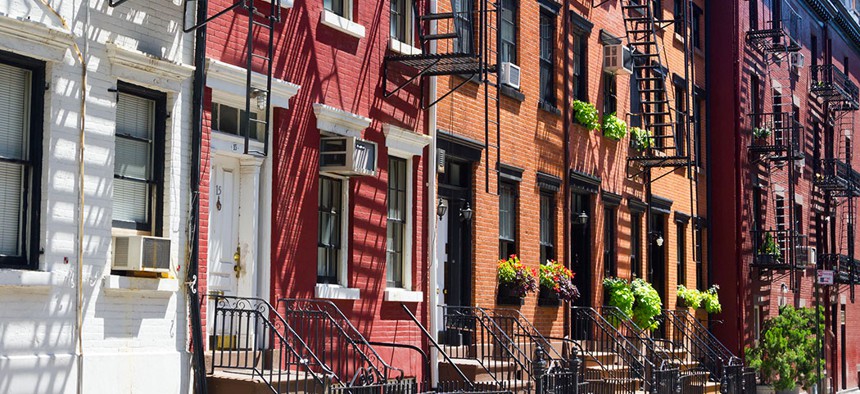 Even before this year's state legislative session began, an overhaul of rent laws appeared to be a given. Democrats had won big majorities in the state Senate and Assembly, and Gov. Andrew Cuomo unveiled a legislative agenda for the first 100 days of his third term that included proposals to end the deregulation of vacant apartments and limit how landlords could increase rents based on renovations to buildings and apartments. Rent regulations, however, fell off the legislative agenda as other issues like congestion pricing and cash bail reform took precedence during budget negotiations.
Now, with just a few weeks to go in this year's session, lawmakers are feeling a sense of déjà vu. "The natural inertia of the session suggests things don't really get done unless there is an impending deadline," said state Sen. Zellnor Myrie, a leading advocate of expanding tenant rights and one of a number of state lawmakers who campaigned last year on addressing the issue.
The big question now facing Democrats is: Which deadline do they have to meet?
Democratic lawmakers are racing to renew the state's rent laws before they expire on June 15. If Democrats meet that deadline, then the political pressure shifts to Gov. Andrew Cuomo to sign their proposal before lawmakers adjourn for the year on June 19. If lawmakers fail to meet their deadline, rent regulations could get swept into the "Big Ugly" – a collection of unrelated bills typically passed at the end of the session through which Cuomo could demand concessions on other issues in exchange for his support on progressive priorities like stronger tenant protections.
In late May, Cuomo reiterated his support for strengthening rent regulations, predicting passage of "the best rent reform package we've ever had." However, activists remain leery of Cuomo's ties to and big-dollar campaign contributions from the real estate industry. "If Andrew Cuomo is allowed to participate in three-way negotiations," Michael McKee, treasurer of Tenants Political Action Committee, told lawmakers at a May 22 hearing in Albany, "that will inevitably lead to a 'Big Ugly' with other things Andrew wants, such as lifting the cap on charter schools and a watered-down package of rent reforms."
Interviews with nearly a dozen key lawmakers suggest that however much they want to avoid putting rent regulations into the "Big Ugly," the likelihood is growing by the day, though lawmakers declined to say so on the record. Lawmakers missed the deadline to renew the rent laws in 2015, but passed a bill a few days later that renewed them until 2019 after voting to retroactively extend that year's legislative session.
While the dynamics of state politics changed this year once Democrats took full control of the state Legislature, lawmakers said they might miss the deadline to extend rent regulations once again. "There is a strong commitment to protect as many tenants as possible," said Rochester Assemblyman Harry Bronson. "I would hope that we would not go to the wire."
But in the state Legislature, Democrats continued to be divided over how proposed rent reforms would affect the supply of affordable housing and whether tenant protections should be expanded statewide.
Assembly Democrats have backed eight out of the nine bills that make up a "universal rent control" platform supported by the Upstate-Downstate Housing Alliance, a statewide tenant rights coalition. The legislative package includes the elimination of vacancy decontrol, which allows a landlord to charge market-rate rents once the rent exceeds $2,774.76 a month and the apartment becomes vacant. Other proposals would limit the ability of landlords to raise rents through renovations to a building or apartment, or when a lease is renewed. One bill that the Assembly is backing would allow municipalities across the state to create rent-stabilization systems. The Emergency Tenant Protection Act of 1974 currently applies to New York City and Westchester, Rockland and Nassau counties.
One bill left out of the tenant rights platform announced by the Assembly on April 9 was a "good cause eviction" bill that would effectively limit rent increases statewide. As currently written, the bill would prevent landlords from evicting tenants who cannot pay an "unconscionable" rent increase, defined as an increase greater than one and a half times the percent change in the area's consumer price index. Opponents of the bill have argued that it would disincentivize the construction of new housing because it would limit the rents that landlords could charge. "I don't think you need a Nobel Prize in economics to understand that this would have a very deleterious effect," Howard Husock, vice president for research and publications at the right-leaning Manhattan Institute, told City & State earlier this year.
Another common criticism of the bill is that it would extend downstate tenant protections to upstate, though the proposed legislation differs from the existing Emergency Tenant Protection Act. "Unfortunately, as with most of the things that we do, communication and narrative are not actually always reality," said Assemblywoman Pamela Hunter, who is sponsoring the bill. "That narrative is hard to change once it's out there and everyone is thinking that New York City is imposing all these rent regulations on everyone else."
Senate Democrats have spent hours discussing rent regulations, but have yet to announce which bills they will take up. One reason why is that senators from Long Island and the Hudson Valley have largely resisted signing on to the "good cause eviction" bill as they negotiate the details on how it would affect the housing markets in their districts. "You do have to strike a balance," said state Sen. James Skoufis, who represents a Hudson Valley district. "It's all well and good to control rent, but if there are not enough places to rent because economics don't work, rent control is inconsequential." Only three upstate Democratic senators – state Sen. Rachel May of Syracuse, state Sen. Neil Breslin in the Capitol Region and state Sen. Pete Harckham from the Hudson Valley – have signed on to the legislation.
Expanding tenant protections upstate and to all of Long Island is not the only major political divide among Democrats. Another challenge is the extent to which landlords can increase rent after they renovate buildings or apartments, otherwise known as major capital improvements and individual apartment improvements. Currently, these rent increases are permanent, but two bills aim to eliminate them entirely.
Real estate developers and the construction industry have attacked the proposal. They say such a change would reduce housing quality, limit profits for building owners and curtail the amount of work for building trades workers. The Real Estate Board of New York said at a May 2 Assembly hearing that it was willing to discuss changes, but Paimaan Lodhi, the organization's senior vice president of policy and planning, said rent prices would still go up even if landlords cannot hike rents based on repairs. "If the proposed funding streams are eliminated, it will place greater pressure on the (New York City Rent Guidelines Board) to raise rents approximately 7.5% annually to make up the difference," Lodhi said in his official testimony. "This is not the kind of rent reform that helps tenants and owners."
Taken together, lawmakers face differences on the extent to which upstate and Long Island need more tenant protections and how far to go in changing New York City's rent-stabilization system. Progressive activists and some Democratic lawmakers want a wholesale overhaul of rental laws statewide. Others are more open to accommodating landlords and other business interests. Many lawmakers find themselves in the middle, trying to meet the needs of cash-strapped tenants while making sure that building owners can maintain the housing stock that already exists. "There has to be a balance," said Assemblywoman Jamie Romeo, a Rochester Democrat, "where we can still provide the rights of property owners to be able to invest in their properties."
Cuomo remains supportive of eliminating vacancy decontrol and preferential rent as well as reforms to how landlords can raise rent based on the improvements to buildings and apartments, a spokeswoman said in a statement.
"I don't want to comment on what conversations are occurring between the houses and the governor," said state Sen. Brian Kavanagh, who chairs the Housing, Construction and Community Development Committee. "I will say the Senate Democratic conference has spent a great deal of time working through our positions on these issues to come up with the strongest possible package we can come up with that would pass in the upcoming weeks."
Correction: This story has been updated to reflect that state Sen. Neil Breslin is now a co-sponsor of the "good cause eviction" bill.
Powered By
NEXT STORY: School facial recognition gets pushback from state