New York City
Is New York City ready for 5G?
Some in the tech industry worry that New York City is falling behind other major tech hubs when it comes to updating the infrastructure to sustain 5G wireless service – whenever it eventually arrives.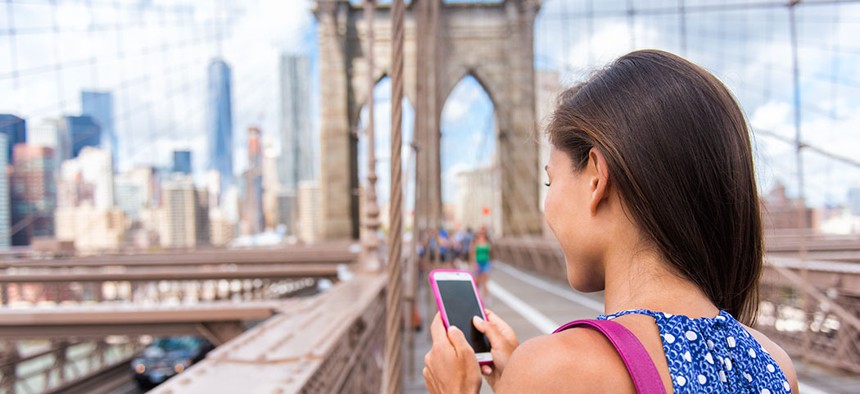 Last week, New Yorkers got a taste of the future as T-Mobile rolled out 5G wireless service – at least, those New Yorkers with expensive 5G-enabled phones standing on certain city blocks equipped with 5G antennas. Tech outlets sent reporters out for speed tests of the new network, with most finding that while download speeds were significantly faster than current 4G LTE speeds, coverage was limited and hard to find indoors. 
While these mixed results of 5G service in New York City are mostly par for the course in relation to networks in other cities like Chicago, Minneapolis and Los Angeles, some within the tech industry are putting pressure on the city to speed up its buildout of the necessary infrastructure to support a large-scale deployment of 5G service. "You need sustained buildout, and you need it to be something that happens over time," said Zachary Hecht, policy director at the industry group Tech:NYC. "It's not that you just snap your fingers and you have the infrastructure built out. So you need to be making investments and the policy changes right now, so that when 5G technology is fully here and is completely ready to be deployed, it can happen." 
As Hecht notes, the buildout of the antennas needed for 5G service won't be quick and easy, partly because the technology has new constraints. 5G networks will use higher frequencies on the radio spectrum – known as millimeter waves – and while these frequencies allow for higher data speeds, they travel at shorter distances and have difficulty penetrating walls and other barriers. The new 5G networks won't use this higher frequency exclusively – they will also use some mid-band and low-band level frequencies – but the millimeter waves will allow users to take full advantage of the higher speeds available. All that means that telecom operators have to install the high-frequency antennas closer to the ground and closer together – roughly one per block, compared with one every three or four city blocks required for 4G. 
New York City's Department of Information Technology and Telecommunications oversees a franchise program in which authorized companies are allowed to bid on the right to use and lease city property – like street light, traffic light and utility poles – to install telecommunications boxes and antennae. And while the city periodically opens reservation periods for companies to bid on these poles, telecom operators have grown anxious for a new reservation period, as Crain's New York Business reported in March. At the time, a new reservation period hadn't been opened since the end of 2017. With higher demands for wireless and the advancement of 5G technology, telecom companies argued, it was high time for the city to open up a new reservation period. 
Since then, the city has done exactly that. DoITT announced an initial reservation period that opened on June 18, with a second phase set to open on Aug. 7. In those periods, franchise companies will bid on poles that can be used to install cellular equipment. Still, the poles available are mostly limited to upper Manhattan and the outer boroughs, with 1,000 poles open this time around, compared with the 2,400 available in the last reservation period.
And then there is the fact that a buildout of this magnitude requires a high degree of interagency communication. "We are coordinating across city agencies and are in active conversations with all stakeholders as we facilitate the equitable implementation of 5G and equivalent infrastructure throughout New York City," DoITT spokeswoman Robin Levine said in a statement. New York City's Department of Transportation is also involved in the process – for example, when an operator installs equipment on a street pole, they also have to go underground to connect antennas to fiber-optic cable. The DOT has to sign off whenever an operator wants to break open the pavement to do so. A spokeswoman for the city DOT declined to comment. 
Even so, DoITT continues to face scrutiny for allegedly lagging in the race for 5G, including from New York City Comptroller Scott Stringer. Stringer addressed the agency in a June letter, criticizing the recently departed Commissioner Samir Saini for not acting on a request for proposals issued last June for new companies to become franchisees with the ability to install cellular equipment. As Stringer noted, however, the city has yet to make any awards. In his letter, Stringer compared New York City with Los Angeles and Chicago, calling their efforts to lay the groundwork for 5G "diligent."
DoITT says it is preparing for the implementation of 5G infrastructure, but it doesn't appear to want to rush the process. The agency is currently working on ways to overcome the constraints of millimeter wave 5G. When a company installs cell equipment on a pole, most of the equipment is contained in a box-like structure, but it's not clear that 5G frequencies will be able to penetrate the boxes that are currently used. DoITT is working on an idea for a new box design that won't interfere with those higher frequencies. The city is also working on new ideas for installing equipment on infrastructure other than poles – LinkNYC kiosks have been floated as a possibility.
For those continuing to put pressure on the city, the cost of not being at the forefront of 5G connectivity is not just about being able to download a Netflix show in seconds, but about maintaining New York City's status as a tech hub. "There are a lot of companies that will develop technologies that are enabled by 5G, and those technologies won't be able to be put out in New York, you might have companies that are developing the technologies that decide they should be developing them elsewhere," Hecht said. "There's the everyday New Yorker that's going to lose out, and we might also lose out on some growth of industry here."
Powered By
NEXT STORY: New York, Israel partner on tech