New York State
New York's climate change example
Four areas of progress that global leaders could learn about while they're here for the UN Climate Summit.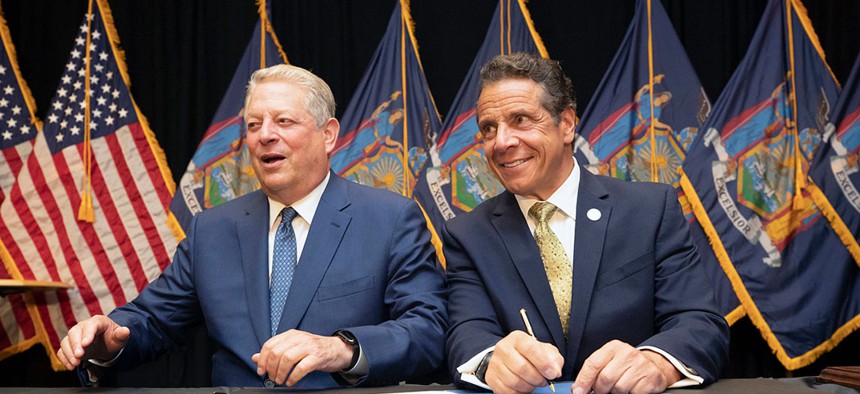 Following Friday's Global Climate Strike in Lower Manhattan, heads of state are meeting on Monday for a climate change summit at U.N. headquarters. The topic of the day will be what concrete steps global leaders can take before it is too late to avoid the worst effects of climate change, which include rising increasingly intense storms, crop failures and deadly heat waves. The location is fitting, as the city and state that are home to the U.N. are leaders in taking climate action.
An Oct. 2018 report by the UN Intergovernmental Panel on Climate Change stated that disaster awaits the world unless the rise in global temperatures is limited to 1.5 degrees Celsius – 2.7 degrees Farenheight – and humanity reaches net zero greenhouse gas emissions by 2050. 
New York City and New York state have already formally adopted those goals, including passing the Climate Leadership and Community Protection Act at the state level and a "Green New Deal" in New York City. 
Electrical generation, transportation, commercial and homes makes up 13%, 36%, 10% and 15% of overall greenhouse gas emissions within New York state's energy sector – which is 84 percent of the state's total emissions – according to the New York State Energy Research and Development Authority. Reducing these emissions, as well as those from agriculture, industry and other sources, will not be easy. 
The city and state will have to solve formidable technological and political challenges in order to achieve the reductions recommended by the IPCC report, but the approaches developed in the Empire State, considering its economic and social importance, could have an outsized importance globally.
In some ways, New York has been a model of sustainable development for many decades. It has the largest public transit system in the country and New Yorkers have the lowest per capita carbon footprint of any state, according to the U.S. Energy Information Administration. 
Here are four areas of progress in the past year that global leaders could learn about during their visit to New York.
Climate goals
Gov. Andrew Cuomo signed into law this summer the Climate Leadership and Community Protection Act, which mandates that the state transition to carbon-free electricity generation by 2040 and reduce greenhouse gas emissions by 85% by 2050. This made the state a national leader in battling climate change because codifying these goals in statute means that it will not be so easy for a future governor or Legislature to undo them – a relatively easier task before when the state's climate goals were set through executive action. The law also requires that the state address social and racial injustices by 35% of future spending on renewable energy and efficiency projects to communities most affected by past pollution. 
New York City also raised the bar on climate change policy by passing the Climate Mobilization Act earlier this year. This includes requiring landlords to retrofit buildings of more than 25,000 square feet in size to be more energy efficient, which could reduce the city's carbon emissions by 30 percent. The city would be able to fine building owners millions of dollars if they fail to meet their targets. Other provisions within the package of bills that make up the act include new mandates to cover building roofs with plants, solar panels and mini wind turbines as well as mandating that the city study how to close its 24 gas and oil-fueled power plants and replace them with renewable energy sources.
Energy research
The state's climate goals have yet to reach the level recommended by the IPCC report, but at this point the state has its hands full developing the technology necessary to reach the goals it does have. The issue of "intermittency" is a key challenge, because solar and wind power only work when the sun is shining or the wind is blowing, requiring the development of cheaper, more efficient industrial-sized batteries that can store that energy for when it is needed. NYSERDA announced new guidelines this year to help local governments develop their permitting and inspection processes for battery storage systems. NYSERDA has also taken a leading role in the development of two offshore wind facilities that are slated to be built off the coast of Long Island. Since the wind blows much more reliably over the ocean, these projects will play a key role in solving the intermittency problem as well. The state awarded two contracts for offshore wind this summer. 
Battling car culture
After almost a century of ascendance, car culture is on defense in New York City, as elected officials and activists push the city and state governments to make the streetscape more accommodating to biking, walking and public transportation. The city Department of Transportation has a litany of new bike lane projects in the works. While there has been an uptick in pedestrian and biking deaths this year, Mayor Bill de Blasio's Vision Zero initiative continues to promote the construction of new complete streets, which include separate spaces for pedestrians, bikers and drivers. Efforts are also underway to transform the Sheridan Expressway and the Brooklyn-Queens Expressway into more community-friendly infrastructure. Similar projects are underway in Syracuse and Buffalo to remove the highways that incentivized driving.
The biggest victory for transportation advocates this year is the approval of congestion pricing in the state budget, which makes New York City the first city in the nation to adopt to charge for entering the gridlocked central business district. When it is implemented in 2021, congestion pricing will require that drivers pay a toll – likely $12 or so – in order to enter Manhattan below 60th street. Not only will congestion pricing disincentivize driving and thus reduce pollution, the proceeds from the tolls will be reinvested into subway and bus services. 
Blocking fossil fuel infrastructure
In New York, not only did Gov. Andrew Cuomo ban fracking for gas in the state, his administration has rejected several proposed pipelines to bring natural gas from other states. 
The state Department of Environmental Conservation denied a water quality permit earlier this year to the Oklahoma-based Williams Companies, which sought to construct a natural gas pipeline between New Jersey and the Rockaways in Queens. This follows the denial of a water quality permit for the company's proposed Constitution Pipeline, which aims to transport fracked gas between Pennsylvania and the Capitol Region. Neither project is dead, but anti-pipeline forces clearly have the ear of the administration, which has launched an investigation into the necessity of moratoriums on new gas hookups in Westchester County and Long Island that National Grid has insisted are necessary because of opposition to new pipelines. 
Powered By
NEXT STORY: Airbnb sets course for public offering