New York City
Amid record low crime rates, SBA imagines a lawless hellscape
Why isn't the sergeants union trying to take credit for New York City's safety?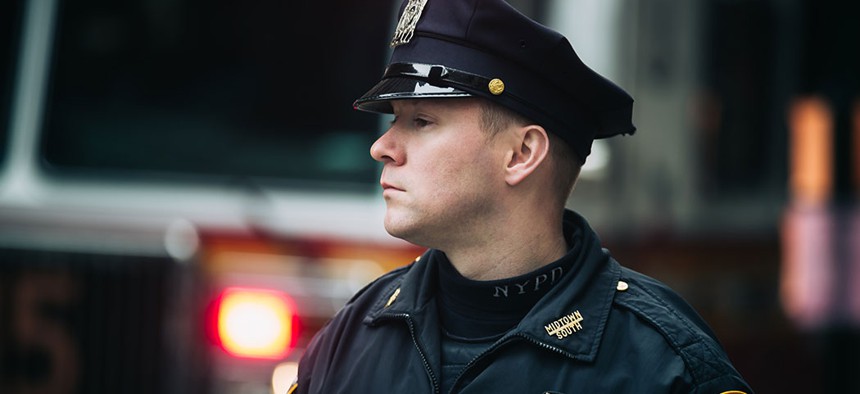 Police officers are paid to prevent crime and if you look at the statistics, New York City's seem to be doing a great job. All major crimes are at or near record lows. Fewer New Yorkers are being killed than at any time since the 1950s. True to New York City Mayor Bill de Blasio's claim, it's the safest big city in America.
So why is a police union working overtime to promote the idea that New York City is a lawless hellscape?
NYC VIOLENCE CONTINUES. ARE CRIME STATS TRUE?

QUEENS: "ARMED ROBBERY" 85th AVENUE & PARSONS BLVD., ROBBERY AT GUNPOINT PERP FLED IN RED MERCEDES.

BRONX: *STABBING* SAGAMORE STREET NEAR WHITE PLAINS ROAD. PERSON STABBED, 3-4 PERPS FLED ON FOOT. pic.twitter.com/mLlJVRPrhS

— SBA (@SBANYPD) September 20, 2019
In just the past month, the Sergeants Benevolent Association has repeatedly questioned the veracity of crime stats, misrepresented the nature of statistics in general, constantly posted crime blotter-style tweets and claimed that "NYC & State are heading to a full time PURGE" – presumably a reference to the movie series depicting one night a year where all crime is made legal.
The SBA's tweets have one primary target: de Blasio. "De Blasio is the antichrist to most of the cops at this point," said John Jay College of Criminal Justice lecturer Eugene O'Donnell. Any messages about the lack of safety in the city are meant to be a rebuke of the mayor and his policies, explained O'Donnell, himself a former NYPD officer. Police unions have long pushed narratives of the city as a dangerous place. One might think that cops would want to broadcast that they're doing well at keeping the streets safe. But highlighting danger may actually serve their political purposes, by demonstrating the need for cops to "slay the dragon" and protect the populace, O'Donnell said. 
Whether or not the statistics back that up is beside the point. "You've got to shout to be heard. You can't be heard in this conversation with rational arguments," O'Donnell said.
That "conversation" includes critics of the police who say that "the NYPD is like a death squad" – arguments that O'Donnell called "completely absurd" but "extraordinarily effective." One way the union responds is by emphasizing the dangerous situations cops walk into every day.
The SBA represents more than 13,000 current and former sergeants in the NYPD, a step up in rank from those represented by the larger union, the Police Benevolent Association. The PBA has a higher profile, but the SBA has a long history of inflammatory online conduct. In May, the SBA bizarrely protested congestion pricing by tweeting video of two people performing a sex act on a subway platform. Many tweets are riddled with misspellings, including the names of two prominent black women, Bronx District Attorney "Darrel Clarke" (Darcel Clark) and First Lady "Charlene" (Chirlane McCray). In August, SBA President Ed Mullins told members to "pay close attention to every word" of an overtly racist video before claiming he hadn't listened to it.
Mullins and the SBA did not respond to a request for comment. It's not clear whether one person or multiple people run the Twitter account, but they appear to be a fan of President Donald Trump, once sending a tweet crediting the "PATRIOT" Trump with rebuilding New York City in the "70s,80s,90s."
Mullins has been likened to Trump before, and O'Donnell said that union leadership's pro-Trump cheerleading isn't smart in a New York City where most people are deeply anti-Trump.
"He's out of step with most of the city politically," O'Donnell said of Mullins. "And I don't think that helps him or his members."
New York City Councilman Ritchie Torres was quick to agree. "The SBA functions more as a rightwing retrograde advocacy organization than as a traditional labor union," he told City & State. "It does an enormous disservice to its members."
UPDATE: After this story was published, the SBA emailed a statement from Mullins:
"The members of the Sergeants Benevolent Association – the diverse union representing the rank where policy becomes policing – are daily witnesses to the accelerating decline in New York City's safety and livability. Contrary to the mayor's political statistics, our daily experience is of an increasing culture of lawlessness – frequent shoot-outs in neighborhoods and violence on train platforms, increases in sexual assaults and harassment, increases in hate crimes and anti-Semitic violence, increases in so-called 'minor crimes' against students and the elderly, and obvious increases in aggressive panhandling, public urination, fare evasion, threatening language and physical intimidation.
Increases in crime should not be surprising when the mayor and his permanent campaign team have fiddled with national politics instead of aggressively addressing issues here at home. Has there ever been a mayor of New York City so clearly unhappy about doing the job he was elected to? Has there ever been a mayor of New York City who so quickly lost interest in governing? Homelessness, assaults on police, crimes against the elderly, crisis conditions in NYCHA, increases in sex crimes, gang violence – all of these are a result of a warped political establishment that prioritizes appearances and social media posts over the hard work of governing. A selfish culture of 'anything goes' has infected city politics –  starting with the mayor – with nobody willing to insist on a basic level of shared civility or common sense."