New York State
Will New York take net neutrality into its own hands?
A new federal ruling would let states to regulate the internet even if the FCC won't.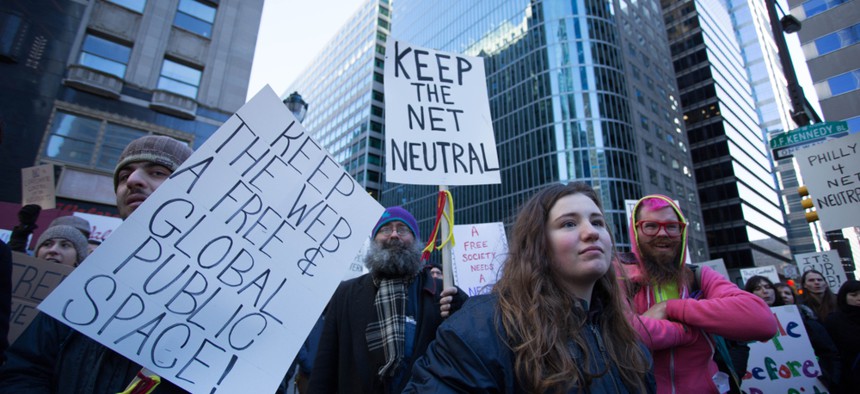 The U.S. Court of Appeals dealt a harsh blow to supporters of net neutrality on Tuesday in upholding the federal government's repeal of those protections, prompting celebration from Ajit Pai, the Federal Communications Commission chairman appointed by President Donald Trump. But the ruling also offered a silver lining to states like New York and California, which have attempted to bar internet service providers from engaging in practices like charging higher fees for faster internet service on certain websites. Now, even with an FCC dead set against regulating internet service providers, New York will have the opportunity to create its own regulatory regime to protect net neutrality.
"Net neutrality," a term first coined by Tim Wu, a law professor at Columbia University, in 2003, refers to policies that prohibit internet service providers from blocking or "throttling" internet traffic to certain websites or offering paid fast lanes for better service on such sites. Passed by President Barack Obama's administration in 2015, net neutrality rules were repealed in 2017 under Trump and Pai. In repealing net neutrality, the FCC also said that states would be barred from enacting their own net neutrality laws. Tuesday's ruling, however, said that the FCC overstepped with that declaration, leaving open an option for states to act on their own. "I think it opens the door for state experimentation in the classic tradition," Wu told City & State. "I think it's the federal courts signaling that they're going to give states room here."
Since the FCC's 2017 ruling repealing net neutrality rules, New York has nevertheless taken steps to claw back those protections. And immediately following the FCC repeal, state Sen. David Carlucci and Assemblywoman Patricia Fahy introduced legislation to keep the state from entering into any contracts with ISPs unless they agree to follow net neutrality rules. That bill passed in the Assembly in 2018 and again this spring, but has stalled in the Senate – though Gov. Andrew Cuomo issued an executive order in 2018 to ensure the state follows those contracting guidelines.
Fahy's legislation takes a more narrow approach than California, for example, which has passed one of the country's most stringent state laws regarding net neutrality. In 2018, California Gov. Jerry Brown signed into law legislation that bans paid prioritization of content – otherwise known as "fast lines" – and bars internet providers from blocking or slowing traffic on legal sites. The state agreed not to enforce the law pending the court challenge, but the new ruling seems to have cleared the way.
Though New York's legislation would only enforce net neutrality policies on internet service providers with state contracts, that captures a wide swath of providers, Fahy said. "We can use the power of the state purse," she told City & State. "You can do business in New York, but you're not going to get anything from the New York state purse. Given that we have state money into virtually everything – whether it's a library, a bridge, a municipal building – we knew it would have a real impact, the mere fact that there could be consequences for internet service providers."
And while the new contracting legislation could still face legal challenges, Fahy said Tuesday's ruling advances her efforts. "I think the court ruling really gives us some serious momentum," she said. "They are saying that the states do have the right."
Still, California is likely to face a legal challenge to its net neutrality law. "I think that there will be, nonetheless, a preemption challenge," Wu said, referring to the doctrine that federal law trumps any conflicting state laws. "But I think it's unclear. The federal law has always left open a role for state telecom policy. It was supposed to be a partnership between federal and local governments. I think that New York should rise to the occasion and pass its own laws."
For now, Fahy said she will likely stick to the state contract legislation again next session, rather than introducing broader legislation like California's law. "Since this is only the first level – you know, this could end up in the Supreme Court – I don't know how much it's going to be appealed." Still, she left open the door for following California. "If we really think that it looks like California's rule is going to be upheld, we might go further, but I have to regroup with a few folks on that, because it has not passed in the Senate."
In the meantime, internet service providers have yet to fully adopt practices like throttling or paid prioritization as they await clarity on what policies states will pursue on their own. "I think we are operating under an age of a de facto net neutrality rule," Wu said.
And though states may be in for some long legal fights, they'll have the people on their side; net neutrality is wildly popular among both Republican and Democratic voters. "We're in an age when the federal government is so out of sorts with what people want," Wu said. "But states are filling in, and I think New York should seize the day, and not let California have all the fun."
Powered By
NEXT STORY: Privacy group raises OMNY security concerns