NYPD
NYPD official tapped to lead DoITT criticized for surveillance work
DoITT appointee Jessica Tisch may have trouble prioritizing privacy.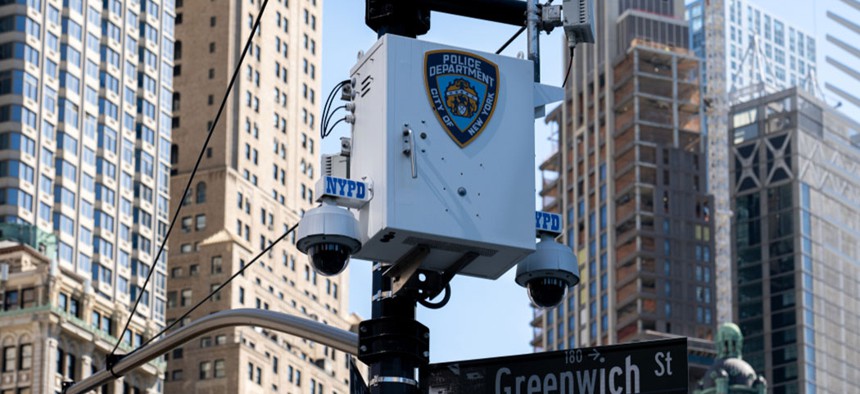 New York City Mayor Bill de Blasio appointed the NYPD's Jessica Tisch to lead the city Department of Information Technology and Telecommunications, filling the vacancy left when the last DoITT commissioner, Samir Saini, quit amid some controversy. Tisch, who serves as deputy commissioner of information technology, will take over at DoITT on Monday. 
Some observers, like New York City Council technology committee Chair Robert Holden, celebrated the news. And Noel Hidalgo, executive director of the tech civic group BetaNYC, said he is hopeful about Tisch's ability to lead the agency. "It's a very logical and safe bet for the mayor to appoint this commissioner," he said. "DoITT needs so much leadership and needs someone who can really transform that agency's operations," Hidalgo said, adding that while he has some reservations, he is giving Tisch the benefit of the doubt.
Others have expressed a bit more pessimism regarding Tisch's selection, raising concerns about her ability to prioritize privacy after her work on NYPD surveillance technology programs like the city's Domain Awareness System, a sort of central command for thousands of video cameras, license plate readers, and other sensors. 
Meanwhile, DoITT has its own privacy concerns, said Albert Fox Cahn, executive director of The Surveillance Technology Oversight Project. He drew attention to the LinkNYC kiosks, which have prompted privacy concerns. DoITT administers the franchise agreement for the kiosks. "Anyone taking the helm of DoITT would face an urgent need to demonstrate a commitment to New Yorkers' privacy," Cahn said. "But someone who has worked so long with the NYPD to install highly invasive surveillance technologies faces a far greater burden."
Donna Lieberman, executive director of the New York City Civil Liberties Union, echoed Cahn's privacy concerns. "We're living through the rapid expansion of the city's use of technologies that collect and share New Yorkers' personal data," Lieberman said in a statement. "It's important that DoITT makes the privacy and civil liberties of all New Yorkers a top priority."
In response, City Hall spokeswoman Laura Feyer noted that Tisch created a privacy policy for the Domain Awareness System to govern data retention, use and sharing. "As Commissioner of DoITT, she will continue to upgrade technology to improve city agencies' ability to deliver services that improve the lives of all New Yorkers," Feyer wrote in an email. "DoITT works closely with Cyber Command and the Mayor's Office of Information Privacy to ensure robust policy and protocols are in place to ensure the safety and security of all New Yorkers."
For the rest of today's tech news, head over to First Read Tech.
Powered By
NEXT STORY: JCOPE's strange priorities