MTA
The unresolved questions on congestion pricing implementation
Members of the panel setting fees and exemptions have yet to be named, but here's what's known.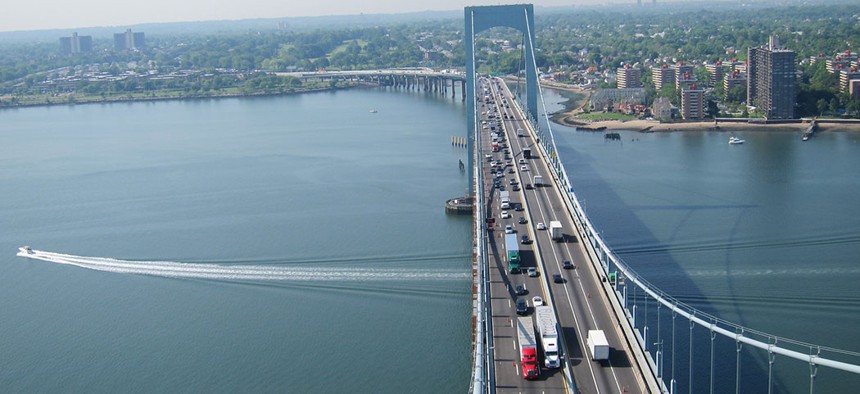 In 2021, New York is expected to be the first city in the United States to implement a congestion pricing road-tolling program, but by the looks of it, the officials in charge of setting up that program are in no rush. 
Passed as part of the state budget last year, New York's congestion pricing program – referred to officially as the Central Business District Tolling Program – will charge vehicles for driving in Manhattan's central business district, south of 60th Street. The idea is modeled on similar programs in cities like London and Singapore, but in New York its purpose is two-fold: reducing vehicle congestion in the most crowded part of Manhattan, and creating a new revenue stream for the cash-strapped Metropolitan Transportation Authority. 
There are still many unresolved questions about how congestion pricing will work, some of which are supposed to be answered by the Traffic Mobility Review Board – a six-person panel tasked with making recommendations for implementation.
But over the past few months, transit advocacy groups and elected officials have been ringing alarm bells that the MTA has yet to appoint the members of the Traffic Mobility Review Board, leaving the panel with less than a year to make recommendations on thorny issues like the price of the congestion fee, and which of the many potentially deserving groups will receive exemptions to the congestion tolls. 
Here's what is known about the congestion pricing program's most pressing questions so far:
What is the Traffic Mobility Review Board?
The state-mandated Traffic Mobility Review Board is supposed to contain six members – including a chair, one member appointed by New York City Mayor Bill de Blasio, one member residing in the Metro-North region and another residing in the Long Island Rail Road region – all of which must have expertise in either public finance, transportation, mass transit or management. Together, the group must recommend to the Triborough Bridge and Tunnel Authority the congestion tolling scheme, including a variable pricing model that takes into account factors like peak and off-peak rates, and possible exemptions and discounts for certain groups. The TBTA then has to approve the final tolling scheme.
All of this is mandated by state law, as is the fact that the board has to make its recommendations between November 15th and December 31st of this year, or no later than 30 days before congestion pricing is implemented. Though congestion pricing is expected to start in early 2021, that deadline leaves some wriggle room if the recommendations aren't made by the end of 2020.
Why are transit advocates getting impatient?
If congestion pricing is to really start as early as January 2021, the Traffic Mobility Review Board will have less than one year to convene and make its recommendations. Elected officials and transit advocacy groups alike have criticized MTA leadership – and, by extension, Gov. Andrew Cuomo – for not appointing the members of the panel yet. In November, a coalition of 20 good government groups sent a letter urging the MTA Board to appoint the panel's members. 
Those groups have also raised concerns about the transparency of the process. The MTA has said that the Traffic Mobility Review Board isn't subject to the state's open meetings law because it's an advisory panel, though the state's transparency agency – the Committee on Open Government – ruled that its meetings should be open to the public. The MTA referred City & State to Chairman Pat Foye's comments at a legislative budget hearing on Tuesday, in which he said that there will be a "public engagement process and meetings held around the region, as appropriate." Foye said he was unsure whether the Committee on Open Government's opinion applied to an advisory group.
Of the details the Traffic Mobility Review Board has to decide on, the somewhat easier job might be setting the toll prices, as they have a few different suggestions from which to draw. A panel convened by Cuomo in 2018 reported that a variable structure with a peak-fee of $11.52 for passenger vehicles would produce over $1 billion per year in revenue, and the peak-fee that the panel recommends is expected to be around there – between $11 and $14. The good government group Regional Plan Association released a report last year recommending a peak price of just over $9.
The panel's other tasks will likely prove trickier – and could take longer. "The real challenge of this board will be coming up with the exemptions," said Sarah Kaufman, associate director of New York University's Rudin Center for Transportation. "It depends on whether the exemptions will be decided in a public hearing process or whether they will be decided behind closed doors. If they decide on a public hearing process, the timeline will have to be extended." 
Several officials and groups have asked for exemptions to the tolling program, including Assemblyman David Weprin, who has asked for exemptions for all New York City residents. A carveout for taxi drivers has also been raised. Whatever decision the panel makes, people are likely to continue asking for exemptions. "I think these kinds of niche groups will emerge during and after the process," Kaufman said.
So we don't know what the congestion fees will be. What do we know about congestion pricing at this point?
It may not be clear how much the congestion toll will be or even who will be tasked with making the decision, but New Yorkers aren't totally in the dark – just fumbling around in a very dim room. The MTA selected a vendor to build out the infrastructure and technology that will facilitate congestion pricing. While there were several different routes the MTA could have taken in choosing which kind of tolling technology will be used, the authority ultimately selected the company TransCore to build, design and operate the tolling equipment. While there's always the possibility that in future the MTA could introduce more emerging tolling technologies – like a connected vehicle or GPS-based system – for now, it will operate much like E-ZPass.
A few exemptions are already included in the program as well. Some emergency vehicles and vehicles transporting disabled passengers were included as carveouts in the state budget.
What happens next?
We wait. For any seasoned observer of the slow churn of New York state government, patience is a virtue. MTA Chairman Pat Foye has said to expect an announcement of appointments to the panel early this year – a vague phrase that, depending on one's interpretation, could mean any time in the next five months.
Correction: A Regional Plan Association report recommended a peak price of just over $9. This story originally named the wrong group.