New York State
New York schools spend big on high-tech security
New technology investments in New York school districts suggest that security is their priority.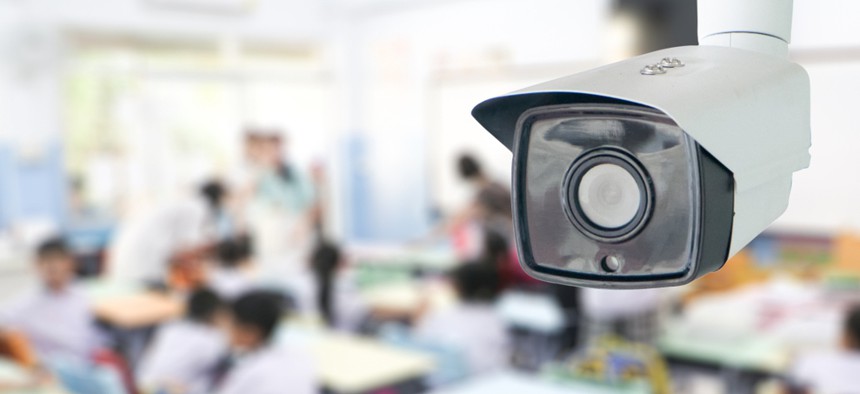 As technology becomes fully integrated into classrooms, with laptops and tablets placed in students' hands and broadband connectivity of increasing importance, a slate of new technology investments by school districts in New York suggests that the most important tech spending for schools at the moment is on security. 
More than 100 school districts had technology investment plans approved by a state board last week through the Smart Schools Bond Act, a $2 billion initiative set up in 2014 to invest in classroom technology and broadband connectivity. Since then, millions in funding have been invested in things like iPads and connectivity upgrades, but out of the latest round of investments – totaling roughly $111 million – almost half is dedicated to high-tech security upgrades. Over $51 million will be invested in those security upgrades, like emergency notification and automatic door locking systems, for example. By comparison, plans approved last week included $24.8 million for classroom technology purchases and $19 million for school connectivity purchases. The bulk of funding going to security is a relatively new phenomenon. An earlier round of investment plans approved in 2016 included only $4 million for high-tech security upgrades and $26 million for classroom technology. While a report outlining how school districts could invest in technology includes high-tech security upgrades as an eligible use of the funds, the Smart Schools Bond Act was mainly talked about in 2014 as a way to provide students access to necessary tech tools and the infrastructure to support them.
This boom in security funding through the Bond Act comes as one upstate school district grapples with the decision to implement a facial recognition security system. Lockport City School District became one of the first in the nation to adopt the controversial technology earlier this year – a decision that provoked anger from some parents and activists who say that the technology is unreliable and a surveillance overreach. The funding for the facial recognition system was approved through the Smart Schools Bond Act.Assemblywoman Monica Wallace introduced a bill last year that would place a moratorium on the use of biometric technology in grade schools, but the legislation didn't make it through the state Senate.
A spokesman for Gov. Andrew Cuomo told City & State that the most recently approved investment plans include no spending on facial recognition or similar biometric surveillance technologies, and added that of the $1.5 billion in funding committed so far, 57% is for improving internet connectivity and only 13% is for high-tech school security. 
Still, some advocates are calling for increased oversight on how school districts' technology investment plans are approved, as well as for additional student privacy protections. "Schools are under enormous political pressure to be able to say that they did everything in their power to keep their physical buildings safe, and unfortunately, that political pressure isn't necessarily tied to the reality of the risks that most schools face, or the quality of the type of technology that they're buying and whether it actually provides additional safety," Johanna Miller, director of education policy at the New York Civil Liberties Union, told City & State on Friday.
For the rest of today's tech news, head over to First Read Tech.
Powered By
NEXT STORY: Controversial facial-recognition app used by State Police, U.S. attorney