New York City
NYC Council bill could reignite gig worker debate
The council wants to extend sick leave to gig workers and have the state Legislature classify them as employees.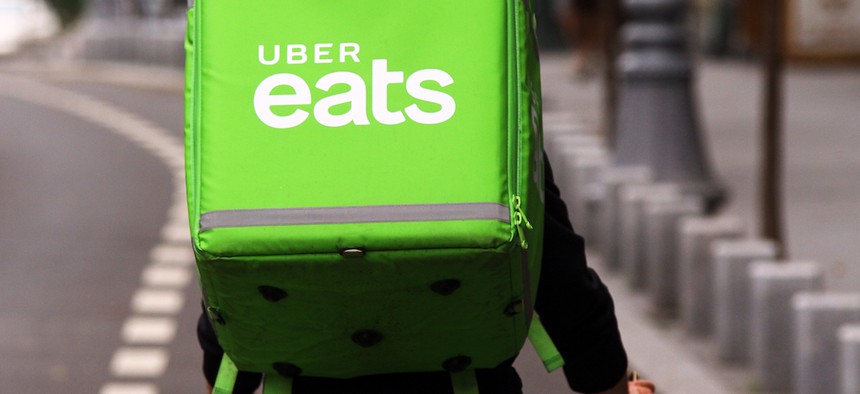 A simmering debate on whether gig workers should be classified as employees has become more urgent during the coronavirus pandemic, which has demonstrated the importance of essential workers like ride-hailing drivers and food delivery cyclists.
When the state Legislature finalized the budget earlier this month, it omitted a measure that would have created a task force to study whether gig workers should be considered employees and to propose new labor protections. With that, the debate on classifying gig workers seemed to have been mostly concluded for the year. Plus, it's not clear if the Legislature will get a system for remote voting in place by the end of the session in June, meaning they may not be able to vote on a stand-alone gig worker bill.
But now, the New York City Council may make progress on the issue where the state Legislature has stalled – determining whether gig workers should be classified as independent contractors, as they currently are, or as employees. The council held its first official remote meeting on Wednesday, and City Councilmen Brad Lander and Ben Kallos introduced a bill that would extend paid sick leave to gig workers. The pair also introduced a nonbinding resolution that called on the state Legislature to classify gig workers as employees. Their bill would set an important precedent if it passed, or it could at the very least reignite the efforts of those who want gig workers to be classified as employees.
The council's bill would use the "ABC test," a new standard for determining who should be classified as an independent contractor. Under the test, for an employer to claim that its workers are independent contractors, a worker must be free from the control of the employer, doing work outside the usual course of business and engaged in an independently established business. Many gig workers, like ride-hailing drivers or on-demand freelancers, would be classified as employees under the ABC test.
The bill, which is part of a larger Essential Workers Bill of Rights proposed by the council, only would qualify eligible independent contractors as employees for paid sick leave. They would not be classified as employees for any other purposes. "We are working closely with the coalition that is trying to get legislation passed in New York state that would properly reclassify this set of folks as employees," Lander told City & State, referring to the Direct Coalition, made up of labor and advocacy groups. "This is one step in that direction."
The best-known – and most controversial – application of the ABC test is in California, which passed a law in September that established the ABC test as the definition for independent contractors. What this effectively means is that most gig workers – alongside people like freelancers – would now be classified as employees, and receive the labor protections that come along with that classification, such as paid sick leave, unemployment benefits and health insurance.
The California law, which is referred to as AB5, has drawn harsh opposition, not only from these on-demand companies that want to maintain these workers as independent contractors, but also from some of the freelancers and other workers who say the new law hurts their ability to work. For instance, under the law a freelance journalist wouldn't be able write more than 35 stories for the same publication in a year without being classified as an employee. Late last year, Vox Media cut hundreds of freelance positions to prepare for the new law. Lander said that he wants the state Legislature to keep freelancers as independent contractors, and only reclassify gig workers – not just Uber drivers, but also home health aides, for example – as employees.
Still, some of the companies that would be affected by the council's bill will strongly oppose it – just as they have with similar efforts to classify gig workers as employees in the state Legislature. "With unemployment skyrocketing in New York City, it's alarming that the City Council is threatening to interfere with industries that provide New Yorkers with flexible work to make ends meet and offer a critical service during a time of crisis," a spokesperson for Flexible Work for New York, a business coalition that includes Uber, Postmates, TaskRabbit and others. "We hope the City Council refocuses their efforts on finding commonsense solutions that create opportunities instead of eliminating them, especially for those New Yorkers who have been directly affected by this economic downturn."
Campbell Matthews, a spokeswoman for Lyft, which is also in the coalition, wrote via email: "While we share the City Council's goal to ensure everyone has access to support when sick, there are many aspects of this proposal to be worked out."
In New York City, ride-hailing drivers for Uber, Lyft and Via already get some paid sick time under a new minimum pay rule for drivers. Meanwhile, separate courtrulings in New York have established that Uber drivers and Postmates couriers are employees for the purposes of unemployment insurance. Since the coronavirus outbreak, most of the major gig companies have voluntarily offered sick leave and other benefits to their workers. Most of these companies have said they're providing personal protective equipment to their workers too. Still, Lander said these ad hoc efforts are not enough.
Between previous court rulings and Lander's sick leave proposal, the official employment status of gig workers across the state could get technically confusing, leaving some labor advocates to call for a statewide solution. "The need to provide gig workers with the same rights as all other New Yorkers has never been more clear than during this pandemic," Mario Cilento, president of the New York State AFL-CIO, said in an emailed statement. "The inability to address this issue as a whole has left these workers without access to benefits and susceptible to continued mistreatment. It is not surprising to see that others are now trying to fix the problem. What we need is a statewide solution now."
While the City Council might be more likely to take action on the gig worker issue this year than the state Legislature, those who are advocating for gig workers to become employees still face an uphill battle. Lander's bill has just a handful of co-sponsors so far, and the council has a long to-do list in responding to the pandemic. But if the city's reliance on gig workers continues, the debate over gig workers' classification will likely be a resonant and attention-grabbing issue for months to come.
Powered By
NEXT STORY: Federal infrastructure bill is still a long way off