Public health experts urge caution with rapid COVID-19 testing
Cuomo wants to use 15-minute tests to reopen stadiums, resume in-person weddings and bring back Broadway.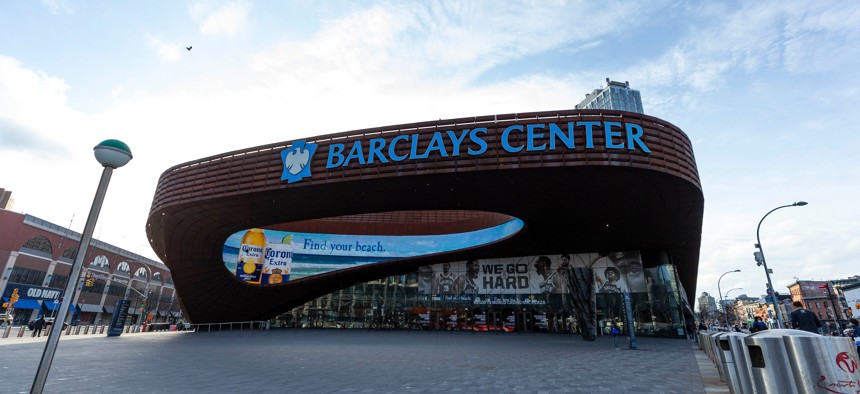 The Buffalo Bills may not have won the Super Bowl, but the success of their playoff games from a health perspective will be a precursor to reopening other parts of the state.
After allowing 6,700 fans to attend each of the Bills two home playoff games, Gov. Andrew Cuomo announced Wednesday that other major sports arenas in the state will be allowed to reopen later this month. Now, fans will still have to test negative before attending a game, and attendance will be limited to 10% of the arena's capacity, but New Yorkers will once again be able to root on their beloved Knicks and Nets in person beginning Feb. 23.
It's the first major example of the governor's proposed use of rapid testing to help revitalize industries and events that have been put on pause during the pandemic. But it still falls short of Cuomo's recent talk about implementing widespread rapid testing in order to reopen theaters and office buildings, something that some public health experts think would be premature in New York.
In January, Cuomo brought up the prospect of mass rapid testing during his State of the State address, saying he would like to set up sites to perform the 15-minute tests and that many commercial landlords had already committed to testing their tenants. Since then, he has released few details about how the state would implement such a program. Wednesday's announcement, however, could indicate that rapid testing will simply mean expanded and mandatory laboratory testing, rather than administering true rapid tests that produce a result in 15 minutes. 
For those major sports arenas and other large venues that have a capacity of more than 10,000 people, all attendees must test negative for COVID-19 within 72 hours of the event. This is not rapid testing though. Instead, fans would receive a regular diagnostic test, which is administered at most testing sites, processed in a lab and comes back in two days on average. Although the governor had at times characterized the effort to admit fans to the Bills games as rapid testing, that too was performed with diagnostic tests, known as PCR tests, in the days leading up to the games, rather than with tests right at the doors.
Cuomo touted the Bills games as an "unparalleled success" on Wednesday, as the testing caught some positive cases and the events did not lead to a spike of new cases in Erie County. It could be held as a model for the new arena rules, but Dr. Wafaa El-Sadr, a professor of epidemiology at Columbia University's Mailman School of Public Health, questioned the efficacy of performing a test days in advance. "If it's done three days ago, that doesn't mean one is not infected now," El-Sadr said. Other public health officials questioned whether including indoor venues in the new announcement is wise, given that the Bills games were outdoors.
Rapid testing, in theory, would allow venues, restaurants and office buildings to perform tests on anyone about to enter a facility, providing the most up-to-date results to ensure that people are healthy. But as El-Sadr points out, the rapid tests are far from perfect. Compared to PCR tests, the rapid antigen tests are much less reliable, especially in asymptomatic people, and are more likely to provide a false negative. "You will recall that they were using these types of tests in the White House for months and months and months," El-Sadr said. "Despite that, there were these people who were infected that the test missed (and) there was a superspreader event at the White House."
Although the rapid tests are far less reliable, Jack Caravanos, a clinical professor of environmental public health sciences at the NYU School of Global Public Health, said he believes that they make more sense for reopening purposes than giving a PCR test days in advance. "Having the rapid test, together with hand hygiene, increased ventilation and wearing masks, I think someone in a Broadway theater or in a stadium really feels that they're as safe as they possibly can get," Caravanos said. "Having the PCR test three days ago is much more uncertain." Caravanos acknowledged that the rapid tests are more likely to produce a false negative, but said getting the most current results will lead to safer venues compared to the risks of relying on a days-old test. He suggested the best course of action would be to test people immediately before entering a venue, or at the very least, on the same day with proof shown at the entrance, potentially rolling the test into the cost of admission or having the state subsidize the cost.
It's unclear right now what the governor has in mind for widespread rapid testing. Caravanos said that ensuring equity in access so that lower-income people are not locked out of reopenings should be considered.
During a call with reporters on Tuesday, Cuomo said he's looking at opening mass rapid testing locations across the city at places like Penn Station and pharmacies. He suggested that someone could show proof that they got a test within 72 hours in order to enter theaters and the like, which led El-Sadr to wonder why the state wouldn't use the more reliable PCR tests if a multiday window exists to receive a negative test. A spokesperson for the governor did not return a request for comment about what a mass rapid testing program would look like, where testing sites would be set up, who would be responsible for administering them and who would pay for them. A spokesperson for the Department of Health, responding to a similar set of questions, simply referred to Wednesday's announcement about arenas and said that "more guidance is forthcoming."
More broadly, some public health experts don't think that the state is in a good enough place to start opening up large high-risk indoor gatherings like Broadway shows, even with widespread rapid testing. While infection rates are trending down in New York City and across the state, El-Sadr said the spread is still not under sufficient control. "We're not in the safe zone. In terms of where the pandemic is, I think we're nowhere near where we were about summer, for example," El-Sadr said. "It's ironic to me that we're at this point in time talking about reopening and sort of easing restrictions at a time when we remain very much in a danger zone." She acknowledged that the downward trend in infections is promising, and added that expanding all types of testing is welcome, but warned against viewing New York City's and the state's current position as rosier than it actually is. "Let's stay the course until we're out of the danger zone," she added.
El-Sadr also warned that an overreliance on rapid tests may lure people into a false sense of security about their health and the health of others that could lead to a relaxing of public health measures like social distancing and wearing masks.
Caravanos, who said he welcomed the easing of some restrictions, like permitting limited indoor dining in New York City, did not share El-Sadr's concerns about the effect that rapid tests could have on other recommended behavior. But he agreed that the state has a little way to go before rapid testing could be safely used to reopen more parts of the economy. He said he would first like to see the numbers go down even more, suggesting that widespread rapid testing will be invaluable for safely planning large events in the spring if the downward trend continues. "It's still not ready for primetime just yet,"Caravanos said. "I think I would like to see a wait a little while longer." He said that testing protocols will likely continue to be used even as vaccination rates go up.
The governor's press release said the success of large events under the new guidance "will help inform the re-opening process for smaller venues in the future."
These new regulations take effect sooner than Cuomo's recently announced plan to start allowing weddings of up to 150 people beginning March 15. However, wedding industry companies are still awaiting guidance about what testing requirements the state will impose.
Cuomo suggested on Monday that the state would move toward reopening entertainment venues after a series of pop-up shows, saying that it would "crescendo through the summer" toward the 20th anniversary Tribeca Film Festival in June.