New York State Assembly
Allegations against McLaughlin unlikely to follow him into county executive office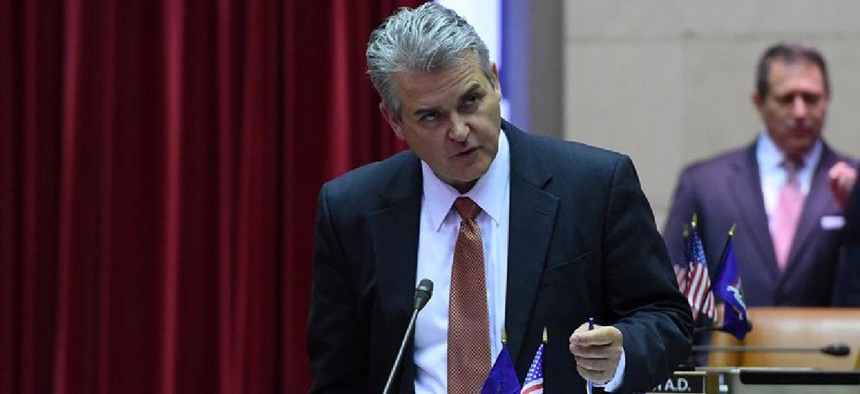 Assemblyman Steve McLaughlin is in hot water in Albany, but he'll be leaving his troubles behind when he takes office as Rensselaer County executive next month.
On Wednesday morning, Assembly Speaker Carl Heastie announced that he would sanction McLaughlin upon the recommendation of the Assembly Ethics and Guidance Committee. The committee found that McLaughlin had engaged in sexual harassment against an Assembly employee, had been untruthful to an ethics committee investigator, and had revealed the name of the complainant against him after being instructed not to discuss the issue.
McLaughlin's office will also be prohibited from hiring interns for the remainder of his time in the Assembly, which is approximately 32 days. He was recently elected Rensselaer County executive, narrowly defeating Democratic candidate Andrea Smyth. Although McLaughlin's intern privileges were revoked in the Assembly, the same may not hold when he enters the Rensselaer County Office Building in January.
RELATED: Albany's history of sexual harassment scandals
According to Deputy County Executive Chris Meyer, the permanent staff of the county executive's office includes the deputy, a receptionist and an administrative assistant, as well as an employee who handles tourism and a coordinator for the county's Stop DWI Initiative. This small staff will be seeing some turnover in 2018: Meyer said that he will be joining the private sector, and that the receptionist has indicated that she will retire at the end of the year.
Meyer also said that the county executive's office will occasionally hire summer interns based on staffing needs, although they have not hired them in recent years, and that many county departments employ interns.
"Historically, there was one or two interns that we would utilize," Meyer said about interns specifically working in the county executive's office. He declined to comment on the allegations of sexual harassment against McLaughlin, or how the permanent staff has reacted to these allegations. Meyer was defeated by McLaughlin in the Republican primary for county executive.
The position of county executive will also afford McLaughlin greater administrative power. The executive oversees the daily operations of county departments, and all legislation by the Rensselaer County Legislature is subject to his or her approval. Matthew Masterson, legislative liaison for the county legislature, said that the body had no comment on the sexual harassment allegations against McLaughlin.
RELATED: County Exec-elect Laura Curran on cleaning up Nassau politics
Stephen Pechenik is the Rensselaer County attorney and counsel for the County Board of Ethics, which is comprised of two members appointed by the executive and two appointed by the county legislature. According to Pechenik, no action can be taken to sanction McLaughlin based on his past behavior once he becomes county executive. Any investigation, by the ethics board or by the county corporate compliance officer, would have to occur after an incident while he was in office.
"Unfortunately, it's not prospective, it's only retrospective in its outlook," said Pechenik about investigations into sexual harassment, explaining that they could not be started based on a person's "proclivities." He added that any workplace violations would likely be investigated by the corporate compliance officer.
"It would have to happen after Jan. 1, once he was sworn in," Pechenik said. He also said that that he did not know whether a county executive could be removed from office, unless he or she was convicted of a crime while in office.
McLaughlin did not respond to a request for comment by press time. He remains defiant in the face of the Assembly sanctions and denies any wrongdoing. In an interview with WGDJ's Fred Dicker on Wednesday morning, McLaughlin said that the allegations would not affect his tenure as county executive, and that he "can't wait to get out of" Albany.