Bill de Blasio
NYC budget bolsters savings, but is it enough?
The Citizens Budget Commission thinks more reserves may be needed in New York City.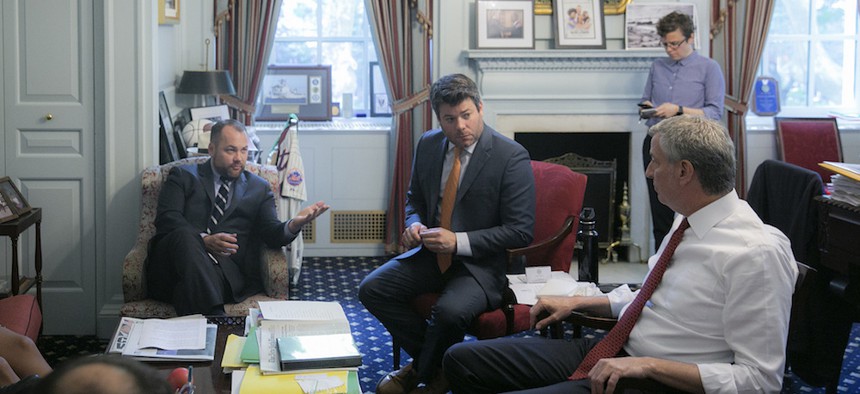 The New York City Council convinced Mayor Bill de Blasio to save more money in backup reserves than he had proposed in this year's budget, but a budget watchdog says she would like to see even more saving. "Making an additional deposit is a positive step," Citizens Budget Commission Vice President Maria Doulis told City & State. "But there's definitely still more spending going on than there is saving."
De Blasio and the City Council announced an agreement on an $89.15 billion expense budget on Monday evening. The deal included adding an additional $125 million to the city's general reserve fund, raising it to a total of $1.125 billion. The city will also add $100 million to the Retiree Health Benefit Trust Fund, increasing it to a total of $4.35 billion. The city's third line for savings in the budget, the Capital Stabilization Reserve, will remain at $250 million.
That may sound like a lot of savings, but Doulis said that might not be enough to cover the city's needs in an economic downturn. "You will not know, and you cannot know until you get there," she said.
Doulis pointed to the last time the city had to dig into the reserves, during the Great Recession of 2008 and 2009. "If history is any guide, (the reserves) will be helpful temporarily, initially, and then you've got to seek other sources (of revenue)."
De Blasio noted at the press conference Monday that the reserves are at historically high levels, but Doulis said that claim was hard to confirm, since former Mayor Michael Bloomberg budgeted so differently. Bloomberg's approach "was setting money aside here, setting money aside there, and working year after year to amass a bigger and bigger surplus roll that would prepay expenses," Doulis said. "Eventually, that surplus roll got so big that they were paying expenses way down the road."
Doulis said that de Blasio's approach, with clearly labeled reserve funds, is more transparent. But it's hard to say if the savings are truly higher. "It's really difficult to do the apples to apples comparison, if you're being honest about it," she said.
After de Blasio introduced a preliminary budget in February that didn't set aside any extra money for the reserves, the City Council called for the city to set aside $500 million in savings. The final budget included an increase of $350 million.
But that money won't go very far if President Donald Trump enacts the enormous cuts to domestic spending programs such as food stamps and public housing that he has proposed. Doulis said that even though the federal budget hasn't affected the city much yet, "we're not out of the woods yet," and cuts could still come in later years of the Trump presidency.
Further, New York can't be sure how the federal tax changes will affect its revenue. De Blasio was among many politicians, Democratic and Republican alike, who feared that the elimination of the state and local tax deduction could cause richer New Yorkers to move to states with lower tax burdens. "We have a lot of high-income earners here, and they will be the ones that are most affected by this federal tax bill, and how they will change their behavior has yet to be seen," Doulis said.