New York City
NYC covers immigrants' legal costs for those without a criminal conviction
New York City Mayor Bill de Blasio again relies on private funds to budget for immigrants' legal costs, vexing the New York City Council.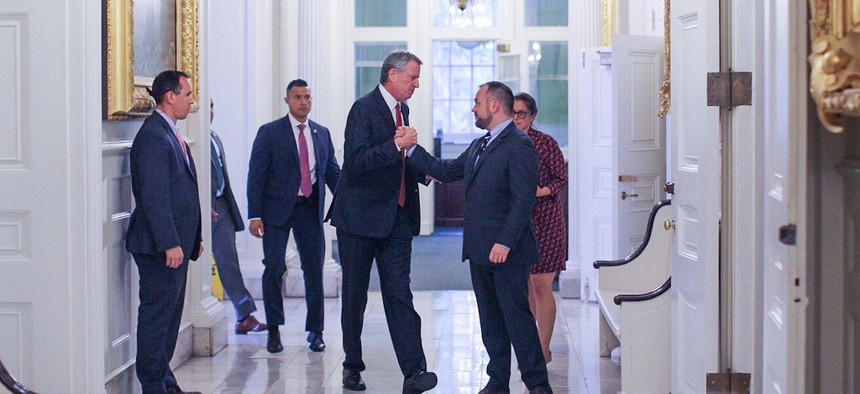 Once again, New York City will have to rely on a private donor to fund legal services for immigrants convicted of certain crimes.
The city budgetpassed this week devotes some $26 million towards programs providing free legal representation to low-income immigrants facing deportation proceedings. But Mayor Bill de Blasio and the New York City Council fought last year when the mayor insisted against funding legal service for immigrants that have been convicted of any one of 170 serious crimes considered "deportable offenses," including crimes from murder to witness tampering. They settled the dispute last July when anonymous private donors stepped in with a $250,000 grant to fund that subset of cases.
Ahead of this year's budget, immigrant advocates, the New York City Bar Association and City Council members led by Brooklyn City Councilman Carlos Menchaca called for the city to fund all immigration cases without exception, but the so-called "criminal carve out" remains in the city budget passed this week.
"We haven't been able to fix this issue," City Council Speaker Corey Johnson said at a press conference on Thursday.
The mayor's office confirmed that legal services for immigrants not covered by the city would continue to be paid for by private donors, but Johnson said he wasn't happy with the resolution. "I believe that everyone deserves due process, which is why we should provide city money to be used for these purposes," he said.
The de Blasio administration was unmoved.
"The Mayor strongly believes that we should not use taxpayer dollars for immigration legal services on those convicted of one of the 170 crimes deemed serious or violent by the Mayor and City Council," mayoral spokesman Seth Stein said in a statement. "As the Trump Administration ramps up overbroad enforcement targeting all immigrant communities, it is essential that we prioritize funding (for) the vast majority of immigrants (who) have not committed any of these serious crimes."
But Menchaca said he feared any carve-out would confuse people, leading immigrants who actually are eligible for legal services to avoid seeking help.
"We make so much commitment to UPK for All, College (Access) for All, all these services for all – this is one thing where we have to kind of trip up in being able to let people know that, actually, not everyone will get access to this," he said.
Correction: Private donors will fund legal services for immigrants convicted of certain crimes, which was misstated in an earlier version of this story.
Powered By
NEXT STORY: Puerto Rican groups see budget fortunes shift without Mark-Viverito