Inside the IDC's legally questionable campaign funding account
The state Board of Elections ruled that former state Senate Independent Democratic Conference members must return funds from a committee set up by the Independence Party. Here's an explainer on what was illegal, whether the IDC will actually pay back the money, and more.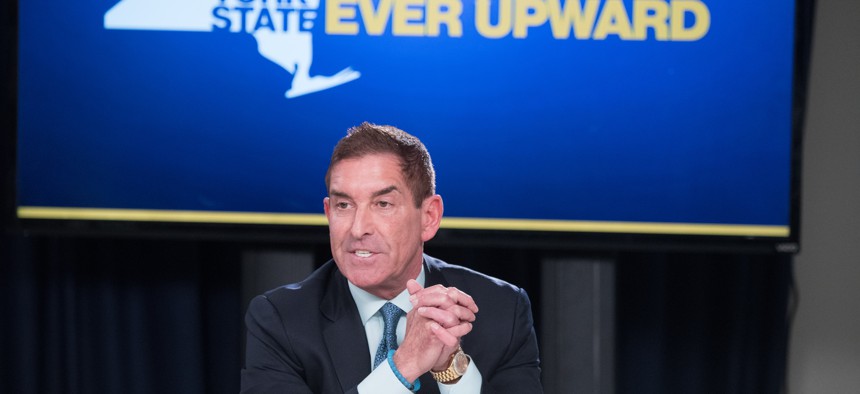 Risa Sugarman, chief enforcement office of the New York State Board of Elections, has been fighting members of the now-defunct Independent Democratic Conference to give up a pile of campaign cash, as the candidates face hotly contested primaries.
Sugarman recently issued a letter arguing that, in order to be in compliance with a June court ruling, members of the IDC must return hundreds of thousands of dollars that was funneled through a finance account to the members from the state's Independence Party. Of the $2.5 million that the IDC raised in conjunction with the Independence Party, Sugarman pinpointed more than $1.4 million that needs to be refunded.
The Senate Independence Campaign Committee, or SICC, the campaign fundraising account set up to allow the Independence Party to give money to IDC candidates, was ordered by Supreme Court Justice Kimberly O'Connor to "comply with the Election Law" in a vaguely worded ruling on June 5. The senators have not turned over the money, arguing that the judge's decision does not explicitly order the respondents to return the money they received from the campaign account.
Here's what you need to know about what happened and what's to come next:
What exactly was ruled illegal?
State election law dictates that a political party such as the Independence Party can give unlimited contributions to a housekeeping committee, an account that can only be created by a registered political party for the purpose of reporting "housekeeping receipts and expenditures." To stop quid pro quo corruption, election law bars the Independence Party from turning the campaign account over to members of a different party. The IDC was not itself a political party – they were all registered Democrats – when Jeff Klein created the campaign account and established himself as chairman in 2016, so it was not in accordance with election law. After the IDC disbanded in April, Klein handed over leadership of the account to Frank MacKay, the current chairman of the Independence Party.
Justice O'Connor wrote, "To allow the Independence Party to turn over a party committee to members of the IDC, enrolled Democrats, would open the door to political parties allowing other independent bodies or special interest groups, regardless of party affiliation, to control party committees, have their own housekeeping accounts and receive benefits afforded solely to party and constituted committees under the Election Law."
In her ruling, O'Connor declared that "SICC's officer must be enrolled members of the Independence Party." She also ordered the committee to "take whatever actions are necessary to comply with Election Law." Sugarman argued that because the campaign account raised and spent funds from its inception to April 24, when Klein stepped down as chair, it retroactively invalidates large contributions the IDC members received from the campaign committee.
What is the IDC's justification for refusing?
The Independence Party and the IDC senators' lawyer Lawrence Mandelker interpreted the ruling differently than Sugarman. Mandelker argued that O'Connor's order to "to comply with Election Law" is limited to merely barring Democrats from being in charge of the campaign committee. Since the chairman of the Independence Party took over the leadership of the campaign account, Mandelker maintained that the committee is no longer in violation of Election Law.
"Judges don't like to get drawn into political morasses. So when there's all sorts of politics involved, they try to decide things as narrowly as possible so that they don't get drawn into the politics of it. Dollars to donuts, if I had to guess, I think that's part of what this judge did," Mandelker told City & State.
What is the Independence Party and why is it raising money for the former IDC members?
The New York State Independence Party was founded in 1991 by a billionaire businessman and philanthropist Thomas Golisano, CEO of analytics company Harris Interactive, Dr. Gordon Black of Harris Interactive, and political consultant Laureen Oliver. The party was created as a non-ideological alternative for centrist, independent voters who had become disenfranchised with Republican and Democratic parties.
In 2000, radio host Frank MacKay became the chairman of the party after an internal power struggle. Over the years, editorial boards and investigations have exposed problems indicating that the party hasn't lived up to its name. Some critics argue that it is merely an appendage of the Republican Party – and that its support for the IDC is the latest manifestation of that. In 2013, the Daily News reported that the party's two biggest donors were state Senate Republicans and the Real Estate Board of New York, one of the GOP's key allies. Money from these two sources made up 85 percent of the contributions to the party's housekeeping account.
In 2014, a New York Times editorial remarked on voters' inaccurate view of the party: "The New York State Independence Party survives on confusion. Many who sign up with the party think they are registering as independent voters, unaffiliated with any party. Instead they are unwittingly contributing their names to a bizarre and fractious political group that endorses candidates from the two major parties."
The IDC aligned itself with the Senate GOP, which has historically been one of the Independence Party's biggest donors. The fact that the IDC members agreed to reunite with the Democratic Party in April did not stop the Independence Party from providing them with campaign cash.
Does the fact that they are dependent on a bunch of non-Democrats from outside their districts harm the former IDC members' efforts to fend off primary challenges?
If Sugarman is able to get Justice O'Connor to force the IDC members to refund the SICC money, it could present a serious obstacle for the senators who are being challenged in their primary races. City Limits reported that, of the New York City ex-IDC members, the committee transferred $79,000 to Klein's campaign, $104,750 to state Sen. Marisol Alcantara, $25,000 to state Sen. Tony Avella and $20,000 to state Sen. Jesse Hamilton. For Alcantara, a refund would wipe out the majority of her war chest. For Klein, a refund would also make a significant dent in his total campaign money, but he would still have a substantial portion of the $2,045,402.88 that he reported having in May.
Some of the former IDC members' primary challengers have begun attacking their opponents for using illegal money.
All that illegal money, and they still can't buy their way into our movement. #enoughisenough #noIDC #vote4biaggi #september13 https://t.co/ej6taYgOzz

— Alessandra Biaggi (@Biaggi4NY) July 25, 2018
First, Peralta lied to us when he empowered Republicans but called himself a Democrat. Then he tried to scam his way into another term by funding his campaign with illegal cash. The courts and the BOE have spoken: He must return this illegal money. https://t.co/4ZQLPNI8nN

— Jessica Ramos (@jessicaramos) July 24, 2018
Moreover, the SICC funding is evidence of the IDC members' ongoing ties to state Senate Republicans and the GOP's allies – a liability in a Democratic primary.
Yet despite the challengers harping on the issue, some political analysts don't see the SICC funding becoming a huge issue to voters. "It's really inside baseball." Baruch College political science professor Doug Muzzio told City Limits. "So people, they don't care. They care if their garbage gets picked up. They care if their kids are getting educated."
What happens next?
Sugarman's letter, sent on July 20, gave members of the IDC 20 days to register their IDC campaign committee abiding by state election law, report and allocate all spending, refunding all donations that were over the contribution limits. A political action committee controlled by a group of legislators, such as the IDC, is legally allowed to contribute a maximum of $18,000 to candidates. The next step depends on whether all the IDC members comply with Sugarman's instructions.
What if they don't give the money back?
The judicial process is still uncertain. If Sugarman goes back to O'Connor after the 20 days and argues that the respondents have not complied with election law by refusing to refund their housekeeping committee money, O'Connor will have to decide whether she will maintain jurisdiction over the case or whether she will pass the case on to a judicial hearing officer, an intermediate step before the case goes back to court for another judge to decide on whether or how to proceed.
We won't know what's really in store for the IDC candidates until after Aug. 7, when Sugarman is scheduled to make her case to O'Connor.