New York City
Will gentrification and younger voters oust more incumbents?
Alexandria Ocasio-Cortez's victory could be the first of many upsets.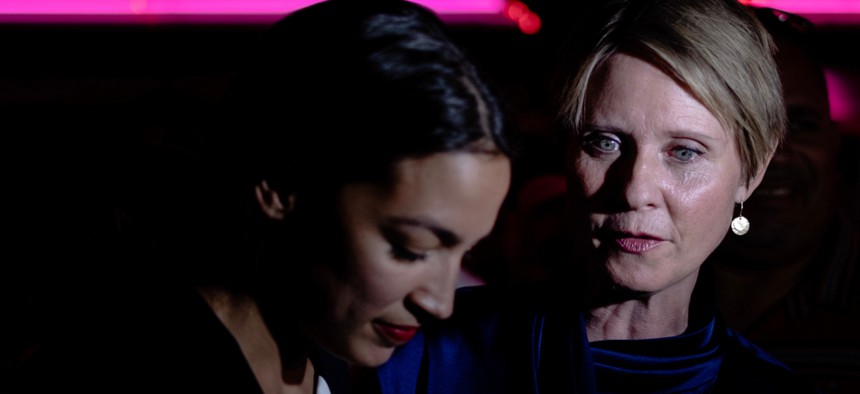 Alexandria Ocasio-Cortez's upset victory over Rep. Joseph Crowley shocked New York political observers, in part because Crowley was thought to have a strong foothold in his native borough of Queens, where he is chairman of the county Democratic Party.
At first, it was assumed that demographic turnover in his district, which spans northwestern Queens and the northeastern Bronx, had harmed Crowley, as the Italian and Irish populations have been supplanted by Latinos and Asians.
Demographic turnover was indeed to blame for Crowley's loss, but not the kind that was widely assumed. But some of the election districts in which Ocasio-Cortez performed best were in mostly white neighborhoods in western Queens. The congressman fell victim to gentrification and that force may upend expectations in Democratic primaries throughout Manhattan and western Brooklyn and Queens. And the rise of younger voters who are newer to their districts and unattached to incumbents could power insurgent candidates throughout New York City.
According to data by Steven Romalewski from the Mapping Service at the Center for Urban Research at the CUNY Graduate Center, some of the highest number of votes for Ocasio-Cortez were in the Astoria, Sunnyside and Woodside areas of Queens, as well as near Pelham Parkway and in Parkchester in the Bronx. The Board of Elections will release individual profiles of who voted, including their race, age and other demographics, later this year.
Jerry Skurnik, a political consultant, said that early voting trends showed how three candidates - Ocasio-Cortez, Suraj Patel, who lost his primary challenge to incumbent Rep. Carolyn Maloney, and Adem Bunkeddeko, who lost to Rep. Yvette Clarke by just over 1,000 votes - had increased turnout in recently or partially gentrified areas. "The areas that have recently changed as – I use the line of 'people who really want to live in Greenwich Village but can't afford to' – have moved into Brooklyn and Queens, and it looked pretty clear to me that that's where Patel, Bunkeddeko, and Ocasio did extremely well," Skurnik said.
In 2017, the New York University Furman Center found that Astoria was one of the 15 neighborhoods that was gentrifying in New York City, meaning that it experienced higher rent growth than the citywide median since 1990. Gentrifying neighborhoods are typically lower-income or working-class areas that are receiving an influx of more affluent or educated residents, usually young and mostly white.
Patel won Brooklyn's Greenpoint neighborhood, Queens' Long Island City and Manhattan's East Village, which all have experienced gentrification in the last few decades, while Maloney dominated among older, long-affluent neighborhoods in Midtown and Uptown Manhattan.
In Ocasio-Cortez's race, the gentrification phenomenon was the same, even though the ungentrified neighborhoods in her district where Crowley did better – such as East Elmhurst and South Corona – are nothing like Maloney's Upper East Side base. David Shor, senior data scientist at Civis Analytics, a data analytics firm, compiled data showing that younger voters in majority-white districts turned out in high numbers for Ocasio-Cortez. Shor based his analysis on Board of Elections data about voter turnout by Assembly precinct and access to a voter file of every voter in the country that political campaigns use. In an interview, he compared the turnout in this election to the 2017 mayoral Democratic primary. If a precinct had a plurality of non-Hispanic white voters turn out to vote in the mayoral primary, it was classified as a white precinct.
"Even though overall turnout was pretty similar to the mayoral primary about a year ago, turnout in precincts that are younger than average and are predominantly white saw a 30 percent increase in turnout, while basically every other group saw a 20 to 30 percent decrease in turnout," Shor said.
However, Shor noted that Ocasio-Cortez generally received at least 30 to 45 percent of the vote in black, Hispanic and Asian precincts. Race may also be less of a predictor for how a person votes than age. "When I was looking at Latino precincts, there was variance in terms of how (Ocasio-Cortez) did, and the biggest predictor we saw was that she did a lot better in the newer, more-mobile Latino neighborhoods than in the older and more established ones," said Shor. For example, in East Elmhurst, which has a longstanding Latino population, Crowley received more votes. In neighborhoods where a greater share of voters had moved in recently – and therefore didn't have a relationship with the incumbent – and had fewer people in their households on average, Ocasio-Cortez performed better across racial lines. In white precincts, the relationship between youth and voting for Ocasio-Cortez was incredibly strong.
Ocasio-Cortez's victory could also be a harbinger of a generational break in the upcoming statewide primaries. The district currently held by state Sen. Jeff Klein, the former leader of the Independent Democratic Conference who is being challenged by Alessandra Biaggi in the primary, overlaps with some of the Bronx neighborhoods that voted for Ocasio-Cortez by wide margins. Even though it's far from Manhattan and the gentrifying inner ring of the outer boroughs, a youth wave could help Biaggi oust Klein – a longtime legislator who infuriated liberals by leading a faction aligned with Republicans.
Another former IDC member facing a primary challenge, state Sen. Jose Peralta, has a district which includes some of the Queens neighborhoods that Ocasio-Cortez won handily. If the same voters who turned out for Ocasio-Cortez feel inspired to vote for Biaggi and Jessica Ramos, Peralta's challenger, it could spell trouble for incumbents. (Cynthia Nixon, another progressive insurgent candidate challenging Gov. Andrew Cuomo, cross-endorsed with Ocasio-Cortez the day before the primary, and cross-endorsed with Ramos on Monday morning.)
State Sen. Jesse Hamilton, another former IDC member, is facing a challenge from Zellnor Myrie. Hamilton's district overlaps with some of the neighborhoods that voted strongly for Bunkeddeko, the young challenger to Clarke. (Like Ocasio-Cortez, Bunkeddeko performed best in the western, gentrifying portions of his district, including Park Slope and Prospect Heights.) However, Hamilton's district does not include as much of yuppie Brooklyn as Clarke's.
Another IDC challenger, Robert Jackson, is facing state Sen. Marisol Alcantara in the Democratic primary. Her district encompasses parts of Harlem and Washington Heights, which has also experienced gentrification in recent years. Major Manhattan political figures such as Charles Rangel, Jerry Nadler and Scott Stringer have backed Jackson, who may also benefit from the enthusiasm of younger progressives.
Other than Jackson, all of those challengers to IDC candidates like Nixon and the congressional insurgents are younger than the incumbents they decided to challenge and are running for office for the first time.
Skurnik also cautioned that the show of enthusiasm for first-time candidates in the congressional primaries might not translate to the state primaries, which are being held on Thursday, Sept. 13, with low turnout expected. "This was a national election, and issues like single-payer health care were more significant," he said. "But I would definitely say that it is a warning shot to (incumbents), especially in a low-turnout election."
Regardless of whether Ocasio-Cortez's victory will translate to turnout for the IDC challengers or Nixon, her coalition of voters is reminiscent of that another candidate – Sen. Bernie Sanders, who garnered wide support from millennial voters in the 2016 Democratic presidential primary. The break between younger and older voters was often not based on ideology, but on age, with Hillary Clinton receiving support from older voters while Sanders turned out the youth vote.
"This is the clearest example I've seen of a politician replicating that aspect of the Sanders coalition," Shor said.