New York City
Out with the old?
Andrew Gounardes, counsel to Brooklyn Borough President Eric Adams, and Ross Barkan, a journalist, are facing off in Brooklyn for the right to take on state Sen. Martin Golden.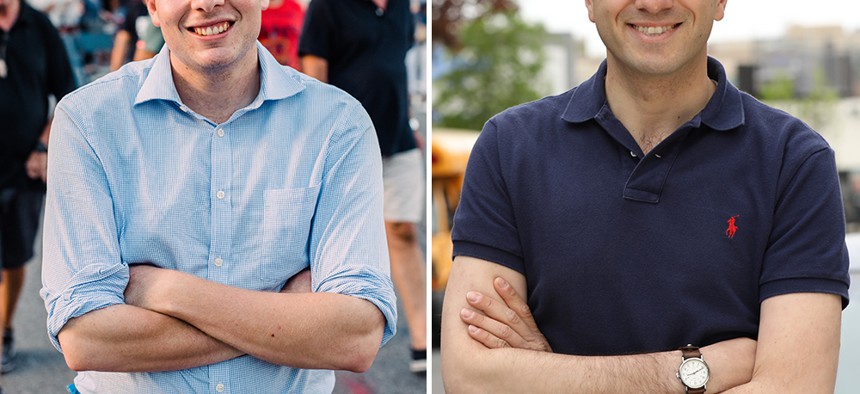 The common thread in most high-profile Democratic primaries is upstarts against incumbents, but state Senate District 22 is an outlier: the rare race where two Democrats are fighting for the chance to unseat a potentially vulnerable Republican in November.
Andrew Gounardes, counsel to Brooklyn Borough President Eric Adams, and Ross Barkan, a journalist, are competing to challenge state Sen. Martin Golden in the general election in November. Golden has represented the southern Brooklyn district for 20 years despite a nearly 2-to-1 Democratic voter enrollment advantage. But Democrats are hoping a blue wave this year will enable unseat him.
Little separates the two Democrats policy-wise – both Gounardes and Barkan are in favor of the New York Health Act, which would create a single-payer healthcare system in the state, congestion pricing and the Liberty Act, which would establish protections for immigrants.
Barkan, positioning himself to Gounardes' left, told City & State that they have a few key differences, such as his campaign's rejection of corporate and real estate donations, his support of legalized marijuana, abolishing Immigration and Customs Enforcement and imposing term limits. Gounardes responded that real estate makes up a miniscule percentage of his donations, elections in themselves act as term limits, he is focused on decriminalizing marijuana and that immigration needs reform beyond a simple slogan.
More than policy, the race could hinge on how Democrats believe they can defeat Republicans: a traditional candidate or a new and unknown one. Gounardes, 33, has never held elected office, but previously ran against Golden in 2012, offering the strongest resistance to the long-time incumbent since he entered office, but still losing by over 13 points and 10,000 votes. Gounardes said that a lot has changed since then, which is why he decided to run again. "Our community is more politically engaged, more politically awake, woke if you will," Gounardes told City & State. "And people are now in tune with how bad Marty's record actually is," Gounardes added, referring to Golden's controversial actions that include creating a seminar to teach women proper workplace etiquette and opposing speed cameras in school zones.
Gounardes has a long history in both government and community advocacy, having worked for New York City Councilman Vincent Gentile, who represented a portion of the state Senate district, before his time with Adams, co-founded the nonprofit Bay Ridge Cares to help victims of Superstorm Sandy and worked with Bay Ridge Advocates for Keeping Everyone Safe, which lobbied Albany for school zone speed cameras.
Gounardes said he is running on his years of action in the community, arguing that he needs to go to Albany to effect change. "I think a lot of the issues that I campaigned on last time around, that I made a priority in my campaign, they've gotten only worse in the years since," he said.
Gounardes has received more endorsements than Barkan from lawmakers, political groups and unions, including the support of Adams, the New York State United Teachers, which has previously backed Golden, and the progressive Working Families Party.
But while Barkan, 28, commends Gounardes for challenging Golden six years ago, he said that the race was not close, especially considering former President Barack Obama won the district that year. He said nominating Gounardes amounts to Democrats running the same campaign and it will end in the same result. "I always believed Marty Golden could be beaten," Barkan told City & State. "And I also believe we need to run the right type of campaign to beat Marty Golden, not just any campaign, and really that's why we're here."
Barkan said politics is in need of candidates with non-traditional backgrounds, who did not come up working in government or as staffers for other politicians and who will have fresh ideas. "I wish more journalists would run for office. I wish more public school teachers would run for office. I wish more bartenders would run for office," Barkan said, alluding to the Alexandria Ocasio-Cortez, who worked as a bartender before her upset primary victory over Rep. Joseph Crowley in June and endorsed Barkan. "We really have to dispel this notion that only one type of community service matters."
Barkan pointed to his success in gathering over 6,100 petition signatures to get on the ballot, 1,000 more than Gounardes as proof of the success of his grassroots support. Gounardes offered his own show of grassroots strength by noting that 41 percent of his donations came from within the district, more than either of his opponents.
For Gounardes, the race is not about what type of community service matters more than another. He characterized the difference between himself and his opponent as taking action versus writing about the issues. Barkan contended that minimizes the work of journalists, as well as those who contribute to their community in different ways other than political clubs and government. "I held politicians accountable. I told the stories of vulnerable populations. I did very important work," Barkan said. "And there's a lot of people who do important work in our society – there are sanitation workers, there are teachers, there are EMS workers."
Gounardes responded by saying that he recognizes the important work of journalists and others who provide a public services, but that doing one thing is not enough. He mentioned that Barkan said in their last debate said he had not volunteered at a soup kitchen since high school.
"We all do a lot things. Everyone does public service," Gounardes said. "I think everyone can make the determination for themselves about how to get involved in their community. I think that saying that because I am a journalist, that is sufficient, that is not a great answer." Before he was a journalist, Barkan was a teacher, a point he also brings up when speaking about his service to the community.
Gounardes and Barkan said they would both support each other should the other win. Ultimately, both candidates agree that their competitive primary will mobilize Democratic voters regardless of who wins, and they hope that energy will carry on to the general against Golden.