Melissa Mark-Viverito
Public advocate candidates feud over hypothetical weed tax revenue
New York City Public Advocate candidates Melissa Mark-Viverito and Refael Espinal have opinions on how a marijuana tax should be spent.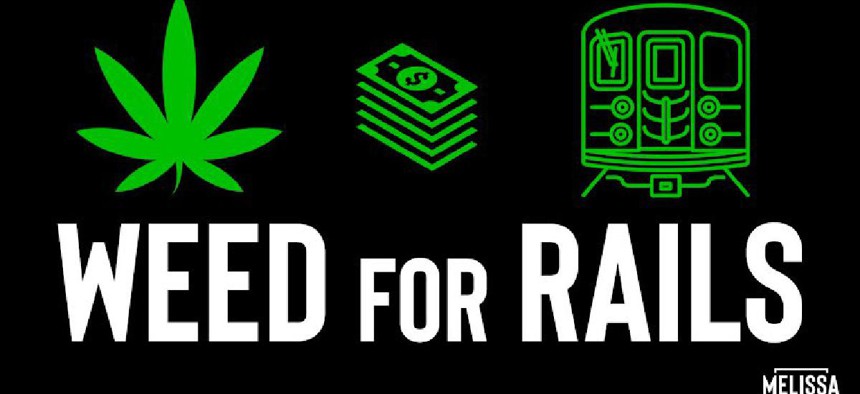 More and more politicians seem to support the use revenue from legalizing marijuana and taxing it to help pay for the New York City subways, particularly in light of a new NYU Rudin Center for Transportation study making that recommendation. Weirdly, the debate over how to spend that money has begun to play out in the New York City public advocate race – even though the public advocate has no control over a potential pot tax, which would be implemented, collected and spent by the state.
Among those that think using marijuana tax money to fix the subways is a pretty good idea is public advocate candidate and former New York City Council Speaker Melissa Mark-Viverito, who on Thursday released her "Weed for Rails" plan detailing how to use the marijuana tax revenue, which is estimated to bring in as much as $678 million per year to fix the crumbling subway system.
Before Mark-Viverito even held her press conference to officially release her plan, New York City Councilman Rafael Espinal, who is also running for public advocate, began criticizing it. He issued a press release Thursday morning arguing that the revenue should be invested back into the minority communities that have historically suffered from disproportionate marijuana arrests. Although Espinal did not refer to Mark-Viverito by name, he did specifically call out "Weed for Rails," calling the plan "tone deaf to the historic realities."
Mark-Viverito's spokeswoman, Monica Klein, shot back on Twitter, saying that the four-point plan in fact does call for investing in those very communities, and includes "legalizing marijuana in a manner that provides redress for the many thousands of people who have been arrested."
If the issue does become a flashpoint in the public advocate race, the debate will likely be moot anyway. The $678 million per year could likely be spent on more than one thing and some of it outside of New York City. Fixing the subways will require more like $4 billion per year anyway. Most importantly, the public advocate would have little to no say in how pot is regulated and its proceeds are spent – that is a decision to be made by the Legislature and the governor since the drug is currently illegal at the state level. More than anything, further discussion will likely help candidates win political points in order to get ahead in the incredibly crowded field.