Bill de Blasio
What Bill de Blasio said – and didn't say – in his State of the City
Even as he held up the five boroughs as a progressive city upon a hill, New York City Mayor Bill de Blasio's 2019 State of the City address kept the focus local. A close examination of his word choices reveals what he wanted to discuss – and what he wanted to avoid.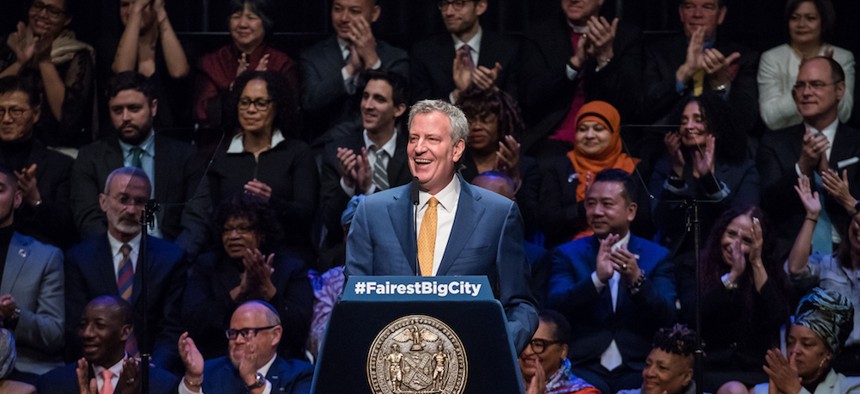 New York City Mayor Bill de Blasio's 2019 State of the City address was heavy on past successes and future promises, and light on current weaknesses. But overall, he kept the focus local, even as he held up the five boroughs as a progressive city upon a hill, vowing to make New York "the fairest big city in America."
De Blasio spoke for almost exactly an hour on Thursday at Symphony Space on the Upper West Side, using more than 6,000 words, and revealing his priorities through both the words he used most frequently and the words he largely avoided.
"Trump:" three times
De Blasio's speech didn't spend much time on national politics, even as he appears to weigh a run for the White House in 2020. While last year's State of the City was all about protecting democracy, this year was much more locally focused. De Blasio's first two mentions of President Donald Trump's name came during the portion of the speech enumerating City Hall's successes, including sending lawyers to the U.S.-Mexico border to fight Trump's "inhumane detention of children," and maintaining New York City's status as a "sanctuary city" for immigrants, despite the president's threats to pull federal funding.
The mayor did seem to be talking to a national audience when describing his economic worldview, seeming almost to goad critics who decry him as a socialist. "You're not living the life you deserve," de Blasio said in front of TV screens with a line graph showing worker productivity rising since the 1980s while hourly compensation stagnated. "There's plenty of money in the world. There's plenty of money in this city. It's just in the wrong hands!" The mayor continued over applause. "You deserve a city that gives you the share of the prosperity that you have earned."
"NYCHA:" one time
Problems at the New York City Housing Authority have dogged the mayor for years, and the city has been given until the end of January to deliver a report proving the authority can reform itself without a federal takeover. But NYCHA, home to some 400,000 New Yorkers, got only a brief mention, a promise to bring "brand new everything" to 175,000 of them. "From new roofs, to new kitchens and bathrooms."
The brevity was compounded by how much time de Blasio spent talking about the city's new plan to fight bad landlords, directing a newly created office to seize buildings from bad landlords and let community-based nonprofit organizations manage them instead. "The city's worst landlords will have a new sheriff to fear: the Mayor's Office to Protect Tenants," he said.
NYCHA's semi-official status as the city's "worst landlord" didn't go unnoticed by the mayor's rivals. "There were some contradictory statements," said Bronx Borough President Ruben Diaz Jr., who plans to run for mayor in 2021. "When you talk about the whole issue of tenants and landlords, you have to lead by example."
De Blasio largely avoided some other hot topics. Amazon got just one mention, lumped with Google as proof that "the world's most innovative companies want to be here." Left unsaid were the generous state and city subsidies used to lure the tech giant. "BQX" didn't get mentioned, leading some to assume de Blasio's plans for a Brooklyn-Queens light rail have been killed. "L train" didn't get a mention either, and the mayor made it clear that the Metropolitan Transportation Authority is Albany's problem to fix, despite New York City Council Speaker Corey Johnson agitating for a city takeover of subways and busses.
"We will" / "we're going to:" 26 times
The speech was full of promises for the mayor's next three years, all fit into the framework devised upon de Blasio's 2017 re-election: making New York "the fairest big city in America."
Most of the proposals had been revealed before, like his plan to promote primary health care for New Yorkers without health insurance, his support for a law to mandate 10 annual paid vacation days for private sector workers and expanding free preschool for three-year-olds to the whole city by 2021.
The mayor took some responsibility for New York City's troubled transit system, saying more streets will get dedicated bus lanes and the NYPD would devote a tow truck unit solely to keeping those lanes free of parked cars. De Blasio also announced a further expansion of the NYC Ferry system to make it a true "five-borough ferry" with a new route from Staten Island to Manhattan by 2020.
"Albany:" eight times
The mayor can't do it all on his own, and he presented a separate wish list of promises that will depend on approval from the state Legislature, now under full Democratic control for the first time in a decade. De Blasio's been criticized for a lack of coordination with the state lawmakers in the past, and has been dogged by a poor relationship with Gov. Andrew Cuomo.
But de Blasio seems determined to turn over a new leaf. His State of the City address was a month earlier than usual this year, presumably to send Albany his priorities with ample time before the April 1 budget deadline – a date de Blasio highlighted in his speech. "In the next 80 days, the fate of the MTA, the fate of our subways and buses, will be determined once and for all," he said. De Blasio vowed to "pound on every door in Albany" to get more funding, but showed willingness to work with what's available. While he still thinks a millionaires tax is the best way to fund the MTA, he said, "proposals for congestion pricing have definitely improved."
The mayor's Albany wish list was much longer than just subways. He also mentioned statewide single-payer health care, shifting rent regulations to favor tenants, making it easier to vote in elections and legalizing marijuana while expunging past arrest records for the drug.
"Hero:" 11 times
It wasn't all about policy. Like in past years, de Blasio borrowed from the State of the Union address, and highlighted some public servant "heroes" in attendance, like NYPD Officer Osvaldo Nuñez, a rookie cop who saved a baby girl's life by performing CPR. Unlike in past years, where the mayor spoke in front of a video screen, he was backed this year by about 60 New Yorkers, diverse in age, race and religion. The audience of hundreds, filled with elected officials, city employees, and a number of lobbyists, gave the mayor an easy time, and filled the room with cheers at choice moments. There weren't any protestors outside, and unlike last year, when a member of the correction officers' union heckled de Blasio from the audience, outbursts were limited to occasional isolated cheers.
De Blasio closed the speech by framing himself as a hero of the working class, somebody who has made the city "give back to the working people the prosperity they have earned."
Powered By
NEXT STORY: Andrew Cuomo's biggest gaffes