New York City
5 things to know about the city's executive budget
On Thursday afternoon, New York City Mayor Bill de Blasio gave the rundown on his $92.5 billion proposed budget. Here are the highlights.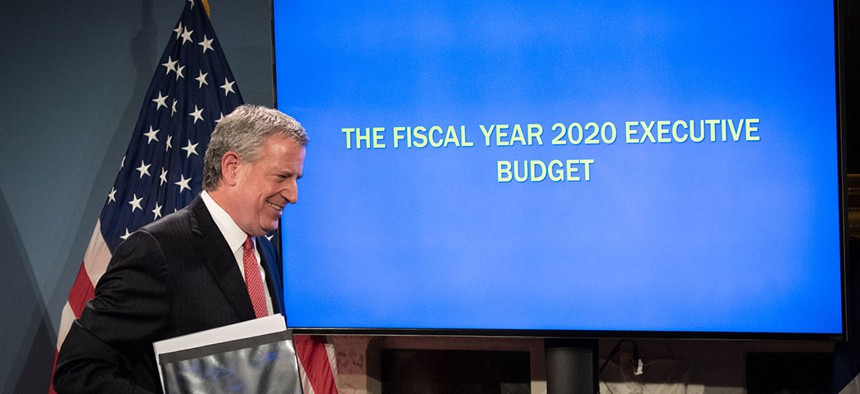 New York City agencies that were asked to find budget savings followed through for Mayor Bill de Blasio as he released his fiscal year 2020 executive budget, balanced on the back of $916 million in city savings. On Thursday afternoon, de Blasio gave the rundown on the $92.5 billion spending plan at City Hall. Here are the highlights:
Higher than ever
The New York City's budget goes only in one direction: up. So even though the mayor warned of an unsure fiscal future at his preliminary budget presentation in February, the top line number rose modestly since then – now at $92.5 billion, up from $92.2 billion. That's a $3.3 billion increase from the $89.2 billion expense budget in the last fiscal year, and a $17.5 billion increase over de Blasio first budget as mayor in 2014.
Unlike the state budget, the city is required by law to have a balanced budget, so the $92.5 billion is also the city's expected revenue in fiscal year 2020. The mayor and the New York City Council have until June 30 to reach a final deal, but traditionally finalize the agreement earlier in the month.
State cuts less than expected
Unfunded mandates from Albany are a constant complaint from any municipal politician, and de Blasio is no different, saying the state shifted some $300 million in spending to the city in the budget passed earlier this month. Still, that was just half of the $600 million de Blasio predicted at the preliminary budget announcement, and city was able to meet all the obligations. "All of those areas cut by the state, we are compensating for with our own resources," de Blasio said Thursday.
Among that new spending was $96 million to fund new election reforms passed in Albany, like early voting and electronic poll books. De blasio praised the new laws despite the cost, saying the "reforms were exceptionally positive."
De Blasio's government shrinks
With set costs like labor rising faster than revenue, the de Blasio administration made each and every agency find budget savings, setting a goal of $750 million in total. De Blasio announced Thursday that the city exceeded that goal, with every agency from the Department of Education to the NYPD finding cost savings or revenue increases for a total of $916 million less than the previous year. With many agencies freezing hiring or eliminating unfilled positions, the administration's headcount will slightly decrease for the first time since de Blasio took office. Other areas of saving included minor cuts in grants to cultural institutions and the closing of certain senior centers in public housing. Other agencies will increase revenue in certain ways, with the NYPD expecting to bring in $17 million more next year in parking summons by optimizing "headcount, deployment and productivity."
Few new initiatives
With agencies being asked to cut their spending, "there are not a lot of new areas of investment in this budget," de Blasio said. But the mayor did highlight a couple, including $60 million in new funding to make certain city buildings more energy efficient – a topic de Blasio's been focusing on all week, after signing the city's so-called "Green New Deal" on Earth Day.
Council debate to come
The next month is likely to be full of fiscal drama as the City Council, the mayor and stakeholders engage in the annual "budget dance" to get their priorities funded. New York City Council Speaker Corey Johnson was on vacation in Mexico City when de Blasio revealed his budget Thursday, but he made one such priority clear from afar: he wanted the city to devote $40 million towards Census outreach efforts rather than the $22 million that de Blasio offered.
Powered By
NEXT STORY: How should the MTA update its signal technology?