Andrew Cuomo
Cuomo, lawmakers reach $175.5 billion budget deal
Gov. Andrew Cuomo and state lawmakers have reached a $175.5 billion budget deal that includes congestion pricing, a permanent cap on local property tax increases, bail reform and a plan for publicly-financed political campaigns.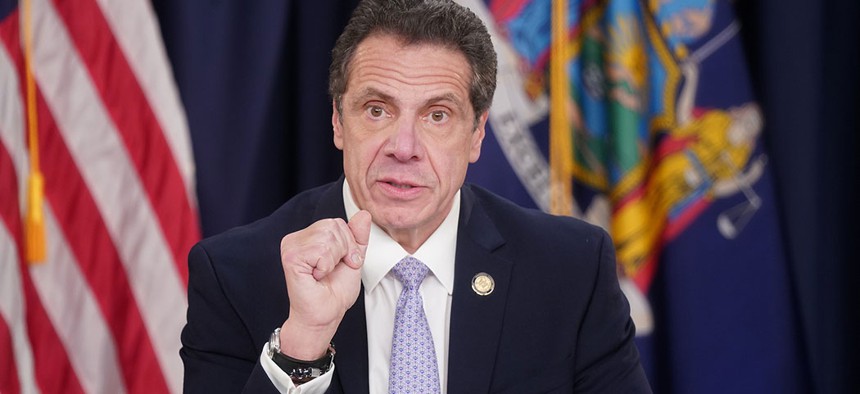 Gov. Andrew Cuomo and state lawmakers have reached a $175.5 billion budget deal.
The final deal, announced early on Sunday morning, includes congestion pricing, a permanent cap on local property tax increases, bail reform and a plan for publicly-financed political campaigns, which had been the final hurdle. An approximately $1 billion increase in education funding, reforms to the MTA and a codification of parts of the Affordable Care Act also made it into the budget, though the legalization of recreational marijuana did not.
While Democrats entered the year controlling both houses of the Legislature and the governor's mansion for the first time in years, an on-time budget was hardly a given. The collapse of the Amazon HQ2 deal, differing revenue projections and policy disputes threatened to derail budget negotiations at times, but lawmakers and Cuomo were able to bridge their differences – in time to meet the April 1 budget deadline, which will allow state lawmakers to keep their salary increase – showing that Democrats can keep their campaign commitments and capitalize on their biggest legislative majorities in a century.
Lawmakers voted to approve the various budget bills on Sunday in what Cuomo called the toughest budget season he has had in his three terms in office.
"The hard ones are the good ones – by definition," Cuomo told reporters in a Sunday evening press conference. "This is probably the broadest, most sweeping state plan that we have done. There are a number of national firsts and it really grapples with the tough issues that have been facing this state for a long time."
While Cuomo ended up backtracking on some proposals such as cuts to Medicaid and reduced aid to localities, the governor achieved significant victories on the red lines he drew in the budget process: the 2 percent property tax cap, congestion pricing in Manhattan, criminal justice reforms and campaign finance reform.
"From the beginning, I said we will not do a budget that fails to address three major issues that have evaded this state for decades – the permanent property tax cap, criminal justice reform and an MTA overhaul including Central Business District Tolling," Cuomo said in a statement sent after midnight that announced the budget deal. "I also said this budget must be done right – meaning it must be fiscally responsible and protect New York from the federal government's ongoing economic assault on our state. I am proud to announce that together, we got it done.
"This agreement accomplishes our goals and enacts the transformative policies of our 100-day Justice Agenda, while keeping spending at 2 percent for the ninth consecutive year," Cuomo added.
State Senate Majority Leader Andrea Stewart-Cousins, a suburban lawmaker whose conference won a commanding majority at the polls last fall, described the spending package as "responsible, effective, and on-time."
"The 2019-2020 State Budget will provide an over $1 billion increase in state education aid, with a focus on struggling school districts," she said in a statement issued in the governor's press release. "The budget will also provide essential AIM funds for local governments, a permanent property tax cap, and tax relief for Middle Class New Yorkers. Additionally, we have taken historic steps to implement a public financing system, reform our criminal justice system, and ban single-use plastic bags."
Meanwhile, Assembly Speaker Carl Heastie touted funding for the MTA and criminal justice reforms, but his statement did not mention public financing of elections, which his conference had balked at.
The budget includes the creation of a public financing commission, which will have the binding power to develop a program of up to $100 million annually for legislative and statewide offices, with eligibility thresholds, public financing limits, and contribution limits to be decided in a report due by December 1, 2019. The recommendations would become law within 20 days unless amended by lawmakers.
"Importantly, we were able to secure landmark criminal justice reforms that will make a difference in the lives of New Yorkers," he said in a statement in the governor's press release. "Since I became speaker in 2015, it has been my personal mission to correct the tilted scales of justice for New Yorkers, and this year's budget agreement makes a giant leap toward realizing these goals: reforming our bail system, ensuring the right to a speedy trial, and making critical changes to New York's discovery process."
Here is a rundown of the most notable measures included in the budget.
Congestion pricing
The Metropolitan Transportation Authority will implement a first-in-the-nation tolling program, although some details remain vague. The program will institute electronic tolling devices on the perimeter of a zone encompassing all of Manhattan south of 60th Street. A six-member review board will "advise on tolls, exemptions, and credits," which "will be variable and passenger vehicles will only be charged once per day." The tolls would not go into effect until 2021 at the earliest. People with disabilities would be exempt from the tolling and a traffic mobility review board could recommend additional credits, discounts and exemptions for other bridge and tunnel tolls, according to budget legislation.
The MTA will also have to come up with an reorganization plan by June. Board members' terms will also be realigned with the terms of the officials who appointed them and a congestion pricing plan will be enacted. Additional funding for the transit agency will be raised through an Internet sales tax and a 4.15 percent tax on the sale of properties valued at $25 million or above.  
Criminal justice
Among the most contentious issues in the budget was bail reform. The budget deal will result in the elimination of cash bail for about 90 percent of cases, according to the governor's press release. Deals were also reached on reforming the discovery process and ensuring that criminal trials happen faster. A key impediment to a deal had centered on whether judges could consider "dangerousness" as a reason to detain a criminal suspect pre-trial, a proposal that was taken out of the budget by Friday. Cuomo told reporters on Sunday night that additional changes to the bail system could be made in the coming months.
Education funding
A total of $27.9 billion will go to education in the coming fiscal year. Cuomo also secured new provisions that will require school districts to report more information to the state on how they allocate per-pupil spending at the school level. In the end, education funding increased by about 3.7 percent this year – a small difference from the governor's original budget proposal.
While lawmakers secured about $620 million in additional Foundation Aid, that amount did not affect the overall total of education spending much – largely due to a shifting of different funding sources. Activists had asked for a $1.2 billion increase in Foundation Aid. "This year's budget is one of dashed hopes and deferred dreams," said Jasmine Gripper, legislative director at the Alliance for Quality Education. "This time we cannot blame the Republicans."
State Sen. Shelley Mayer, chair of the Senate Education Committee, told City & State the the final budget would not include a proposal to consolidate different categories of expense-base aid. Lawmakers had been skeptical about this proposal from the governor and how it could have limited how school districts are reimbursed for expenses such as school buses and text books.
Public Authorities Control Board
Cuomo exacted a bit of revenge against state Senate Democrats by increasing the governor's control of the Public Authorities Control Board. This obscure government entity was poised to have a potentially pivotal say in the Amazon HQ2 deal. By recommending that a leading opponent of the deal – state Sen. Michael Gianaris – represent the state Senate on the board, Stewart-Cousins added one more hurdle that apparently proved too much for Amazon, which subsequently gave up on plans to open a large satellite office in Long Island City, Queens. Cuomo had argued that the appointment was political. New language in a budget bill will ensure that a governor "has full discretion to immediately remove a member of the board he or she finds to be acting, or threatening to act, beyond the scope of such member's legal authority."
Property tax cap
A permanent 2 percent on local property tax increases was a top priority of Cuomo, and one that he said he would not sign the bill without. There had been some doubts, however, that the Assembly would go along with making the cap permanent, as the Senate voted to do earlier this session. In past years, an extension of the cap had been contingent on passing similar multi-year extensions of rent regulations. Some Assembly members had hoped that a similar deal could be struck this year as well, but Cuomo got what he wanted in the end.
Public campaign finance
The very last sticking point in the budget was concluded with mixed results for advocates of establishing a system of publicly-financed election campaigns statewide. The budget did authorize up to $100 million for such a system, but leaves it to a newly-established commission to figure out how it would work in practice. Similar to a controversial commission that determined legislative pay raises, the findings of the public finance commission will have the full force of law unless legislators vote otherwise. They would have 20 days to do that once the commission releases its report by Dec. 1, 2019.
Reporters asked Cuomo on Sunday night why a commission – rather than lawmakers – will determine the details of the upcoming publicly-financed system. "Because it is too complicated," Cuomo said. "It's not a simple system to put in place. It's especially not simply statewide. What offices are eligible? How many candidates? How many parties? What's the match? Is the match the same in Buffalo as it is in New York City?" The commission will answer those questions. "The most important thing on public financing was passing it," Cuomo said.
Voting reforms
Voters statewide will now have three hours of paid time off to vote on Election Day. Online voter registration, expanded upstate voting hours and $10 million to fund early voting were also in the budget – as well as funding for the electronic poll books that are needed to make early voting feasible.
Health care
Numerous parts of the Affordable Care Act were codified in state law, including protections for people with pre-existing conditions, essential health benefits, New York State of Health, and a prohibition on limiting annual and lifetime coverage.
"We have codified many of the protections of Obamacare, so regardless of what President Trump does, we know that we have a health care program in New York that will protect New Yorkers," Cuomo said on Sunday. "Pre-existing conditions, the 10 essential health benefits, no cost sharing, codifying New York health insurance marketplace, etc."
Insurance companies also must provide coverage for in-vitro fertilization and egg-freezing.
The environment
A ban on single-use plastic bags was included. Cities and counties can also choose to enact a five-cent fee on paper bags, with 40 percent of that revenue going to provide low- and fixed-income people with reusable bags. The rest will support programs in the state Environmental Protection Fund, which received a total of $300 million in the budget – the same as last year. A total of $2.5 billion will support clear water infrastructure, a $500 million increase.
Other measures
Cuomo's crackdown on limousine operators – in response to a horrific crash in Schoharie last fall that killed 20 people – made the cut, despite earlier worries that it had fallen out of the budget. This includes new safety standards, increased insurance requirements and a provision that makes it a class E felony if a driver causes the death of another person while knowingly operating an unsafe limo.
The new budget also contains $27 million to implement the DREAM Act, which had already been passed by both houses, as well as tweaks that Cuomo had said were necessary to keep the legislation from being overly broad.
Only $20 million was allocated for census outreach to undercounted populations, just half of what immigration advocates had requested.
The final budget also contains provisions to ensure the right for workers to organize and collectively bargain. SUNY and CUNY students who families make up to $125,000 a year are now eligible for the Excelsior Scholarship Free Tuition Program.