New York City
What to watch for in the race to replace Jumaane Williams
Eight candidates are on the ballot to become the next New York City Council member for the 45th Council District, on Tuesday. Here are five things to watch in the race.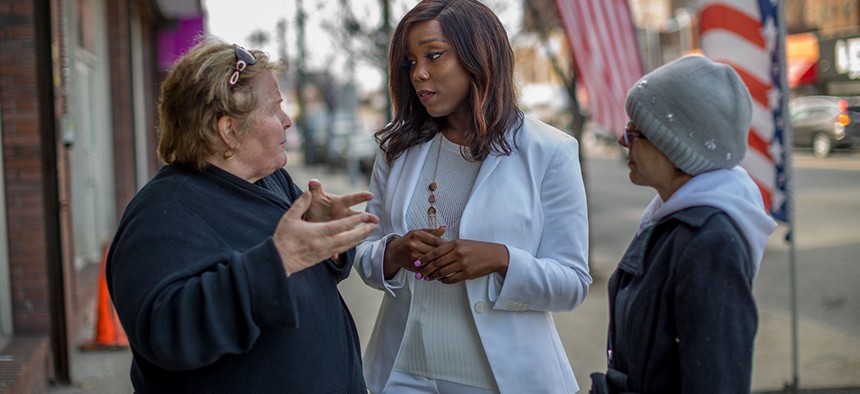 The next domino in the line of special elections is falling on Tuesday in Central Brooklyn. Eight candidates are on the ballot to become the next New York City Council member for the 45th Council District, which includes parts of Flatbush, East Flatbush, Midwood and Canarsie. They're hoping to replace New York City Public Advocate Jumaane Williams, who himself was elected in a February special election to replace state Attorney General Letitia James who was elected last November.
Tuesday's special election winner will become a member of the 51-member City Council, with powers to pass legislation, oversee the city government and influence land use in neighborhoods facing rising rents where residents worry about the impacts of gentrification. Here are five things to watch in the race.
Who is going to win?
Among the eight candidates on the ballot, two have emerged as leading contenders: Farah Louis and Monique Chandler-Waterman. Louis has worked in Williams' City Council office for nearly six years and has garnered a number of major endorsements including Brooklyn Borough President Eric Adams, the United Federation of Teachers and Brooklyn Democratic Boss Frank Seddio. As of the most recent campaign filing on April 29, she'd raised the most money of any candidate in the race, though others were very close.
Chandler-Waterman runs a community services nonprofit, East Flatbush Village, and previously worked in Williams' City Council office. She also got prominent endorsements from 32BJ, state Sen. Zellnor Myrie and – biggest of all – Williams himself. She had raised $179,000 as of the most recent filing, good enough for second in the race and trailing Louis by less than $1,000.
There's no publicly available polling for the race, so it's hard to predict, but it seems like a couple other candidates could be contenders, including the well-connected Jovia Radix. She's a lawyer and lobbyist who used to work for Gov. Andrew Cuomo. Her mother, Sylvia Hinds-Radix, is a long-time Brooklyn judge, and she had Seddio's endorsement before he flipped to back Louis. Adina Sash may also find support as the only white candidate in the race. She's an Orthodox Jewish social media star who raised a respectable $127,000 as of the latest filing.
Also on the ballot are New York City Health + Hospitals manager L. Rickie Tulloch, non-profit leader Xamayla Rose, former senior center supervisor Anthony Alexis and economist Victor Jordan.
Will the winner win again?
Whoever wins Tuesday night will likely be sworn in within a couple weeks – potentially at the next meeting of the City Council, on May 29. But less than a month later, they'll have to defend their hard-fought seat in the June 25 Democratic primary. It's a quirk of New York City election law that means the elections never seem to end. Tuesday's winner will have the upper hand in the June primary, but victory isn't guaranteed. In 2016, Alice Cancel beat out Yuh-Line Niou for a Manhattan Assembly seat in an April special election. Niou then topped Cancel in a September primary, and still holds the seat.
Will the oppo stick?
Possibly cementing her front-runner status, Louis' opponents seem to have dug up some opposition research on her, like a couple of Louis' tweets from 2010 expressing annoyance at Jews and disgust at a same-sex kiss on TV. The Daily News also reported that Louis had defended her campaign manager, Samuel Pierre, after he was convicted of scamming Haitian immigrants.
Louis posted a letter apologizing for the tweets, saying at the time she "did not fully grasp the offensive and tone-deaf words." Interestingly,  Louis got the endorsement of three gay political clubs, the Stonewall Democrats, the Lambda Independent Democrats and the Jim Owles Liberal Democratic Club. She has also garnered a number of prominent Jewish endorsements, including the Flatbush Jewish Community Coalition and City Council members Kalman Yeger and Chaim Deutsch, who represent neighboring, heavily Orthodox districts.
Louis has not apparently said anything about her defense of Pierre. But Louis, who is of Haitian descent, has the support of The Haitian Times newspaper and Haitian-American elected officials, including Assemblywomen Rodneyse Bichotte, Michaelle Solages and Kimberly Jean-Pierre.
Who will win the proxy battle?
Elected officials, labor unions and organizations in Brooklyn all seemed to come together to help Williams win the public advocate race. Now that coalition has broken up, with many members lining up behind either Louis or Chandler-Waterman. The split isn't consistently ideological, but Louis has earned endorsements from some of the more moderate, or even right-leaning voices, like the Police Benevolent Association, Deutsch and Seddio. Many of Chandler-Waterman's endorsements come from progressives like Williams, Make the Road Action and the City Council's Progressive Caucus. This battle for the soul of the Democratic Party is happening in different forms across the country, and who wins here could suggest which wing of the party is better organized in Central Brooklyn.
Where will the new member fit in?
The new City Council member is likely to be a woman, raising the number of women in the body from 11 to 12. That'll be a good start for the 21 in 21 campaign, which aims to have 21 women in the City Council following the 2021 citywide elections. That organization couldn't make up its mind in this race, however, jointly endorsing both Chandler-Waterman and Radix.
Williams wasn't the chairman of any City Council committee, so his elevation to public advocate didn't leave any leadership positions open. But the new council member will still likely be assigned to rank-and-file committee memberships after discussing her interests and priorities with City Council Speaker Corey Johnson. Louis told the Campaign Finance Board her top priorities are affordable housing, education and economic development. Chandler-Waterman listed affordable housing, education and public safety.
Powered By
NEXT STORY: New York's Game of Thrones