New York City
De Blasio and City Council reach agreement on $92.8 billion budget
New York City Mayor Bill de Blasio and New York City Council Speaker Corey Johnson reached an informal deal on the city's $92.8 billion operating budget Friday afternoon, two weeks ahead of the deadline. Here's what it's in and what's out.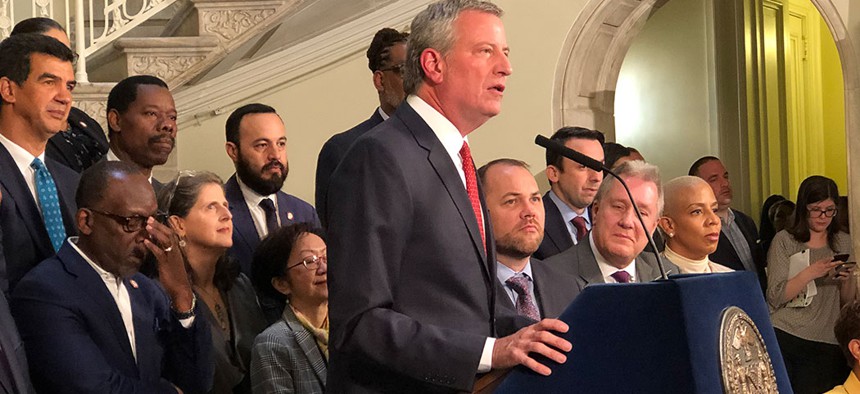 Presidential candidate and New York City Mayor Bill de Blasio can once again say something that President Donald Trump can't: he's passed an on-time budget.
De Blasio and New York City Council Speaker Corey Johnson officially reached an informal deal on the city's $92.8 billion operating budget Friday afternoon. The pair celebrated in the traditional way – by shaking hands at a press conference in the City Hall rotunda, surrounded by dozens of City Council members. Here are the highlights.
Council claims wins
The New York City Council got some of its biggest wishes into the final deal like funding for more than 200 new social workers in public schools, a $33 million increase for libraries, a $43 million increase for city parks and a $40 million budget line for outreach ahead of the 2020 U.S. census. There was also a promise to increase pay for preschool teachers who don't work in Department of Education facilities, but details are thin, since a deal will be worked out in union negotiations. Ditto on a future deal to increase pay for public defenders.
This budget will also be the first to fund some big initiatives that were already announced and agreed upon. There will be $25 million devoted to NYC Care, the mayor's new initiative to enroll uninsured New Yorkers into the city's health care plan. There will be $60 million to begin the process of retrofitting large buildings to make them more energy efficient, part of New York City's so-called Green New Deal. And the city will devote $250,000 to directly funding abortion care, a relatively small line item that will reportedly make New York the first city to allocate money specifically to abortions.
Johnson was glowing during the budget announcement, his second as speaker, and both he and de Blasio played up their partnership. "I really appreciate the hard-fought, good-faith negotiations that have taken place over the last few months," Johnson said.
But restraint was the topic of the day
Unlike in Albany, where the first year of united Democratic government unleashed a long list of major progressive wins in the state budget, this year's city budget is a relatively simple affair. There weren't any new big-ticket items, and the biggest single new initiative announced Friday was about saving – the city will be adding about $250 million to the reserve funds, which at nearly $6 billion in total, are said to be at their highest level in city history.
Echoing his comments on fiscal restraint from the city's preliminary and executive budget announcements earlier this year, de Blasio said a focus of the budget was "fairness," but also "realism about the challenges we face: in our economy, in other levels of government."
The biggest cuts, de Blasio said, came from Albany, which have forced the city to spend more than could be covered by the city's ever-increasing revenues. This budget was de Blasio's first that required specific cuts from agencies, under a so-called Program to Eliminate the Gap, or PEG.
One of the most noteworthy cuts was the $20 million to Thrive NYC, the mental health initiative headed by de Blasio's wife, Chirlane McCray, which has been criticized by the City Council and New York City Comptroller Scott Stringer for its big budget and lack of clear results.
Biggest budget ever
As de Blasio explained, with more than a hint of pride, New York City has the fourth-largest government budget in the entire country, following just the federal government and the states of New York and California. At $92.8 billion, the city's budget is larger than the state of Florida's $91 billion budget, despite the state having a population well over double New York City's.
This year's budget is also $23 billion more that the last budget under former Mayor Michael Bloomberg, in 2013, but that's not necessarily a sign of de Blasio's runaway spending. The city is required by law to have a balanced budget, and revenue has exploded in the last decade, thanks in part to a thriving economy. "You're seeing the budget grow because the economy has grown," de Blasio said.
Coming in on time
Unlike in Washington or Albany, where budgets have often been passed right at or even after the deadline, the Democrats in City Hall rarely have trouble reaching an on-time agreement. Sure enough, the June 14th deal came more than two weeks ahead of the June 30 deadline. De Blasio was similarly early last year, reaching an agreement on June 11, but this year, the mayor may have had extra incentive to reach a timely deal: his presidential campaign. De Blasio this week officially qualified for the first debate among the Democratic candidates, and will have to be in Miami June 26. But de Blasio was mum on his plans for this weekend, not telling reporters Friday afternoon whether he planned to campaign in an early primary state – something he's been making a habit since before he announced his campaign last month.
De Blasio's ambitions are an easy target for stakeholders who didn't get what they asked for, like Human Services Council Executive Director Allison Sesso, who was hoping for more funding for nonprofit service providers that contract with the city. "Perhaps if these nonprofits operated in Des Moines," Sesso said in an emailed statement, "our mayor would have paid closer attention to their plight."
Powered By
NEXT STORY: NYC nears budget deal, devoid of big ticket items