Criminal Justice
Katz claims victory in Queens DA race, with recount coming
Queens Borough President Melinda Katz declared victory with a 20-vote lead over Tiffany Cabán, who had declared victory in the Queens district attorney Democratic primary.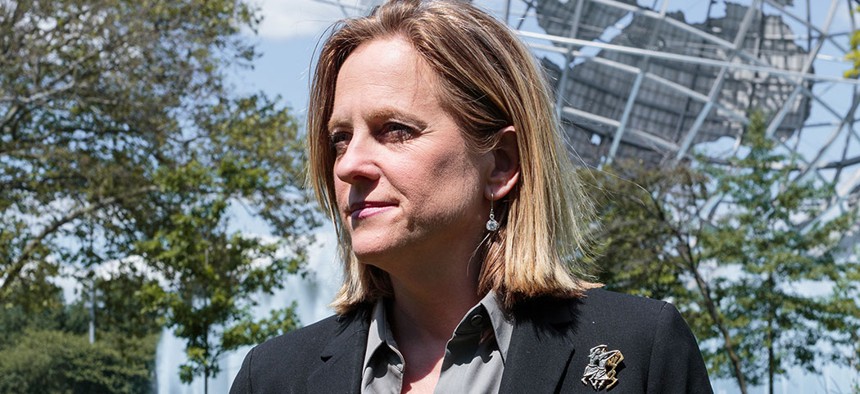 In the latest unexpected turn in a topsy-turvy Queens district attorney, Queens Borough President Melinda Katz claimed victory over Tiffany Cabán, the public defender who had already declared herself the winner on the night of the Democratic primary. 
Katz's declaration came on Wednesday night after the counting of more than 6,000 absentee and affidavit ballots by the New York City Board of Elections gave her an unexpected lead, with sources saying that the margin is now a mere 20 votes. Just over a week ago on June 25, Cabán ended the night with a surprising 1,090-vote lead in the Democratic primary, saying she was the winner while Katz refused to concede. That lead later grew to 1,199 votes, which some observers believed to be all but insurmountable. 
The narrow 20-vote margin is now set to kick off an automatic manual recount.
"We said from the beginning that every vote needs to be counted and that every voter needs to be heard, and now we see clearly why this must always be the case," Katz said in a statement issued Wednesday evening. "I am proud to have been chosen as the Democratic nominee for for Queens District Attorney.
But the Cabán said on Wednesday that Katz's statement was premature. "Queens voters are inspired by Tiffany Caban's campaign and her vision for real criminal justice reform," said Monica Klein, a Cabán campaign spokesperson. "If every valid paper ballot vote is counted, we are confident we will prevail."
Jerry Goldfeder, a veteran election lawyer working for the Cabán campaign, told The New York Times that he would challenge the invalidation of all but 487 of the 2,816 affidavit ballots that were cast. The Working Families Party, which played a major role in propelling Cabán to what appeared to be a major upset victory, also raised concerns about the number of affidavit ballots that did not make the cut. 
"The Board of Elections invalidated more than 2,000 affidavit ballots," Bill Lipton, the left-leaning third party's state director, said in a statement. "We are going to fight to make sure every valid vote is counted and every voter has a voice. And when all the votes are counted, we are confident Tiffany Caban will be the next Queens District Attorney."
Correction: An earlier version of this post incorrectly stated that Cabán has the Working Families Party line.