New York State
Where are New York's sanctuary cities?
The (supposedly) safest places in New York for undocumented immigrants.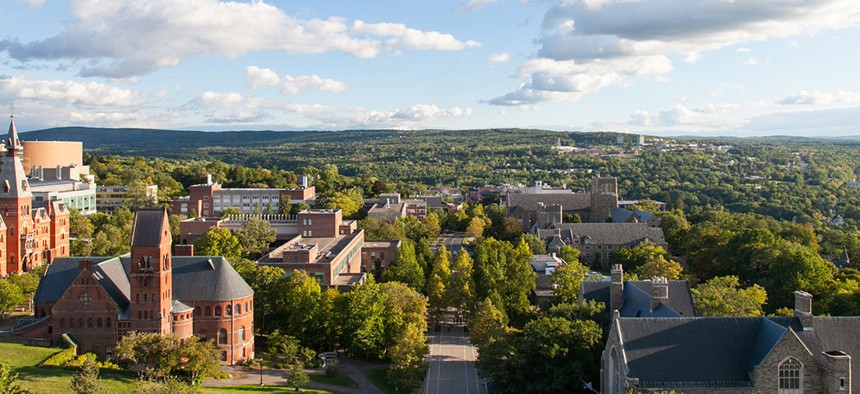 President Donald Trump kicked off his reelection campaign last month with a familiar pledge: to deport millions of "illegal aliens." He said U.S. Immigration and Customs Enforcement would start the process of these deportations in a matter of weeks.
So which municipalities in New York state have identified themselves as sanctuaries for undocumented immigrants?
Although many cities, counties and states call themselves sanctuaries, the term doesn't have a single definition. "'Sanctuary' means different things to different people," Cornell Law School Professor Stephen Yale-Loehr told City & State. "And it is not a legal term."
In addition, the term sanctuary doesn't define a specific policy. "There is no set of policies that make anything a sanctuary municipality," said Theo Moore, director of local policy and legislation at the New York Immigration Coalition.
Instead, it encompasses a range of policies that jurisdictions implement to prevent local officials from sharing information with Immigration and Customs Enforcement, Yale-Loehr said. Sanctuary policies can also include criminally processing undocumented immigrants locally instead of handing them over to federal immigration authorities.
The Center for Immigration Studies, an anti-immigration think tank, has compiled a list of the cities, counties and states that call themselves sanctuary jurisdictions. The organization identified municipalities or sheriff's departments that have passed laws, resolutions or another kind of measure to prevent local law enforcement from cooperating with Immigration and Customs Enforcement.
The center lists seven municipalities in the state that it considers to be sanctuary jurisdictions: Albany, Ithaca, New York City as well as Franklin, Nassau, Onondaga and St. Lawrence counties. Franklin, Nassau, Onondaga and St. Lawrence counties only specify that they don't honor Immigration and Customs Enforcement requests without a warrant, Moore said. Based on his research, the localities that actually have sanctuary policies in the state are Albany, Ithaca, New York City and Westchester County, which isn't on the Center for Immigration Studies' list. 
What's more, New York City is the only locality in the state that is considered to be a sanctuary city by its elected officials, Moore said. Below are the municipalities in New York state that have sanctuary policies.
Albany
Albany Mayor Kathy Sheehan issued an executive order in April 2017 that said the city's police department won't ask individuals about their immigration or citizenship status, unless it is pertinent to an investigation.
In late 2017, the U.S. Justice Department sent letters to Albany and 28 other jurisdictions, requesting that they affirm their compliance with U.S. Code 1373, a statute passed under the Trump administration stipulating that localities are not allowed to stop government entities or officials from sharing information with Immigration and Customs Enforcement. The Justice Department warned that localities violating this code could lose their justice assistance grants. Albany maintained that it was compliant with federal law.
Ithaca
The Ithaca City Council passed an ordinance in February 2017 directing city officials and police officers not to ask any individuals about their immigration status, unless the person is committing a crime related to their status. However, Ithaca was not one of the cities that the Justice Department identified as being in violation of U.S. Code 1373.
New York City
In late 2014, Mayor Bill de Blasio signed two bills into law that significantly reduced the degree to which city officials would cooperate with federal immigration enforcement. Introductions 486-A and 487-A ended the city's cooperation with Immigration and Customs Enforcement detainer requests, except in situations where an individual has been convicted of a violent crime. The bills also ended the presence of federal immigration officials at Rikers Island and all other city-run facilities. The city is home to more than 500,000 undocumented residents, according to recent estimates. It was included in a 2018 Justice Department letter demanding documentation about whether the city was violating U.S. Code 1373.
Westchester County
In March 2018, Westchester County Executive George Latimer signed the Immigrant Protection Act into law. In a press release, the Westchester County Board of Legislators made a point of stating that this is not a sanctuary measure. Broadly, the bill defines what law enforcement can ask individuals about their citizenship status and how that information is shared with other levels of law enforcement. More specifically, it prevents Westchester County from using its resources to assist in federal investigations based on a number of identities, including national origin.
Powered By
NEXT STORY: What's going on with Andy Byford?