New York City
Republicans line up to challenge Ocasio-Cortez
The 2020 election is over a year away, but Republicans have already begun lining up to unseat progressive firebrand Rep. Alexandria Ocasio-Cortez. A total of seven candidates have filed and while they're unlikely to win, they could get a lot of attention from conservatives.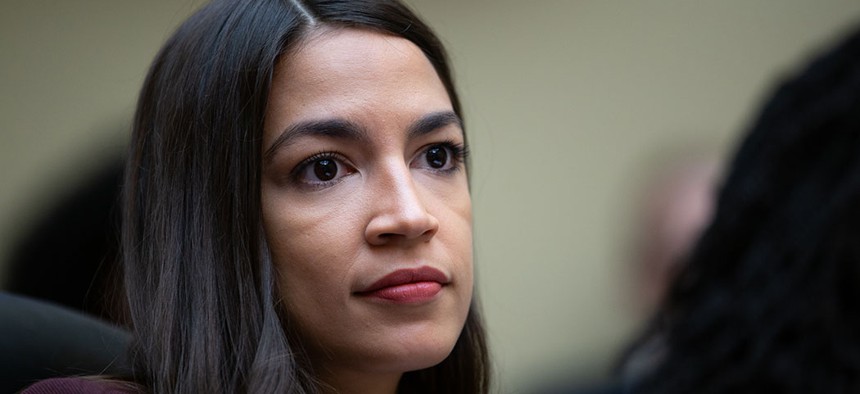 The 2020 election is over a year away, but Republicans have already begun lining up to unseat progressive firebrand Rep. Alexandria Ocasio-Cortez. A total of seven candidates have filed with the Federal Elections Commission to run in her Bronx-Queens district. After the Republican primary, the winner will face an incredible uphill battle, but an energetic race could perhaps invigorate the struggling New York Republican Party. And, if nothing else, it will get a lot of attention from local and national media – especially conservative outlets such as Fox News, The Daily Caller and The New York Post, which obsessively cover Ocasio-Cortez and already have begun to report on her prospectiveopponents.
Any Republican looking to run in District 14 begins at a distinct disadvantage. Active, registered Democrats in the district outnumber active, registered Republicans nearly 7-to-1. Even adding those registered with conservative-leaning third parties and unaffiliated voters to Republican numbers does not come anywhere near closing the gap. Hillary Clinton won the district with 77% of the vote in 2016. The seat has also been held by a Democrat since 1993, with redistricting and demographic change making it more Democratic and less white over time. The Republican congressional nominee generally received less than 20% of the vote during general elections within the past decade. In 2018, Ocasio-Cortez won 78% of the vote, while Republican nominee Anthony Pappas received about 14% and Conservative Elizabeth Perri got less than 2%. 
To flip that district, "it would take a lot of work, millions of dollars and a realignment of the vote in the Bronx and Queens," Rob Ryan, a longtime Republican consultant, told City & State.
City & State spoke to six of the seven candidates (Jineea Butler had no campaign presence online). While each acknowledged the raw numbers don't look promising, they also expressed confidence they could reach across the aisle and reach those looking for bipartisan solutions, or an alternative to Ocasio-Cortez's far-left policy positions. Bill O'Reilly, a Republican consultant, agreed that such outreach will be necessary for whomever wins the primary to ultimately be successful in the general election. "There are going to be voters that are going to want a choice in November," O'Reilly told City & State. "A lot of moderate Democrats, theoretically, would want an outlet to express their dis-ease with the direction Ocasio-Cortez is moving it." 
O'Reilly pointed to the possibility of targeting supporters of former Rep. Joseph Crowley, whom Ocasio-Cortez ousted in 2018. His base was largely made up of older, more moderate Hispanic residents in the district, as opposed to the younger, mostly whiter recent transplants that propelled Ocasio-Cortez to victory. Such is the strategy of Ruth Papazian, a medical journalist who organized a campaign to get Crowley supporters to vote for him on a third party line in order to keep Ocasio-Cortez from winning. Although that effort was unsuccessful, Papazian will be running herself this time, as a Republican. 
Typically, parties struggle to recruit candidates under these conditions. That's especially true for the GOP this year, which – now that it's in the minority in the House of Representatives – is facing a wave of retirements. It's Ocasio-Cortez's national celebrity that has drawn such a large crowd of challengers for the 2020 race. In the case of John Cummings, a high school government teacher from the Bronx, Ocasio-Cortez actually inspired him to run by unseating long-time incumbent and Queens Democratic Party leader Joseph Crowley, because Cummings sees her upset win as proof that someone from outside the Democratic establishment could win in the district. O'Reilly predicts that the expansive field, which will likely dwindle slightly after petitioning, when some candidates may fail to get onto the ballot, will help Republicans in the race more than it will hurt them. "The sheer number of candidates makes it a news story," O'Reilly said. "'Republicans want to run against AOC so badly there's seven of them' – there's a little bit of sexiness about that."
The state Republican Party needs that kind of attention right now. After taking a beating in 2018 with the loss of the state Senate and overall blue wave in New York and across the nation, raising questions about the future of the state party. 2020 will serve as a crucial, if difficult, election cycle. New state Republican Chairman Nick Langworthy, took over for long-time Chairman Ed Cox and O'Reilly said that if Langworthy is smart, he'll bring attention to the race against Ocasio-Cortez, if not with money at first, at least through public relations, because even a lost race can positively impact the party. 
Multiple candidates say they have spoken with party leaders and other Republican officials about their candidacy. Langworthy confirmed to the Post that he has spoken with Papazian and Bronx County Republican Chairman Michael Rendino spoke positively about both her and Cummings to the Post as well. O'Reilly said at least some degree of institutional support, or prior political experience, would be helpful in this case. This may prove to be an advantage for candidate Scherie Murray, who not only has ties to the party as a former state committeewoman, but previously ran for Assembly in 2015. (She was the Republican nominee in her Queens district, losing in a landslide to Democrat Alicia Hyndman.) Rey Solano, a Bronx businessman, also ran for City Council in 1997.
Although Republican candidates face incredibly long odds in this race, Ryan said that does not mean they should not run. "What you might see here is the emergence of someone who could be a spokesman for urban Republicans in both the city and perhaps even the nation," Ryan said. "And it would be great if it was a person of color… because that's how the Republicans will start taking back seats in the city, by having people who look like their constituents." A majority of the candidates who are running, in keeping with the district's demographics, are black or Latino.
O'Reilly agreed that the race is certainly one worth having because the right candidates, the ones who are able to elicit responses from Ocasio-Cortez, will drive national news in a way that will potentially set up a candidate for a different, perhaps more attainable office. "You would want the race to be interesting to get the message out there and to draw a clear contrast," O'Reilly said. "Here you have seven willing to do the climb, that's the sign of a future healthy party."
While many have, not every candidate who has filed to run has formally announced his or her campaign yet. It's possible that even more will jump in before the primary in June 2020, and likely some will drop out before then as well. Although they have a "better chance at winning the Powerball" according to Ryan, it's important to remember that someone always eventually wins the Powerball.