New York City
Ritchie Torres outraises the field in South Bronx congressional race
Mark-Viverito receiving real estate-adjacent money.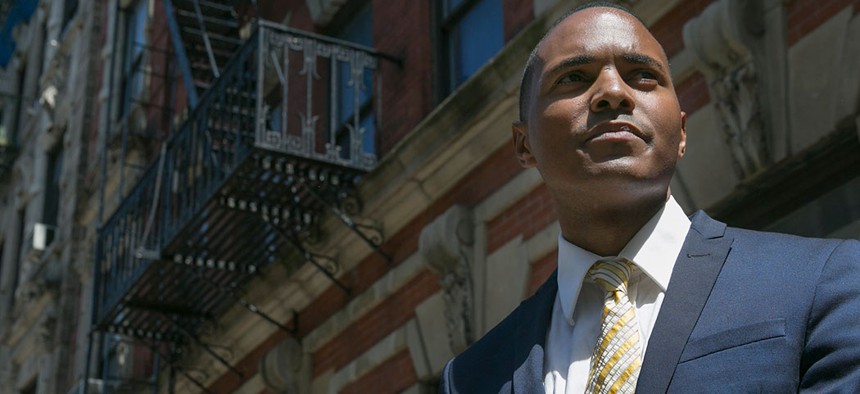 In the poorest congressional district in the country, Ritchie Torres is raking in the cash, benefitting from national fundraising networks looking to elevate a gay black and Latino candidate – and keep an unusally conservative opponent out of Congress. 
With just over a year to go until the general election in The New York City councilman has raised more money than his nine Democratic opponents for the seat combined.
Through Sept. 30, Torres had $878,084 in total contributions. The other candidates, including a bevy of elected officials, have raised a combined $738,882. 
Ten Democrats are running to replace the retiring Rep. José Serrano, who represents the 15th Congressional District, covering the South Bronx. 
Three lower-profile opponents, Samelys López, Jonathan Ortiz and David Phillip Franks apparently missed the Oct. 15 deadline to file disclosures with the Federal Elections Commission, but it's unlikely their combined fundraising totals would make up the $139,000 lead Torres has on the field. 
With the June 2020 primary so far away, candidates are spending their money at different rates, but Torres has an enormous advantage in cash on hand as well. According to FEC filings, he has $722,437 in the bank. The other nine candidates have a combined $507,146. 
Torres, who filed to run in March, had a head start on some of his opponents. Assemblyman Michael Blake and New York City Councilman Ruben Diaz Sr. joined the race in April, while former New York City Council Speaker Melissa Mark-Viverito filed to run in August and New York City Councilman Ydanis Rodriguez didn't get in until September.
Torres' fundraising has benefitted from early endorsements from two major LGBT political groups. The Equality PAC endorsed Torres, who is gay, in June, and sent out a fundraising email to its whole list. The Victory Fund backed him in July. 
Torres told City & State that donors are giving because he represents "the best hope of beating a Trump Republican masquerading as a Democrat."
That's a reference to Diaz Sr., a conservative who has a habit of making anti-gay comments and, although he does not explicitly support President Donald Trump, he has said nice things about the polarizing president. Many liberals are concerned that the more progressive candidates in the race will split the left-leaning vote, leaving Diaz Sr. to win. Diaz has apparently struggled to fundraise, but with $126,654 in contributions, claimed on Twitter he was "well ahead" of his $200,000 goal for the race.
Unlike some of his opponents in the race, Torres also hasn't restricted himself from accepting money from donors who may draw skepticism from his fellow progressives. Among Torres' donors are John Catsimatidis, a grocery store magnate, real estate developer and former Republican mayoral candidate, and Josh Agus, a real estate developer currently building a mixed-use project in Torres' Bronx Council district. 
Asked about the donations, Torres drew attention to his small-dollar fundraising.
"The most important question I ask is, are the overwhelming majority of donations coming from small donors who have given less than $100?" he said. "And the answer is emphatically yes." 
Hoping to draw a contrast, Mark-Viverito made a pledge not to accept campaign contributions from the real estate industry or corporate PACs. But her most recent filing shows a handful of donations from people who work around real estate. Teresa Gonzalez gave $2,800 and is co-founder of DalyGonzalez, a lobbying firm which represents real estate clients such as the Durst Organization, The Hudson Companies and BFC Partners before the City Council. Deborah Garcia-Gratacos, president and CEO of real estate advisory firm Deval, gave $2,800 as well. And Mathew Wambua, executive vice president at real estate lender Merchants Capital gave Mark-Viverito $1,000. 
A spokesperson for her campaign clarified that her pledge was to not accept donations from "corporate PACs and real estate developers," and suggested that the donations in question are not contrary to that pledge. Mark-Viverito has not been consistent in the wording of her pledge, however. In some tweets, she says "real estate developers." In others, Mark-Viverito says she's "not accepting any real estate or corporate money."  
"Melissa Mark-Viverito has made it very clear that she is an independent and unbeholden candidate," the statement read. "This campaign is committed to doing the right thing and has only accepted contributions that are aligned with our pledge."
Blake's fundraising filing showed he received $1,250 from Clayton Mayfield, an attorney with Linebarger Goggan Blair & Sampson, a debt collecting firm that Blake consulted for in 2012 and 2013. The Daily News published a story on Sept. 17 highlighting Blake's work for "one of the most ruthless" debt collectors. That same day, Mayfield donated to Blake's campaign. 
Update: This article has been updated to include a response from Melissa Mark-Viverito's campaign received after publication. 
Correction: This article originally misstated the amount of money the Torres campaign has on hand. 
Powered By
NEXT STORY: Cuomo can't stop subtweeting de Blasio