Campaigns & Elections
The DSA-endorsed New York City candidates
Here's what you need to know about the Congressional and Assembly candidates endorsed by the Democratic Socialists of America.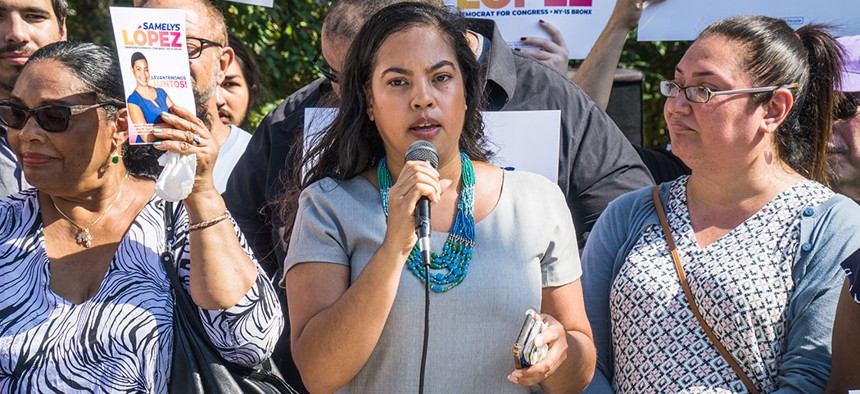 The Democratic Socialists of America has become something of a progressive king-maker in New York in recent years, after several of the candidates the organization endorsed have been elected into office.
Now, a number of members of the DSA's New York City chapter are vying for its endorsement to lift them up to the ranks of political superstar Rep. Alexandria Ocasio-Cortez – or, at least help them win over voters in their districts. Most recently, the DSA endorsed Samelys Lopez in a crowded race in the 15th Congressional District and Zohran Mamdani for Assembly in the 36th District. 
But being a member of the DSA doesn't automatically result in an endorsement – just take a look at DSA members and congressional challengers Shaniyat Chowdhury, Mel Gagarin andPete Harrison, who failed to win the group's backing. 
In November, the Queens Daily Eagle reported on the requirements to be met for a candidate to get an endorsement from the local Queens DSA chapter, as well as for the wider New York City chapter. First, candidates must be screened by the DSA's Queens' Electoral Working Group, which reviews and votes on candidates' endorsement requests. Candidate need to receive 50% of the group's vote for an endorsement, and then they need to receive a 60% endorsement vote from the DSA's Queens members before a citywide committee votes to give them an endorsement – which also needs 60% of the vote. While this was just a rundown of how the Queens chapter does things, it's an indication of how other local city chapters end up getting candidates a DSA endorsement. 
Here are the candidates the DSA has decided to endorse this year for New York's upcoming state legislative and congressional elections:
Samelys Lopez for Congressional District 15 
Lopez, a housing organizer, is hoping to win over the 15th District, which spans from where the Bronx meets the East River up to the Bronx Zoo. Born in Puerto Rico, Lopez grew up in the Bronx and has spent much of her career looking to "build power" in the borough, according to a DSA email. 
The housing activist worked on grassroots campaigns for U.S. Sen. Bernie Sanders and for Ocasio-Cortez. In the last legislative session, she worked on the Housing Justice for All campaign, which resulted in the passage of the sweeping Housing Stability and Tenant Protection Act. Because Lopez experienced homelessness during her youth and spent time in the city's shelter system, she has made housing a critical aspect of her campaign. However, her wide-reaching platform includes everything from job creation to disability rights.
Since Rep. José E. Serrano announced his retirement in April, the race for District 15's seat has become a heated one. It's already packed with notable New York politicians, such as Assemblyman Michael Blake, former New York City Council Speaker Melissa Mark-Viverito, and New York City Council members Ritchie Torres and Rev. Rubén Díaz Sr. If the relatively unknown Lopez can beat out these heavyweights in the 2020 primary, her victory will show how much power a DSA endorsement really has.
Zohran Mamdani for Assembly District 36
Zohran Mamdani has been an organizer for the DSA since 2017, and acted as one of the organization's key coordinators in its efforts to support Tiffany Cabán during her campaign for Queens district attorney, according to a DSA press release.
The key focus of Mamdani's campaign – the only focus, really – is housing. Mamdani wants to create "ironclad" protections for those who find housing through the private market, bring private housing under community ownership and eliminating 485-a and 421-a tax abatements that encourage luxury residential developments.
The district encompasses Queens' Astoria neighborhood in addition to parts of Long Island City and has been represented by Democratic Assemblywoman Aravella Simotas since she took office in 2011. Simotas is known for sponsoring a significant amount of legislation aimed at protecting victims of sexual and discriminatory harassment.
Jabari Brisport for Senate District 25
A longtime member of the DSA, state Senate candidate Jabari Brisport received an endorsement from the organization on Sept. 19, along with state Assembly candidates Marcela Mitaynes, Boris Santos and Phara Souffrant Forrest.
Brisport began his career as a teacher before moving onto politics. He previously ran an unsuccessful bid against New York City Councilwoman Laurie Cumbo in 2017 as a self-proclaimed "crazy Green Party dude." Brisport's current platform outlines an array of issues he hopes to address, such as strengthening tenant protections, providing adequate academic resources for children, combating climate change, implementing a whole host of criminal justice reforms and working to create a fairer election system.
Being a third-generation Prospect Heights resident could be an advantage in the upcoming race, as District 25 encompasses Brooklyn's Prospect Heights, Clinton Hill, Fort Greene and Bedford-Stuyvesant neighborhoods, in addition to parts of Red Hook, Gowanus and Sunset Park. The seat is currently held by state Sen. Velmanette Montgomery, who has represented the district since 2013, and she reportedly may retire at the end of her current term.
Boris Santos for Assembly District 54
Boris Santos was known as state Sen. Julia Salazar's chief of staff before he decided to embark on political ambitions of his own, launching his campaign to unseat incumbent Assemblyman Erik Dilan in August. It was Salazar who unseated Dilan's father, Martin Dilan, when she won her state Senate seat last year.
After being a public educator for Teach for America, Santos decided to transition to government work, landing a job as a staffer for New York City Councilman Antonio Reynoso. In last year's legislative session, Salazar worked hard to pass pro-tenant rent reforms, and Santos is hoping to continue the effort to introduce even more tenant-friendly legislation upon joining the Assembly.
While Santos has only lived in Bushwick for about three years, he says Bushwick native Dilan is "out of step" with the community's political interests.
Marcela Mitaynes for Assembly District 51
A newer member of the DSA, Marcela Mitaynes works as a tenant activist for the nonprofit Neighbors Helping Neighbors, which pushed for the progressive Housing Stability and Tenant Protection Act. Mitaynes became passionate about housing activism after a landlord kicked her out of a rent controlled building.
Now, she's hoping to create even stronger housing policy, opposed to just advocating for it, by becoming an Assembly member, bringing her activist spirit to District 51, which includes Brooklyn's Sunset Park and Red Hook neighborhoods and parts of South Slope, Bay Ridge and Borough Park. The district incumbent is Assistant Assembly Speaker Felix W. Ortiz, who has served in the Assembly since 1994.
Phara Souffrant Forrest for Assembly District 57 
Phara Souffrant Forrest, a Haitian-American nurse, was born and raised in the Crown Heights portion of Assembly District 57, which also includes the Brooklyn neighborhoods Fort Greene, Clinton Hill, Prospect Heights and parts of Bedford Stuyvesant.
Forrest began organizing with the Crown Heights Tenant Union in 2016, after the building she was living in got converted into a condo. Since then, she has fiercely advocated for tenants' rights and was even arrested in June during a protest for the Housing Justice for All campaign at the state Capitol. Housing policies are certainly Forrest's priority but she's also hoping to make a difference when it comes to health care.
Much like Forrest, Assemblyman Walter Mosley – the incumbent she's challenging – has been critical of the current rent laws and even told The Real Deal that he was an early supporter of Salazar's progressive statewide rent regulations. Yet Forrest is looking to push pro-tenant policies even further. "Fundamentally, I don't think anyone should be paying rent," Forrest told The Real Deal.
Correction: This story's sub-headline originally misnamed the Democratic Socialists of America. Also, Santos claimed Dilan is "out of step" with the community, not the other way around.
Powered By
NEXT STORY: NYCHA is named New York City's worst landlord. Again.