Andrew Cuomo
Cuomo's winning hand at the 2020 State of the State
A budget deficit and political setbacks bring new opportunities for the three-term governor.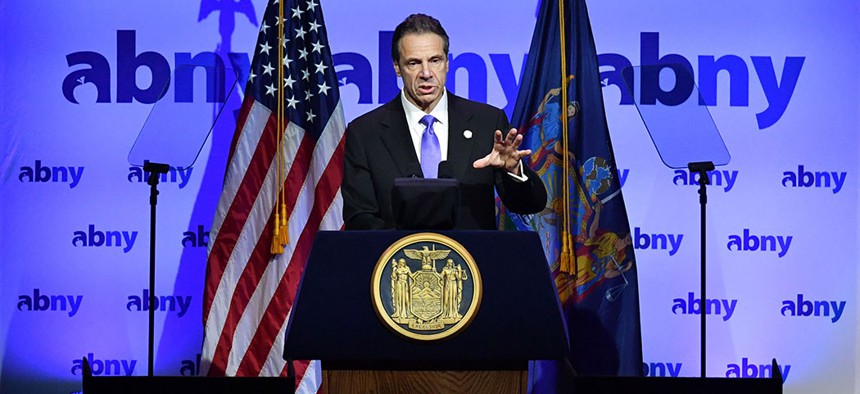 When Gov. Andrew Cuomo delivers his 10th State of the State address on Wednesday, the proposals he pitches will drive much of the legislative agenda in the months to come. And if Cuomo plays his cards right, he may erase any doubt that he is the single-most dominant power in Albany for years to come. 
The challenges facing him at the beginning of 2020 appear to put the governor in a tough spot – at least at first glance. There is a $6 billion structural deficit that has to be dealt with in the coming months. To do this, Cuomo will have to hammer out a deal with increasingly assertive Democratic majorities in the state Senate and Assembly. To make matters worse, Cuomo faces competing pressure from across the political spectrum at a time when both progressives and conservatives have become increasingly animated on issues as varied as public safety, immigration and income inequality. 
But these same forces could ultimately empower Cuomo more than they limit his legislative and political ambitions. His budget powers are formidable, and the deficit will make it easier for him to deny lawmakers' budget requests. Unlike Cuomo, legislators are up for reelection this year and more vulnerable to public backlash against the progressive policies that Democrats have implemented over the past 12 months. Cuomo will also arguably remain as the bridge between the political left and center as he begins the second year of his third term in office, similar to how he played Assembly Democrats off Senate Republicans in the past. 
"He has more negotiating levers to get what he needs on some of the bigger ticket items – health care, school aid – because of the political news on some of the non-dollar social legislation," said Larry Levy, executive dean of Hofstra University's National Center for Suburban Studies. "He's in a stronger position, even if he is going to have to take ownership, just like the Legislature on some very tough decisions that are going to affect the lives of real people."
It is no coincidence that the theme of the 2020 State of the State address is "Making Progress Happen." The governor has defined his political brand for years as a form of pragmatic liberalism that can appeal to the political center while pushing for the social justice policies that progressives want. The more than 30 proposals that he had already released before the speech reflect that thinking. He is proposing a state equal rights amendment that would protect sex and gender identity in the state Constitution. There are proposals to crack down on opioids and flavored vaping products that have bipartisan support, and plenty of proposed capital projects across the state. But his focus on getting things done hints at his politically centrist tendencies. "Last year we laid out the most aggressive agenda in modern political history and we got it done," Cuomo said in a Dec. 13 press release. "This year we'll build on that record of accomplishment and continue restoring confidence in government as a force for good."
While Cuomo has already driven numerous news cycles by unveiling State of the State proposals, like expanding Penn Station, proposals on the biggest issues might have been held for the speech itself. Advocates for legalizing recreational marijuana, for example, are expecting Cuomo to renew his efforts for getting it done. "It would be a surprise and would not necessarily be in keeping with the signals that we've seen for it to be left out in the State of the State," said Melissa Moore, deputy state director for the Drug Policy Alliance. Cuomo could similarly generate more positive press by announcing new actions on climate change – an issue that has dramatically risen in the public consciousness in 2019, and will be the subject of protests at the Capitol on Wednesday.
Unlike last year's address, the 2020 State of the State will not incorporate his budget presentation. It's not hard to see why Cuomo would want to separate the two, given the $6 billion deficit that threatens to overshadow his policy agenda. Still, the budget process gives governors formidable powers over lawmakers – including the ability to decide when to unveil his spending plan. The governor's office has yet to announce when that will be, but there are already signs that his way of dealing with the deficit will not be to the liking of people on the political left.
Throughout his time in office he has insisted on a 2% cap on spending growth, a goal that has been met at times through clever accounting. While Cuomo has already signalled that he will employ other budget tricks to balance the books, he has downplayed the possibility of raising taxes. "A one-shot cash revenue is not the answer," Cuomo said at an Association for a Better New York luncheon. "Fix the problem. Money tries to paper over the problem, and I'm not in the papering-over business." 
A key thing to watch in his speech is how Cuomo will channel recent backlash to issues like bail reform and driver's licenses for undocumented immigrants in way that both protects his party and solidifies his control over it. One clue is the extent to which he tries to appeal to suburban and moderate voters. "I'm gonna to be listening for signs of concerns that the Democrats went too far to the left in a number of areas (in 2019)," Levy said. The budget process offers Cuomo a legislative vehicle to move the changes that suburban lawmakers want to make on bail reform, while also securing the school funding that is important to them, according to Levy. But lawmakers on Long Island and in the Hudson Valley who do not work well with the governor might not be able to benefit from his support, leaving them more vulnerable to Republican challenges to their reelection.
Getting Cuomo to support their own proposals will be no easy task for lawmakers. Democratic lawmakers want to secure billions in new funding for public schools, but current political realities have given Cuomo new political leverage. For starters, he can claim that the deficit means that there is simply no money for additional education spending, which he could also threaten to cut because it too is a big driver of state spending. Plus, some suburban lawmakers may have to pull their legislative punches if they want Cuomo's support on amending bail reform and other touchy political issues. Addressing these issues through the budget process would allow lawmakers to defend their votes by claiming that they had to do it in order to keep state government functioning. The alternative of making public votes on individual bills is hardly attractive to vulnerable incumbents in election years. 
The State of the State offers any governor an opportunity to kick off the state legislative session and budget season on his own terms. Cuomo is already signaling that he wants to bring attention to his legislative agenda rather than fiscal plan. While that might not be what Cuomo wants to talk about on Wednesday, his ability to control state finances and lawmakers alike will play a big role in determining his success this year. He already appears to know how to play the hand he's been dealt. 
Powered By
NEXT STORY: 5 things to know about William Barclay