Campaigns & Elections
Young candidates assemble on TikTok
Tinder banking is so 2018.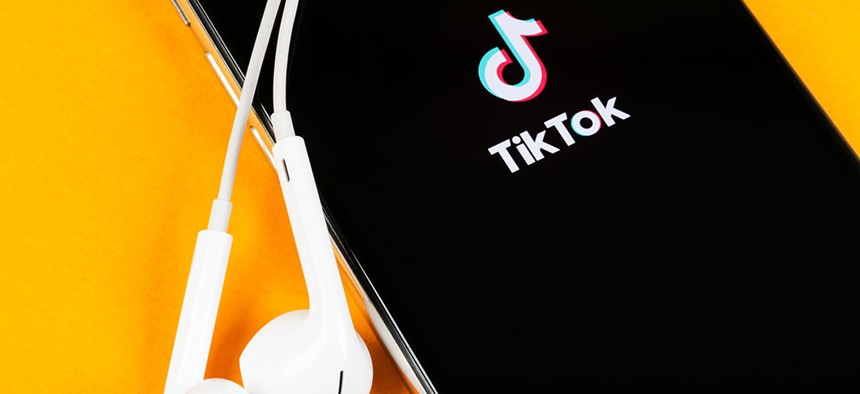 Move over Tinder. There's a new app that social media-savvy candidates in New York are turning to: TikTok, the video-centric platform that allows users to share short, often funny, videos set to music, which has made viral sensations out of its more successful "creators."
Love it, hate it or utterly perplexed by it, TikTok is just the latest social media platform that political candidates are using in an attempt to reach out to voters and spread awareness of their campaigns. A handful of young insurgents running for the state Legislature and for Congress are attempting to reach voters on the app, which is wildly popular with Gen Z – the generation born between the mid-1990s and the early to mid-2010s, many of whom are reaching voting age.
Young challengers across the country are using the app to run for office, and in local races, especially, a bit of internet popularity can be valuable, said Joshua Tucker, a professor of politics and co-director of the Center for Social Media and Politics at New York University. "If you think that people have limited bandwidth for politics, except when we're really close to elections, and then you think how much of that bandwidth is being sucked up by the 2020 presidential election – let alone, things going on in the Senate and the House – if you're farther downstream, trying to get any bandwidth in front of people is really tough," Tucker said. "And so doing something like making a TikTok video, it's something that at least potentially can get talked about. But it also has the potential of making you look cool, especially to a younger demographic."
For some candidates, TikTok has offered the one modern campaigning imperative that's desperately sought but difficult to fabricate: internet virality. Everybody wants to be the next Rep. Alexandria Ocasio-Cortez, garnering millions of Twitter followers and hundreds of thousands of retweets daily – and very few people have former New York City Mayor Michael Bloomberg's resources to buy virality through memes posted on Instagram. 
Where underdog candidates can gain some ground, however, is through both cheap advertising on digital platforms like Facebook and Google, and organic – meaning not-paid – content on platforms like TikTok and Twitter. For young candidates who are already fluent in the language and trends popular on TikTok, the latter is not only free but can appear effortless. "It gives a tool to challengers who may not have as much money or as much name recognition when they go into the election against entrenched incumbents," Tucker said of campaigns using social media – especially platforms like TikTok or Twitter, which don't allow political advertisements, and where the cost of content is just the labor involved to create it. 
Skyler Johnson, a 19-year-old Suffolk County Community College student, is running in a crowded Democratic primary this spring to replace retiring Republican state Sen. Kenneth LaValle on Long Island, with a progressive platform supporting proposals like the New York Health Act and reforming the prison system. When volunteers for Johnson's campaign pressed him to sign up for TikTok, he was initially unsure but eventually embraced the idea, and posted a video poking fun at detractors who called his support for affordable medical care and climate change action "radical." 
The video follows a popular format on TikTok of users filming themselves pointing at floating text boxes with music playing in the background. "I went to bed that night and it had about three likes and I was happy that at least some people liked it," Johnson said of the night in early January when he first posted the video. "I woke up to find that it had 300, and I was very surprised. By the end of the day it had 1,000 and I was very shocked as it continued to grow, and within eight days it had over 20,000 likes." Today, the video has over 87,000 views and nearly 31,000 likes.
Other videos Johnson has posted follow similar formats, though they haven't quite reached the high viewership that his first one did. One video hit nearly 18,000 views, another over 12,000 views. "It allows us to reach a larger group quickly, and even with techniques such as email blasts, we're only able to reach people that have previously subscribed to our list," Johnson said. "Social media, people see us on their custom feed, and they engage with us."
While Johnson, like many candidates, has also used campaign funds to buy cheap digital ads on platforms like Facebook and Google, he said he thinks voters his age connect more with social media outreach that isn't paid for. "Voters like just seeing a quick 15-second video of who we are, because it excites them to see someone using it on a level that's very down to earth, very much what they're doing too," Johnson said. "A lot of times, people feel frustrated because they see the paid ads spamming their timelines."
Johnson has also helped other candidates get hooked on TikTok, like Democrat Cameron Koffman, who is mounting a primary challenge against Assemblyman Dan Quart in the 73rd District on the Upper East Side. A recent graduate of Yale University, Koffman is the great-grandson of the real estate mogul Samuel LeFrak. Despite being a 22-year-old political newcomer, Koffman, in contrast to Johnson, has raised nearly half a million dollars since declaring his candidacy last October, thanks in part to large donors like former Regents Chancellor Merryl Tisch, who donated $4,700. Koffman points out that his campaign also had a number of smaller donations, with over 750 donors total.
While Koffman may not need TikTok for campaign donations, he said he thought it couldn't hurt to try out the platform, and has so far been pleased with the results. 
Koffman's first video has amassed fewer than 500 views, but he posted another one on Monday, and hopes to push it out on other platforms to get more engagement. "I think it remains to be seen whether or not TikTok is going to be an important social media political platform," he said. "But I think that if there's anybody who should be trying it, it is someone running at 22 for the New York state Assembly."
And then there's Lauren Ashcraft, a democratic socialist challenging Rep. Carolyn Maloney in the Democatic primary, who has also developed a modest presence on TikTok, with her most popular video reaching more than 14,000 views. Ashcraft said that Twitter, where she has roughly 20,000 followers, is still one of her favorite platforms. But her campaign is continuing to try new ways of reaching voters. A few days ago, Ashcraft said, the campaign made an account on Twitch, a popular video platform that video gamers can use to livestream and chat while gaming. "I have enjoyed playing games in the past and if that can also be a way to start dialogue with people, then why not?" Ashcraft said. 
A group of democratic socialist candidates running for office in New York City also recently released their first video on TikTok, and say they plan to post more. Incidentally, higher-profile candidates and presidential candidates have not yet bought in to TikTok. Extensive security issues have been reported with the China-owned app, and agencies like the Transportation Security Administration have been barred from using it after Senate Minority Leader Charles Schumer raised security concerns over the weekend. The U.S. military and State Department have already banned use of the app on government phones.
Compared with some of the biggest "creators" on TikTok, who rack up millions of views per post, the performance of candidates like Johnson and Ashcraft is modest. And more importantly, Johnson and Ashcraft still trail their competitors in fundraising. Though Johnson is no longer facing an incumbent, two of his Democratic primary opponents – attorney and social worker Laura Ahearn and Southampton Town Councilman Tommy John Schiavoni – have each raised more than $100,000, while Johnson has raised about $7,000. But Johnson points out that those contributions came from more than 100 separate donors, and argues that TikTok has helped build that grassroots support. Johnson told City & State that while TikTok doesn't provide analytics showing which state views come from, the app shows that 95% of his viewers are in the United States. His campaign also knows that a number of his campaign donors reached the donation page of his website through a link on his TikTok profile. 
So can a handful of modestly viral TikToks make a meaningful difference in a campaign? Probably not. In local races, voters tend to vote down the ballot or go with an incumbent. But social media popularity could be a jumping-off point for an otherwise unheard-of candidate. "It can't hurt to suddenly get attention for anything when you're running in a crowded field, if you're a 19-year-old kid trying to beat better-funded Democrats in the primary," Tucker said of Johnson. 
But the kind of virality that can push a candidate over the edge is rare, Tucker said. "If you suddenly pick up the endorsement of Taylor Swift or something like that because she sees you on TikTok and suddenly you've got a situation where you're someone who's expecting to be able to raise $10,000, and suddenly you can raise $1.5 million – well, that might change things in a local election," he said. "But I don't think we should overstate it."
While the actual power of social media apps like TikTok to get someone elected has yet to be proven, if nothing else, the app is steadily catching on as a political platform in New York. Case in point is Suraj Patel, whose social media allegiances have shifted since 2018, when he infamously reached out to voters on dating apps like Tinder during his campaign against Rep. Carolyn Maloney. This year, Patel is challenging Maloney again, wielding a different social media app. Patel spokeswoman Cassie Moreno said the 36-year-old plans to make a TikTok account in the coming days. 
Correction: This story originally misstated Senate Minority Leader Charles Schumer's title.
Powered By
NEXT STORY: New York lawmakers react to Weinstein verdict