Coronavirus
Cuomo bans 'non-essential gatherings' of all sizes
But the governor says it's not a shelter in place order.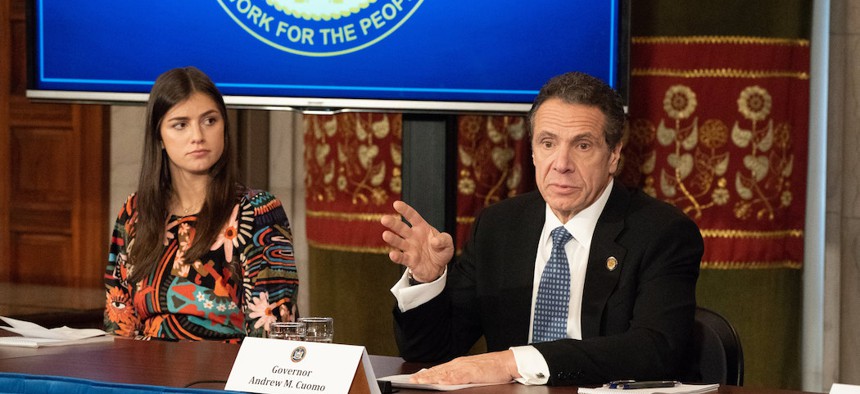 New York City Mayor Bill de Blasio reiterated his call for a "shelter in place" order to limit the spread of the virus in New York City. While Gov. Andrew Cuomo has resisted using that term to describe new limits on public activity, the state response to the outbreak is reaching a new level, he told reporters at a Friday morning press conference, that largely will confine New Yorkers to their homes except for shopping, exercise and other essential activities.
A new executive order with the acronym P.A.U.S.E. (for Policies Assure Uniform Safety for Everyone) includes a ban on non-essential gatherings off all types, and will go into effect Sunday. Businesses will have to keep 100% of employees at home. Businesses that violate the new rules face fines and closure. "These provisions will be enforced these are not helpful hints," the governor said. "These are legal provisions." The governor also announced a 90-day moratorium on evictions of residential or commercial tenants.
Supplies remain a "major issue," and the state is now going to pay a premium to businesses that manufacture items like face masks, gloves and other critical supplies. "If you make them, we will give you funding to do it," Cuomo said. The state has also expanded its controversial production of hand sanitizer in state prisoners. Cuomo and Lt. Gen. Todd Semonite, commander of the Army Corps of Engineers, are looking to build new medical facilities at the Jacob Javits Center in Manhattan, numerous CUNY campuses and St. John's University. The state is also looking to boost hospital capacity by canceling all elective surgeries at a date to be set next week. The hospitalization rate in the state is now at 18% and more than 10,000 tests were administered yesterday, Cuomo said Friday.
Earlier Friday morning, Cuomo announced that all barbershops, hair salons, tattoo parlors and related businesses would have to shut down by 8 p.m. on Saturday. This was jointly announced by the governor and his counterparts in New Jersey, Connecticut, and Pennsylvania, and included the announced closure Thursday of shopping malls, amusement parks and bowling alleys. Cuomo also unveiled an executive order Thursday night that will allow notary publics to use video technology to approve documents sent by fax or email.
Like Cuomo, California officials (where Gov. Gavin Newsom has implemented strict limits on citizens' public movements) have also resisted the term "shelter-in-place," though governors in both states have taken drastic actions to limit public gatherings. Cuomo has insisted that "words matter" and that other terms better describe the specific action the state is taking, which do allow people to leave their homes for certain tasks like shopping and exercise. Cuomo – who has said limiting "anxiety" is a key part of his strategy in dealing with the pandemic – has said that "shelter in place" is a term that was developed to describe strategies for dealing with school shootings.