Coronavirus
Trump's role with New York's budget
The president will determine what the governor and state legislative leaders can do.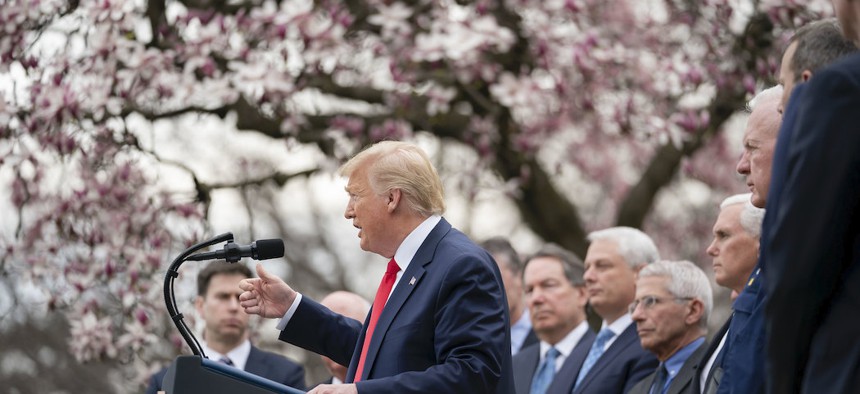 A lot remains up in the air at a time when New York is bracing for an oncoming wave of coronavirus cases. The stock market has continued its nosedive. State revenues are expected to fall at least $4 billion short of earlier projections. Lawmakers' budget plans are changing accordingly. "Every single assumption that we've had has got to be challenged, and it's got to be adjusted for the realities that we are in," state Senate Majority Leader Andrea Stewart-Cousins said on Wednesday of the state budget. "We are all looking at everything a day at a time."
Lawmakers returned to their districts Wednesday night, and it is unclear when they will come back to Albany. But Stewart-Cousins, Gov. Andrew Cuomo and Assembly Speaker Carl Heastie – in separate Wednesday press conferences at the state Capitol – all called for federal action to help the state deal with the economic effects of the coronavirus outbreak. A state budget will be hard to negotiate without first knowing whether billions in federal aid are on their way, especially since President Donald Trump signed into law Thursday morning legislation passed by the U.S. Senate that is gumming up Cuomo's fiscal plans.
A clause in the bill (which already passed the House last week) makes billions in federal aid contingent on states not shifting Medicaid costs onto localities. "If I can't change that, we can't do a budget," Cuomo told reporters on a Saturday conference call. After President Donald Trump signed the bill into law this morning, Cuomo minimized the effect of the new law at a Thursday morning press conference. "It's de minimis from our point of view," he said of the new law. 
His appointed Medicaid Redesign Team II is holding its final meeting on Thursday. A draft report obtained by the Empire Center for Public Policy describes $1.6 billion in projected savings through proposals like capping enrollment in managed long-term care plans and changing eligibility requirements for personal care services. However, state Budget Director Robert Mujica said that the new federal law will prevent some of the recommendations from the MRT from being implemented. "It makes a big hole in our budget," he told City & State after Cuomo's press conference. "Many of the provisions from the MRT could be up in the air – the big ones."
Negotiations are continuing today in Washington, D.C., on a massive federal relief bill. The speed by which it passes, and the clarity that would offer New York lawmakers, could determine whether the state budget process will conclude in the upcoming days or not. Heastie told reporters Wednesday that he is pressing this point to members of Congress. 
"We are going to be headed for maybe not even a recession, but a total depression," he said. 
"We really need a large infusion of cash to the states from the federal government." 
President Donald Trump will likely be key to whether that happens. While his feuds with Cuomo are numerous and recent, the relationship between the president and governor has softened in recent days. Cuomo appears to be getting the aid he requested from the Army Corps of Engineers to expand the state's testing capacity, but it remains to be seen how cooperative the president will be in helping the state weather the fiscal storm.
There are a lot of controversial policy proposals up for discussion in budget talks between Cuomo and the two state legislative leaders. However, a budget is a financial plan in the end, and right now the state has to plug a new hole of anywhere from $4 billion to $7 billion. At this point, the most important person in the New York state budget process is not one of the so-called three people in a room (the governor, speaker or Senate majority leader). It's Trump.