Campaigns & Elections
New York Democratic presidential primary likely canceled
With U.S. Sen. Bernie Sanders' exit, the state has the power to cancel the Democratic primary.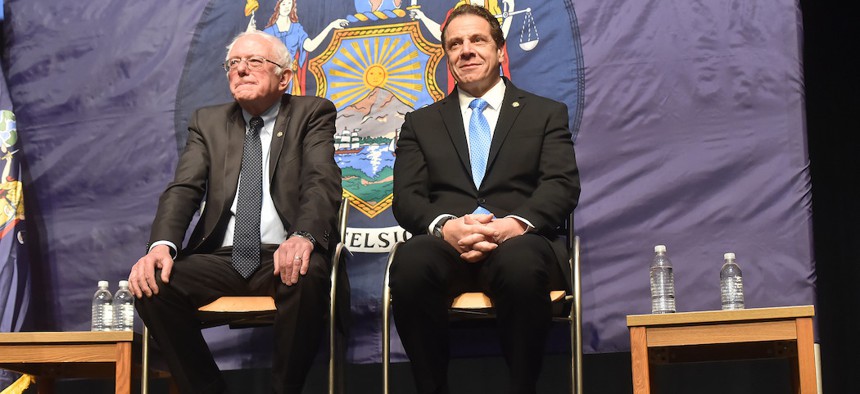 U.S. Sen. Bernie Sanders announced on Wednesday that he has suspended his campaign for president, effectively making former Vice President Joe Biden the Democratic nominee. That means there's a strong possibility the Democratic primary in New York will be canceled.
In response to the new coronavirus pandemic, Gov. Andrew Cuomo moved the Democratic primary from April 28 to June 23. Later, a provision was added into the state budget that permits the state Board of Elections to remove from the ballot presidential candidates who have dropped out. If all names other than Joe Biden are removed, the state would be able to cancel the primary. That's effectively what happened with the Republican presidential primary – President Donald Trump was the only candidate to qualify for the ballot, so the state Board of Elections Republican co-chairs canceled the election rather than have a ballot with just one candidate. 
Douglas Kellner, the state Board of Election Democratic co-chair, said that in light of Sanders' announcement, he and Democratic Commissioner Andrew Spano would likely remove Sanders and every other candidate that has dropped out from the ballot. "That would mean in jurisdictions where there are no contested primaries, that there would be no primary elections and the polls would not open," Kellner told City & State, adding that polls would still open for special elections scheduled for June 23. Kellner said that he and Spano would probably hold that meeting within the next week or two, and that they would probably cancel the primary.
However, Sanders said in a public address announcing the suspension of his campaign, he would remain on the ballot in all states where he has qualified. He said he wants to continue amassing delegates in order to increase his influence at the Democratic National Convention, even though he is no longer seeking the nomination. Kellner, who had not yet heard Sanders' announcement, said that may impact his and Spano's decision. "We'll see," Kellner said.
Jay Jacobs, the chairman of the state Democratic Party, told City & State that while the law is on New York's side to remove Sanders from the ballot, the move could divide the party at a time when it needs to unify "Now that we have a nominee, I'd like to figure out ways to bring everybody together in harmony," Jacobs said. "Rather than to say to Bernie supporters, 'You know what, I know Sen. Sanders wants his name on the ballot, but in spite of that, we're going to take it off the ballot because the law says we can.'" Jacobs added that he hopes Sanders will change his mind and give his blessing to states that want to remove him from the ballot in order to save time and money, while protecting public health, by canceling the election.
Even if the presidential primary is still on, voters won't need to physically need to go to the polls. Cuomo announced on Wednesday that he will permit everyone in the state to vote absentee for all June 23 contests. That way, if the coronavirus is still a large concern, people wouldn't need to physically show up to the polls in order to vote. That includes all state legislative and congressional primaries, as well as special elections to replace Rep. Chris Collins in Western New York and for Queens borough president.
Powered By
NEXT STORY: Lawmakers: Trump and Cuomo both fell short on coronavirus