Campaigns & Elections
9 most expensive New York House primaries
AOC and her primary challengers are leading the pack, raising more than $9 million in total.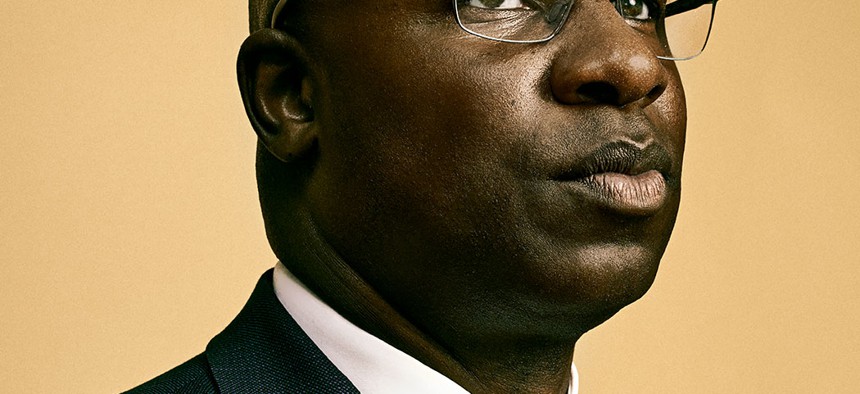 A global pandemic isn't stopping New York's congressional candidates from raising big bucks in their bids to clinch or retain their seats.
The June 23 congressional primaries are shaping up to be fascinating races to watch – and not just because of the challenges of campaigning during the coronavirus pandemic. This year, there are more primary challengers to New York's 27 House seats than any year in recent history. Only five districts are without primary races this year.
Deep pockets don't always mean a candidate is viable, but those who have raised the most money more often than not are among the most formidable. With roughly six weeks left until the primaries, City & State rounded up the top nine primary races that have had the most fundraising through March 31, according to the Federal Election Commission.
No. 1
14th Congressional District, Democratic Primary
Queens, Bronx
Total raised: $9,261,036
Incumbent: Alexandria Ocasio-Cortez ($8,110,603)
Challengers: Michelle Caruso-Cabrera ($1,086,280), Badrun Khan ($64,153) and Samuel Sloan (No data available)
Following her rocket-like ascent, it's no surprise that first-term Rep. Alexandria Ocasio-Cortez raised more money than anyone else – over $8 million – for her reelection bid. In fact, no other New York candidate in House primaries this year – incumbent or newcomer – comes close to matching her fundraising numbers. Notably, the bulk of Ocasio-Cortez's contributions come from donors outside New York.
What is more surprising, however, is how much Ocasio-Cortez's long-shot primary challengers have raised. Michelle Caruso-Cabrera, a former CNBC news anchor and a former Republican, has raised more than $1 million, which is more than some experienced state lawmakers running for Congress this year. Still, that number includes $33,600 that Caruso-Cabrera contributed to her own campaign.
Badrun Khan, who sits on Queens Community Board 2, trails far behind, with just over $64,000 in fundraising.
Notable donors: Hollywood director Darren Aronofsky and actor Mark Ruffalo have contributed to Ocasio-Cortez.
No. 2
17th Congressional District, Democratic Primary
Westchester and Rockland counties
Total raised: $5,508,722
Incumbent: Nita Lowey (retiring)
Candidates:  Adam Schleifer ($2,343,487), Evelyn Farkas ($924,610), Mondaire Jones ($830,702), David Buchwald ($634,379), Allison Fine ($303,606), David Carlucci ($277,400), Catherine Parker ($128,559) and Asha Castleberry ($65,979)
The retirement of longtime Rep. Nita Lowey prompted a surge of state lawmakers and political newcomers to make a bid for the seat in New York's 17th Congressional District. The race's top fundraiser is prosecutor Adam Schleifer, although he loaned his campaign nearly $1.7 million and contributed $250,000. Schleifer is the son of billionaire Leonard Schleifer and was a prosecutor in the "Varsity Blues" college admissions scandal case.
He is followed by Evelyn Farkas, a former adviser at the U.S. Department of Defense under President Barack Obama. Just behind Farkas is Mondaire Jones, a progressive Democrat with endorsements from the Working Families Party and U.S. Sen. Elizabeth Warren.
Notably, the two current elected officials in this race – Assemblyman David Buchwald and state Sen. David Carlucci – rank only third and fifth in fundraising. Though Buchwald is outraising Carlucci, roughly 40% of Buchwald's funds came from a $250,000 loan he made to his own campaign.
Notable donors: Venture capitalist Bradley Tusk and actress Jane Lynch are among Farkas' contributors.
No. 3
1st Congressional District, Democratic Primary
Suffolk County
Total raised: $2,651,186
Incumbent: Lee Zeldin (R)
Candidates: Nancy Goroff ($1,127,979), Perry Gershon ($1,029,241), Bridget Fleming ($493,866) and Gregory-John Fischer ($100)
Republican Rep. Lee Zeldin is running for reelection in his Long Island district, and while he isn't being primaried this June, he may face a tough battle in the fall against the winner of next month's Democratic primary. Nancy Goroff, the former chair of Stony Brook University's chemistry department, has raised the most in the Democratic primary for New York's 1st Congressional District.
Close behind Goroff is Perry Gershon, who ran in the general election against Zeldin in 2018, and lost by 4 percentage points. Bridget Fleming, a Suffolk County legislator, has raised nearly half a million dollars. Gregory-John Fischer, a former candidate for Suffolk County executive and state Senate, has just $100 from a loan he made to his own campaign.
Whoever walks away with the Democratic Party's nomination in June will face Zeldin and his $3.3 million war chest in November.
Notable donor: Wendy Gordon Rockefeller, an environmentalist and wife of Laurance Rockefeller Jr., has donated to Fleming.
No. 4
15th Congressional District, Democratic Primary
Bronx
Total raised: $2,647,477
Incumbent: José E. Serrano (retiring)
Candidates: Ritchie Torres ($1,273,373), Michael Blake ($599,869), Melissa Mark-Viverito ($270,353), Rubén Díaz Sr. ($194,294), Ydanis Rodriguez ($115,999), Samelys López ($80,328), Tomas Ramos ($69,533), Chivona R. Newsome ($32,590), Frangell Basora ($11,138), Julio Pabón ($0), Marlene Tapper ($0) and Mark Escoffery-Bey (No data available)
None of the Democrats running to replace retiring Rep. José E. Serrano has posted particularly high fundraising numbers, but with 12 contenders, it's no surprise that the primary for this Bronx seat is among the priciest New York House races. New York City Councilman Ritchie Torres has a strong lead in fundraising, followed by Assemblyman Michael Blake.
In fact, the top five fundraisers in this primary are all current or former elected officials, including former New York City Council Speaker Melissa Mark-Viverito and current City Councilmen Rubén Diaz Sr. and Ydanis Rodriguez.
Trailing behind the top five is first-time candidate Samelys López, a progressive housing activist who has clinched endorsements from the Working Families Party and Democratic Socialists of America.
Notable donors: Former Philadelphia Mayor Michael Nutter donated to Blake. Investor George Soros and former gubernatorial candidate Cynthia Nixon have both donated to Mark-Viverito.
No. 5
16th Congressional District, Democratic Primary
Bronx, Westchester County
Total raised: $2,525,663
Incumbent: Eliot Engel ($1,611,875)
Challengers: Jamaal Bowman ($540,331), Andom Ghebreghiorgis ($202,861), Chris Fink ($126,991) and Samuel Ravelo ($43,605)
Rep. Eliot Engel, a 16-term moderate Democrat, managed a landslide win against three Democratic primary challengers in 2018, but he again faces a handful of Democrats this year. With over $1.6 million raised, Engel has taken in roughly three times more than Jamaal Bowman, a middle school principal and the second-highest fundraiser in the primary. Andom Ghebreghiorgis, who, along with Bowman, is running as a progressive alternative to Engel, has raised just over $200,000.
Tax attorney Chris Fink and former NYPD Lt. Samuel Ravelo trail behind in fundraising, though each have made loans to their own campaigns of roughly $25,000.
Notable donors: Actors Zachary Quinto and Susan Sarandon both donated to Bowman.
No. 6
12th Congressional District, Democratic Primary
Manhattan, Queens, Brooklyn
Total raised: $2,476,181
Incumbent: Carolyn Maloney ($1,778,939)
Challengers: Suraj Patel ($544,130), Lauren Ashcraft ($113,384) and Peter Harrison ($39,728)
It's Maloney vs. Patel, Round 2. Rep. Carolyn Maloney, currently in her 14th term in Congress, again faces a primary challenge from NYU business professor and creative campaigner Suraj Patel. Maloney has far outraised Patel so far, bolstered by making a $100,000 loan to her own campaign, while Patel made a $10,000 loan to his campaign.
Progressive newcomers Lauren Ashcraft and Peter Harrison have trailed in fundraising to date.
Notable donor: Former Republican U.S. Sen. Alfonse D'Amato has donated to Maloney.
No. 7
3rd Congressional District, Democratic Primary
Queens, Nassau and Suffolk counties
Total raised: $2,146,495
Incumbent: Thomas Suozzi ($1,916,606)
Challengers: Melanie D'Arrigo ($157,806) and Michael Weinstock ($72,083)
Rep. Thomas Suozzi, the incumbent Democrat on Long Island, faces his first primary challenge since being elected to the House in 2016. Suozzi has amassed a sizable campaign account, raising far more money than his challengers. Activist Melanie D'Arrigo has raised nearly $158,000, including a $62,200 loan she made to her campaign, and former Brooklyn prosecutor Michael Weinstock has raised just over $72,000.
Notable donor: David Weinraub, co-founder of the lobbying firm Brown & Weinraub, donated to Suozzi.
No. 8
10th Congressional District, Democratic Primary
Manhattan, Brooklyn
Total raised: $1,968,860
Incumbent: Jerry Nadler ($1,184,459)
Challengers: Lindsey Boylan ($749,427), Jonathan Herzog ($34,974)
As one of the more high-profile members of New York's congressional delegation, Rep. Jerry Nadler is going into next month's Democratic primary with a sizable cash advantage. But breathing down his neck is Lindsey Boylan, a former aide to Gov. Andrew Cuomo, who is running to Nadler's left. Boylan's campaign includes about $135,500 in self-funding, with Boylan loaning her campaign $50,000 and contributing another $85,524.
Trailing far behind both Nadler and Boylan is Jonathan Herzog, a former staffer for onetime presidential candidate Andrew Yang.
Notable donors: Emma Bloomberg, nonprofit founder and daughter of former New York City Mayor Michael Bloomberg, donated to Boylan. Uber CEO Dara Khosrowshahi also donated to Boylan.
No. 9
27th Congressional District, Republican Primary
Western New York
Total raised: $1,883,195
Incumbent: Vacant
Candidates: Chris Jacobs ($1,253,465), Beth Parlato ($554,154), Stefan Mychajliw ($75,576)
Finally, the only Republican Party primary race to crack top nine races in total fundraising this year is the closely watched and slightly complicated race to replace former Rep. Chris Collins, who pleaded guilty to insider trading charges last fall. Three races for the 27th Congressional District seat in Western New York will be held on June 23: the special election to replace Collins for the remainder of his term, and the Republican and Libertarian Party primaries to appear on the general election ballot in November. Republican state Sen. Chris Jacobs and Democrat Nate McMurray are facing off in the special election to immediately fill the seat.
But of those three races, the candidates in the Republican Party primary have raised the most money in total, and Jacobs leads the way. Attorney Beth Parlato has raised more than half a million dollars, while Erie County Comptroller Stefan Mychajliw is well behind in fundraising.
Perhaps most notable in this race – apart from multiple elections happening on the same day – is the amount that the top candidates have contributed to their own campaigns. Jacobs loaned his campaign $446,000, while Parlato loaned her campaign $158,500 and contributed nearly $8,000.
Notable donor: Former state attorney general candidate Keith Wofford donated to Jacobs.